Columns
Platform Holly Wants More Oil
Venoco Pushes Pipeline Expansion Project Off Goleta Coast; Plus, Author Running for City Council
Last weekend, along with a steady rain of ash from the Gap Fire, a large package arrived on my front porch. It was the State Lands Commission's initial environmental report of Venoco's "Full Field Ellwood Oil Development and Pipeline" project. (See a PDF of the report for yourself here.) To me, that's bad oil on the water, another potential disaster waiting to happen.
Venoco's current Ellwood oil facility consists of Platform Holly, with oil and gas coming to shore in a pipeline to the Ellwood Onshore Facility (EOF) between the Sandpiper Golf Course and the Bacara Resort and Spa. After processing, the oil goes in another pipeline along Hollister Avenue to Pacific Oaks Road then south to the Ellwood Marine Terminal, the two storage tanks near on the UCSB mesa. Every 10 days or so, the single hulled barge, Jovalon, moors off Coal Oil Point, loads 55,000 barrels of oil from the terminal, and then is towed on to either San Francisco or Long Beach.
Venoco is asking to expand the lease boundary off Platform Holly and slant drill 40 new wells. The oil would follow the same path onshore, but improvements are needed to handle the increased flow. The oil would then be transported onshore through a new 8.5-mile pipeline north along Highway 101 to Las Flores Canyon, where it would connect with the All American Pipeline. If approved, the marine terminal would be decommissioned and it would mark the end of the barging of oil.
This project has few benefits for Goleta residents. Though the terminal would be shut and barging would cease, that's already set to happen in 2013, when Venoco's current lease expires. The Ellwood Onshore Facility and processing of gas and oil would remain for many years to come, with potential hazardous emissions affecting neighborhood residents, students at Ellwood School, and people at the Bacara Resort. The facility actually sits on a site that's been zoned for recreation, and City of Goleta policies mandate that any major upgrades can only be permitted if they provided benefits to public health and safety or the environment. Beyond that, a development agreement with the City of Goleta would be necessary, and that could involve negotiating an end-date for the life of the facility. If this proposed project moves forward, Venoco estimates that the wells could produce until 2040, meaning that only our great grandchildren would one day get to play in this supposed recreation zone.
However, we cannot assume that the end would come any sooner if this expansion were not allowed. The current wells on Platform Holly are already draining oil from the extended lease area and, according to Venoco, this could go on as long as the proposed full field project and would not lead to earlier decommissioning of the platform or onshore processing plant. Plus, barging would continue at least to 2013.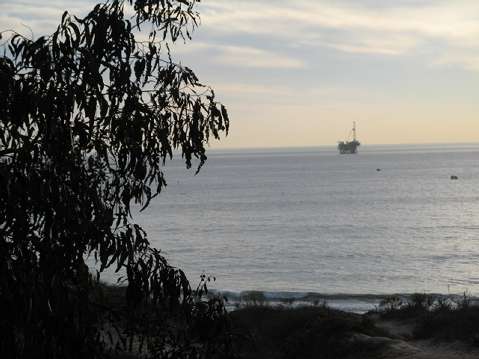 The environmentally preferred alternative to the project, as described in the report, would have offshore pipelines for oil and gas run from Platform Holly to a point offshore from Los Flores Canyon. It would then go by pipeline onshore for processing at the consolidated facility. This would allow abandonment of all onshore facilities at Ellwood, cessation of barging of oil, elimination of the risks of hazardous emissions, and the restoration of the onshore facility site for recreation.
But what precedent would be set by allowing new drilling? And is there a way to negotiate a definite end date, as was done recently with PXP's Tranquillon Ridge project? While we need to do what we can to end this industrial operation in this sensitive environment and regain a beautiful recreation area and beach, public opinion is moving more in favor of increased drilling offshore and in other environmentally sensitive areas. So we'd better let the State Lands Commission know what we think, because they are the ones who will make the final decision on Venoco's expansion.
To comment on the environmental report, send your opinions by August 25 to: Eric Gillies, California State Lands Commission, 100 Howe Avenue, Suite 100-South Sacramento, CA 95825. Or email gilliee@slc.ca.gov.
RUNNING FOR COUNCIL: This Goleta Grapevine will be the last from me, at least for a while. On Wednesday, July 23, I am announcing my candidacy for the Goleta City Council at noon on the corner of Del Norte Drive and Glen Annie Road, facing Bishop Ranch. I thank my readers and the many people that I don't know who have told me that they have enjoyed the Grapevine. Others, I hope, will now pick up their pens and write about what is happening in Goleta. If you're interested in contributing on a regular or occasional basis, please send an email here.