Visual Arts
New Sculptures to Appear on State Street
Santa Barbara's "State of the Art" Sidewalk Gallery Is Revealed
State Street strollers out people-watching and window-shopping will be treated to an unexpected sight early next week as eight new works of art are installed along the city's main drag. The sculptures comprise the 2008 State of the Art Gallery (SOAG), the fifth annual exhibit of public art put on by city and county government and the Downtown Organization. These works will be installed between the 600 and 1200 blocks of State Street, and will remain on display through November 15, coinciding with Santa Barbara's Off-Axis festival of contemporary art in October.
On Saturday, August 9, SOAG 2008 organizer Rita Ferri, curator Dean Anes, and Mayor Marty Blum will hold a public dedication ceremony, guided walk-through tour, and reception for the artists. Santa Barbara poet laureate Perie Longo will read a poem specially written for the event, and artists will be present to discuss their works.
The nine finalists selected for this year's SOAG are all regional artists, and were chosen from among 16 applicants by Anes, director of Acme Gallery in Los Angeles. Among the suggestions for this year's entries was that of using recycled material. Although many of the chosen works address this theme, the works vary dramatically in technique and appearance.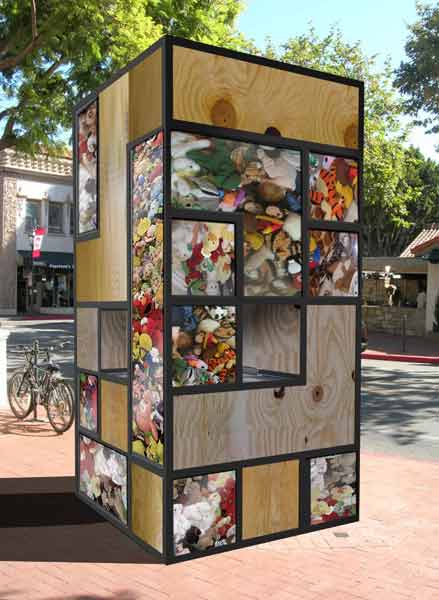 "People will be surprised by the breadth and diversity of art practices of our regional artists," said Ferri, visual arts coordinator for the County Arts Commission. "[They] have pushed themselves to create something that will delight, challenge, or inform everyone who visits State Street."
In selecting the eight works for this year's SOAG, Anes looked for variety as well as harmony. "The public has expectations about what kind of art they'll see on State Street," he said. "Hopefully some of those expectations will be met, and there will be some surprises."
Works displayed on State Street have made a splash in years past. Many will remember the controversy surrounding one of the works in SOAG 2006: Colin Gray's "W," which resembled an inverted McDonalds "M" with its sides pierced with arrows, drew both admiration and heated opposition from the community. This year's works aren't likely to cause such a stir, but they're sure to turn heads. Among them is Richard Aber's "Stupa," a tall, conical golden structure made from coated canvas, and Jeff Elings's "Gooto," a circular, steel-skinned sculpture that draws on his background in both engineering and organic farming.
Rafael Perea de la Cabada and Matthew Woodford collaborated to create "Persistence of the Unnecessary," a commentary on consumerism that plays off the store windows surrounding it. "It's been exciting, the prospect of knowing that it will be out for thousands of people to see," said Woodford. "Part of what we're addressing is the cultural relevance of collecting stuff. I think everybody can relate to that theme to some degree." Santa Barbara City College art teacher Ed Inks, whose work was included in the gallery two years ago, has this year created a work titled "The Birth of Bacchus," a giant, cage-like urn made from bronze rods. "I'm revisiting a lot of Greek images," he explained.
Inks appreciates the anonymity of State Street as opposed to an indoor gallery. "I enjoy the reaction of people who don't know I'm the artist," he said. "On State Street, you can stand around and hear what people say. It's a very positive experience, and it has opened me up to doing more public, outdoor pieces."
Also included in this year's SOAG are works by Bill Malis, Jeff Sanders, Nathan Snyder, and Helle Scharling-Todd. Anes says one of the unifying aspects of this show is scale – many of the works will tower over pedestrians. "I think it's a unique opportunity to have large scale sculpture not just outdoors but among the public in a busy thoroughfare," Anes said. "For many people this is a very familiar place, and these works are going to help them look at it differently."
Anes also congratulated the County Arts Commission for supporting area artists. "I applaud them for going through difficult logistical endeavors to get these works seen on a commercial street," he said. "This venue is really important to the art community and to the public."
For Ferri, SOAG actually alters the experience of being downtown. "When the sculptures go up on State Street, a magical transformation happens," she explained. "I'm no longer on automatic pilot as I rush down the street. I'm transported to another place as I encounter each sculpture."
With a 16-member committee and funding support from the Redevelopment Agency, Santa Barbara Beautiful, and the Metropolitan Transit District, SOAG 2008 is poised to deliver compelling art straight to the heart of the city. Ferri's advice is to take full advantage of this display of public art – while it lasts. "Suspend that reaction, 'I don't know what it means, therefore I don't like it,'" she advised. "Just for a moment, look at each sculpture and ask yourself what the artist was thinking about, what they want us to think about, why they chose that shape or color or material. Ask others what they think. Create a dialogue. If you take the time to do that, after the sculptures come down in November, you will miss them."
4•1•1
The opening reception for the State of the Art Gallery 2008 exhibition will be held on Saturday, August 9, at 1 p.m. at 1137 State Street, across from SBMA. A reception will follow at Stateside Restaurant & Lounge. Both events are free and public. The artists will also be on site on Thursday, October 2, as part of First Thursday and Off-Axis.