Business
Morninglory Music Closes after 38 Years in Santa Barbara
The Last Music Show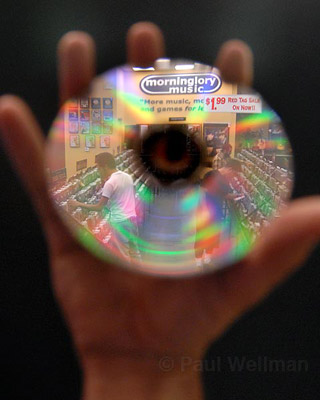 In its day, Morninglory's opening was really not so momentous. It was 1969 when a UCSB philosophy major named Stan Bernstein decided to open a record store in Isla Vista (I.V.), California, which was pretty much what smart philosophy majors did back then. He wasn't alone, either. There were three purveyors of LPs, 8-track tapes, and lifestyle accessories ranging from Beatles posters to cigarette papers within a four-block radius of Bernstein's little music shop, each keeping itself alive, if not exactly prosperous.
Bernstein named his store Morninglory, a Joycean compound word that suggested sunshine and flowers to the straight people and hallucinogens to the hipsters. (The seeds of the morning glory flower have the same basic properties of LSD. Timothy Leary, acid's spinmeister, even thought the drug should've been nicknamed after the flower.) Merchant downtown I.V. was less than a decade old then, but it had already become a strategic psychedelic village, like Haight Street and University Avenue-even Carpinteria had a head shop, then. And it was surrounded by like-minded businesses: The Magic Lantern art house theater, Borsodi's Cafe, the Psych Shop, and the Red Lion bookstore were all suppliers of food for Boomer heads. And at Johnny's Campus Cue pool hall, across the way from Stan, you could score the actual drugs. Morninglory didn't exactly pop: It fit the scene.
On the other hand, Morninglory, which will close its doors forever next month, was a kind of precursor. "I remember going in there," said Hale Milgrim, who worked at both Magic Lantern and the nearby Discount Records, a budding chain, then. "It was the little, cool store. We didn't call them 'independent stores' back then, but that's what it was." Milgrim, the current coproducer of Sings Like Hell and a major force at the Santa Barbara Bowl, should know; he moved on from I.V. to manage the famed Berkeley Discount Records Store, where he was "discovered" by Capitol Records and eventually became president of the label that produced the Beach Boys, The Beatles, and Radiohead. "But the best part of a store like that had nothing to do with its size; it was the kind of place where the people knowledgeable in music could tell you what was new." In other words, even though he worked for the competition, Milgrim went in every couple of weeks to flip through albums and talk new sounds with the staff.
"I tried to make the place presentable, too. Not like some of these really funky little stores. It was clean like a corporate store, but stocked like an indie." – Stan Bernstein
This was Bernstein's game plan. "I tried to make the place presentable, too. Not like some of these really funky little stores. It was clean like a corporate store, but stocked like an indie," said Bernstein, a short, soft-spoken man. He demanded customer service, too. "Did you see that movie High Fidelity? The way they made wisecracks about the customers-I didn't want to have that happen in Morninglory," he explained.
What Bernstein did very well was adapt. From the days of patchouli oil and sandalwood incense to those of safety-pinned punks and saggy-pant-sporting hip-hop kids, Morninglory metamorphosed from vinyl to cassette to CD. From hippie music and import LPs, they changed to a used economy in I.V., particularly, where Bernstein had access to students' binge and purge habits. He also opened a number of stores in Santa Barbara proper, including a cute hippie-ish boutique near the News-Press offices, a satellite of love in Lompoc, and, finally, stores on State Street, which Bernstein ironically remodeled two years ago.
He had great staff, many of whom remained with him for a decade or more. People including Bob Barbieri, Paul Wellman-the photographer for this very paper-and Greg Sinclair, a walking encyclopedia of music information, who later fell out with Bernstein and has since held court at Just Play Music.
"When I managed the I.V. store, you'd have somebody coming in every two weeks who said they burned the bank." – Paul Wellman
And of course, there were Morninglory's great customers-some of them oldsters. "When I managed the I.V. store, you'd have somebody coming in every two weeks who said they burned the bank," laughed Wellman, who also remembers a Devereux doctor, an organic farmer, and a UCSB Ombudsman as recidivist shoppers constantly curious about the new, shocking, or otherwise. "What I liked about it was that it seemed like such a Santa Barbara place," said Marianne Atchley, a city-dweller since the 1980s. "People behind the counter with long hair, always very helpful without pressuring you : I loved going in there," she said, expressing real sadness. Probably the most avid customer I interviewed, however, was my own cousin, Joseph Marsh, a longtime buyer for both Earthling and Chaucer's Books who now works at Magellan's downtown. "In the '90s, I used to go in there every day after work. The stock was vibrant back then," he said. "It was fun, and people liked it. Then, about a year ago, the rumors started going around that the place was going out of business."
The rumors weren't true then, but almost. Bernstein talks about last Christmas-a season in which most retail businesses do about a third of their year's gross sales-with much rue. He had begun hosting in-store performances on a tiny stage in the back of the expanded store. "And we had a show and it was Christmas and there were only a few people there, and suddenly I realized how bad things had become."
"People in the age group of 18 to 25 just aren't buying music anymore," said Bernstein
What happened? In Bernstein's mind, the culprit clearly is free downloading. Perhaps the most momentous fact about I.V.'s Morninglory was that it closed in 2002, after hanging on for more than three decades. "People in the age group of 18 to 25 just aren't buying music anymore," said Bernstein, who grows eloquently wroth about the destruction Napster, Kazaa, and other free download sites have left behind. He even published an op-ed piece in the Washington Post three years ago. "What people euphemistically call file sharing, I call file stealing," he wrote. "It really amounts to the distribution and receiving of stolen property." For a long time, people have been bragging about using his downtown store as a research institute. "They find out about CDs there, then go home and download them."
While it's certainly clear that digitization has offered benefits for some (mainly consumers) while basically screwing the traditional relationships with artist, company, and merchant, it hasn't been the only problem facing Morninglory-flagging sales, high overhead, and downward-spiraling finances have all played their part. Marsh complained that Morninglory stopped stocking unusual music about two years ago and its used stock seemed to stagnate. It wasn't alone then, either. At least 11 record stores have failed or moved from town in recent years, ranging from the funky cool Buffalo Records to the Turning Point, from the haut brow Gramophone Store to the quirky, weird American Pie. Overall, the business, according to Rolling Stone, has seen seven years of declining sales.
"It's a shame that it had to end like this." – Stan Bernstein
And it's tough not to echo Bernstein, who stood up by the cash register a few weeks ago and said, "It's a shame that it had to end like this." And maybe worst are the crimes against culture. Young people don't seem to care much, but record stores were once tribal gathering places that reinforced and spread group values and refined its pleasures. "I think it's a terrible shame," said Milgrim, who's experienced all of this from every angle. "It's sad, because I'll miss having knowledgeable people available, people who were so happy to be lucky enough to work in a record store. These are places like galleries or restaurants where people gather. Those are feelings that are lost, and I don't think you can get them back from a computer."