Living
Santa Barbarans Go for the Gold
A Rundown of Who'll Be Battling When in Beijing During the 2008 Olympics
China will try to rock the world for 17 days starting Friday, August 8, with the biggest, most expensive, most spectacular, most extensively televised, and one of the most criticized Olympic Games in history. If there is to be a positive vibe in Beijing-a phenomenon that might be called the Olympic spirit-it will not happen because of the massive scale of things. It will depend on the appeal of the little people, the athletes from diverse places around the globe who show fortitude and grace under pressure.
VOLLEYBALL
Todd Rogers: The beach volleyball player is one of a handful of athletes from the Santa Barbara area who hopes to be part of that story. Rogers and his partner, Phil Dalhausser, have dominated the 2008 World Tour, winning championships in France, Norway, and Russia; and on the U.S. circuit, winning eight of the 10 AVP (Association of Volleyball Professionals) events they've entered this year-all of which make them the team to beat in Beijing. But an up-close-and-personal look at Rogers belies the image of a globetrotting professional athlete who has banked more than a million dollars. Just check him out on his favorite patch of sand, the volleyball court he has put in the backyard of his Solvang home.
"Use your legs," Rogers says to his daughter, Hannah, as she practices setting a ball. "Put it up high." Rogers, one of the smaller players in the Olympics at 6'2″, looks like a giant while bumping the ball around with Hannah, 9, and his son, Nate, 7. He cherishes the time he spends with them.
"For so many people out there, everything revolves around beach volleyball," Rogers explained. "When I'm home, my schedule works around the kids, dropping them off at school in the morning and picking them up in the afternoon." Hannah was his traveling companion at the AVP event in Long Beach two weeks ago. They roomed together and did some sightseeing between matches. "If you've had a bad match, when your kids come running out to you, you get over it pretty quick," he says.
Rogers, 34, has competed overseas in 59 tournaments since 2001, most often in pursuit of his Olympic dreams. The international volleyball federation (FIVB) bases Olympic qualification on points accrued at its World Tour events. Rogers and Sean Scott came painfully close to qualifying for Athens in 2004. Two years ago, Rogers paired up with the 6'9″ Dalhausser, a 28-year-old Florida native whose game has grown by leaps and bounds. Rogers, known as "The Professor," and Dalhausser, the "Thin Beast," have proven to be a potent combination.
They do their training at East Beach, the sand where Rogers grew up. He played volleyball at San Marcos High and was an All-American at UCSB. He was an assistant coach of the Gauchos from 2000 to 2005, when he reduced his commitments down to being a family man and a beach player. His wife, Melissa, and children keep him grounded. Todd won the AVP's "God of the Beach" title two years ago, and Melissa said, "God or not, he has his duties at home, pooper scooping [they have three Labradors], splitting wood, spending time with Hannah and Nate :"
Karch Kiraly: The Hall of Fame volleyball player from Santa Barbara will get a lot of air time as he shares the broadcast booth with former U.S. indoor teammate Chris Marlowe at the Olympic beach tournament. "It's going to be a huge part of NBC's coverage," Kiraly says.
He considers Rogers and Dalhausser to be co-favorites for the gold medal with defending champions Ricardo Santos and Emanuel Rego of Brazil. Because the FIVB has instituted a "homer rule" that elevates China's Xu Linyin and Wu Penggen to the top seed, Kiraly says the U.S. and Brazilian pairs would have to meet in "an epic semifinal that should be a final." He likes the combination of Dalhausser's imposing block and the steady defense of Rogers backing him up. "I love Todd's old-school, East Beach, ball-control game," said Kiraly, who developed his own skills in that milieu. "Great passing and setting-I admire that more than the super big guys pounding the ball."
He gives the other U.S. men's team, Jake Gibb/Sean Rosenthal, a shot at making it to the gold-medal match-possibly the first all-American final since Kiraly and Kent Steffes defeated Mike Dodd/Mike Whitmarsh in 1996. On the women's side, Kiraly says Misty May-Treanor and Kerri Walsh, winners of 101 consecutive matches, are "a virtual lock" to repeat as champions. Kiraly also gives a shout-out to the U.S. men's indoor volleyball team, which recently won its first World League title by sweeping five-time defending champion Brazil in Rio de Janeiro and beating Serbia in a four-game final.
WHEN TO WATCH: Todd Rogers and Phil Dalhausser will play their first two matches at night in Beijing: Saturday, August 9 (6 a.m. PDT) against Latvia's Aleksandrs Samoilovs/Martins Plavins, and Monday, August 11 (7 a.m.) against Switzerland's Sascha Heyer/Patrick Heuscher. KSBY's coverage will be delayed, but USA may be on the scene live. Rogers/Dalhausser will complete pool play against Argentina's Martin Alejo Conde/Mono Baracetti on Wednesday morning, which will fit into the Tuesday evening slot in Santa Barbara. The elimination matches will begin with the round of 16 in primetime Thursday and Friday, August 14-15; the quarterfinals Sunday night or Monday morning, August 17-18; the semifinals Tuesday night, August 19; and the men's final on Thursday, August 21 (KSBY lists an air time of 11 p.m., a three-hour delay). The women's final is a night earlier.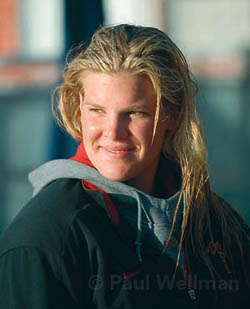 WATER POLO
Kami Craig: The youngest player on the U.S. women's squad celebrated her 21st birthday three weeks ago. She joined the team in 2006, a year after she graduated from Santa Barbara High. At 5'11" and 200 pounds, she is a powerful presence at the two-meter (center) position. She shares playing time with former USC teammate Moriah van Norman.
Craig will return to college in the fall-the rigorous training schedule of the Olympic team required her to take the year off-and she wants her accomplishments to inspire young people who are hindered by learning disabilities. "Kids who feel discouraged should know they can do it," said Craig, who deals with dyslexia. "You have to be a self-advocate. Get the help you need. Don't sit there and be embarrassed. Because of what I've learned, I'm able to zig-zag through my dyslexia. You can even be an athlete and succeed in school."
WHEN TO WATCH: The women's competition begins with the U.S. versus China at 2 a.m. (PDT) on Monday, August 11. The Americans will face defending champion Italy at 12:40 a.m., Wednesday, August 13, and Russia at 11:20 p.m., Thursday, August 14. The semifinals will begin at 10 p.m., Monday, August 18, and the bronze and gold medal matches at 2 a.m., Thursday, August 21.
Wolf Wigo: UCSB's head water polo coach and a former captain of the Olympic team, Wigo will make his debut as TV commentator with Bob Fitzgerald, the Golden State Warriors' play-by-play announcer. Wigo is a fan of the top-ranked U.S. women, who were undefeated (35-0-1) in international matches in 2007. "It will really help water polo if they win the gold medal," he says. "People don't pay attention unless you win the gold."
His biggest concern is the youth of the team; there are only three returning Olympians. They have an experienced coach in Guy Baker, who played on UCSB's NCAA championship team in 1979. Baker coached the U.S. women to an Olympic silver medal in 2000 and a bronze in 2004. The U.S. men's team is coached by Terry Schroeder, a two-time silver medalist and Santa Barbara native. "Terry knows how to win," Wigo said. "It's too bad he hasn't been coaching the team all four years [since the last Olympics]. They have a chance if they can maintain their confidence going into every game."
WHEN TO WATCH: The men's water polo finals will be among the last events late Saturday and early Sunday, August 23-24.
SWIMMING
Jason Lezak: A 1999 graduate of UCSB, Lezak will swim in his third Olympics. He has collected four medals-two golds, a silver, and a bronze-swimming on U.S. relay teams. He hankers for an individual medal and will get his chance in the 100-meter freestyle. The Irvine resident, who trains without a coach, finished fifth in the world championships last year and set an American record of 47.58 seconds in the semifinals of the Olympic trials.
WHEN TO WATCH: Jason Lezak could make three prime-time appearances: the men's 4×100 freestyle relay final (Sunday, August 10), the 100 freestyle final (Wednesday, August 13), and the 4×100 medley relay (Saturday, August 16), the last event of the indoor competition and Michael Phelps's eighth opportunity to medal.
Mark Warkentin: Persistence paid off for Warkentin, a 1998 graduate of San Marcos High, who came up short three times in the Olympic pool trials. He found his niche in open-water swimming, a rough sport that will make its debut in Beijing. He won the national championship in the 25K swim and qualified for the Olympics by finishing seventh in the world championships at 10,000 meters, the distance of the upcoming race in Beijing's canoe and kayak waterway.
WHEN TO WATCH: Mark Warkentin's open-water swim is scheduled Thursday morning, August 21 (6 p.m., Wednesday in Santa Barbara). The race will last almost two hours.
TRACK CYCLING
Adam Duvendeck: Another San Marcos grad, Duvendeck is taking his second shot at the Olympic team sprint. He rode in the threesome that finished 11th at Athens in 2004. "We should move up a few notches this year," Duvendeck says. He will trade laps around the Beijing oval with Giddeon Massie and Michael Blatchford. They set a national record at the world championships.
WHEN TO WATCH: Adam Duvendeck's spin around the track in the team sprint is scheduled at 2:45 a.m. (PDT) Friday, August 15. The medal finals of the event will follow an hour later.
TV Guiding You Through the 2008 Olympics
As long as you have cable or satellite TV and a computer that picks up streaming video, you should be able to watch the events of your choosing during the Beijing Olympic Games. Televised events will take up 1,400 hours of air time on seven networks (NBC, USA, MSNBC, CNBC, Oxygen, Telemundo, and Universal HD). Another 2,200 hours of coverage will be delivered on the Web site nbcolympics.com. Interested in the women's handball matchup between Romania and Kazakhstan? Look for it around midnight Saturday, August 9.
This bonanza is a giant leap from the situation in 1996, when NBC televised the Atlanta Olympics without any cable partners. There were significant gaps in the network's coverage. It even overlooked the historic women's soccer final between the U.S. and China. This time around, NBC's flagship station (KSBY-6 in Santa Barbara County) will focus on five popular sports-basketball, beach volleyball, gymnastics, swimming, and track and field-while the cable channels will offer a variety of other options.
Expect to see a steady after-dinner diet of Michael Phelps for the next week. The swimming events will be televised during primetime in the U.S., while they are taking place the next morning in Beijing. The clocks in the Olympic city are 15 hours ahead of the Pacific time zone. Because of the time difference, telecasts of evening events in Beijing will be delayed to appear during mid-day hours on KSBY. To be assured of live coverage, go online. Night owls can watch live events on USA, which begins 12 hours of Olympic programming at 11 p.m. each day, and MSNBC, which kicks in at 2 a.m.