Visual Arts
Ken Bortolazzo, Optikinetics III
At Sullivan Goss, An American Gallery. Shows through August 31.
This glistening, effervescent, and quietly transformative show represents the next stage in an already illustrious career for sculptor Ken Bortolazzo, and marks the maturing of Bortolazzo's playful synthesis of two established art movements: optical and kinetic art. The work is mostly executed in different kinds of brushed steel and steel mesh, but for Bortolazzo, the structuring optical effects-typically some kind of moire pattern-and the hidden mechanics, such as the super-smooth high-tech bearings that allow his pieces to wiggle and spin with such airy fluidity, are as much the medium as the metal they are made from.
The moire pattern-an optical interference effect that occurs when two grids are overlaid at an angle, or with slightly different mesh sizes-has become particularly powerful under Bortolazzo's assured touch. The pulsing dark circles that populate his box-shaped "Dots" (2008), for instance, only exist in the responsive eye of the viewer, yet they define one's perception of the beautifully constructed steel object that makes them possible. The influence of the late George Rickey, Bortolazzo's mentor at UCSB and a seminal figure in kinetic art, seems to be giving way both to a more personal and idiosyncratic vision and identification with the utopian spirit of such 1960s Op Art pioneers as the British painter Bridget Riley. "Windows" (2007), "City Scape," (2007), "Moon Flower" (2008), and "Pharaoh" (2008) all bring movement to the moire table, stirring the eye with a constantly changing array of neatly graphical patterns and shadows. Bortolazzo's pieces disclose the metaphysical vanishing point in the perceiving eye where geometric objects swap places with their shadows, and then snap back.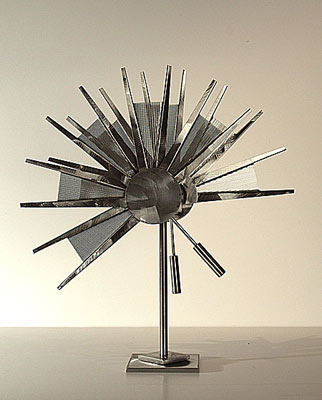 Bortolazzo's most radical departure from the modernist object-on-a-pedestal school of sculpture is a large, beaded double curtain of steel that hangs at the entrance of the gallery. "4699 Roman Paces" (2008) almost flies in under the radar, resembling as it does those ubiquitous beaded curtains that shielded the lava lamps and day-glo posters of an earlier era from the prying eyes of more conventional, less liberated parents. Looked at more closely, and experienced more directly by stepping into and through its heavy, broad (120″x120″x9″) footprint, "Roman Paces" is a thrilling experiment in light, perception, and the principles of physics, including surface tension and refraction. With his new steel curtain, Bortolazzo has unveiled another episode in the ongoing story of a third category, the art of light and space as practiced by such California masters as James Turrell and Robert Irwin.