NON-GUILTY PLEASURE OF THE WEEK: Word of a new Glen Campbell album may have elicited yawns of indifference from music fans and industry observers. Campbell's career has been a long, strong but also careening thing, from his early heyday as an unpretentiously penetrating interpreter of songs-especially Jimmy Webb's-to the kitschy "Rhinestone Cowboy" period, and then going out to pasture in Branson. Then came the unfortunate DUI mug shot, that modern albatross, suddenly putting Campbell in the same club as Nick Nolte and Robert Downey Jr.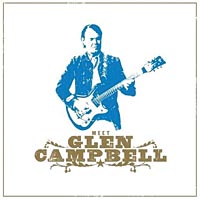 Forget those dark turns. Meet Glen Campbell (Capitol) is the most brilliant and sensitive work the singer-guitarist has done in decades. Not just a remarkable return to form, this is also one of the year's best pop albums. It remains to be seen whether the revitalized Campbell on record translates to a comparable live show. We'll get a local chance to size Campbell up when he plays the Chumash Casino next Thursday, August 21.
A reunion with Capitol records, beautifully and inventively produced-replete with tasteful strings and some signature twang from the low end of Campbell's guitar-Meet Glen Campbell is reminiscent of his old masterpieces, Wichita Lineman, Gentle on My Mind, and Galveston. The new album, offering new generations a chance to "meet Glen Campbell," also heartily reminds us that Campbell is an important American artist. As a singer with an inspired balance of expressive bravura, vulnerability, and cool clarity, Campbell is a true songwriter's friend.
When on his mark, Campbell somehow gets to the heart of a great song and lays claim to it. James Taylor performed a version of Webb's pice de resistance, "Wichita Lineman," at the Bowl recently (taken from Taylor's forthcoming covers album). Despite a valiant effort, it seemed as though Taylor was trespassing on artistic property officially owned by Campbell.
Respected songwriters on Campbell's album this time around include Tom Petty ("Walls" and "Angel Dream"), the Velvet Underground ("Jesus,") and even the Replacements-yes, the Replacements-with a moving rendition of "Sadly Beautiful" that Paul Westerberg should be thrilled by. Campbell's cover of Jackson Browne's best song, "These Days," may qualify as the best version of that song on record, including the loveably quirky Nico version and even Browne's own.
Personally, we could do without Green Day's "Good Riddance (Time of Your Life)," but his Campbell-ization of the Foo Fighter's "Times Like These" is a jewel. U2's "All I Want Is You" is in fine hands, too, with its Campbell-esque low string guitar interlude, and the clear-toned, warming, and gospel-ish grasp of John Lennon's "Grow Old with Me" that closes the set could be viewed as both a romantic plea and a message from Campbell to fans new and old. Another subtext contained in this album: Don't write this guy off or believe what you see in the tabloids. See you at the Casino.
SIGNATURE SAXOPHONICS: Alto saxist David Sanborn is a rare American musician whose instrumental sound is identifiable from miles-or divergent radio formats-away. He blues-ed it up with Paul Butterfield, did session work with David Bowie and countless others, hosted the memorable NBC show "Night Music," and has built a solo career predating but now massaged by the dreaded smooth jazz format. But Sanborn has a dignity and soul the smoothies should emulate. Sanborn's new Phil Ramone-produced album Here and Gone (Decca) is a particularly bold one and includes a dazzling cameo by slide guitar wizard Derek Trucks (coming soon to the Lobero). Check Sanborn out when he returns to the Lobero on Saturday.
ACCORDION-PHILIAC FIELD REPORT: Rumor and numbers have it that Santa Barbara has a strong, growing interest in serious accordion music (no, that's not an oxymoron). All interested parties should head over to Trinity Evangelical Lutheran Church Sunday at 3, when German classical accordionist Alexander Cargnelli performs, courtesy of the Accordion International Music Society of Santa Barbara. Among others, Bach, Mozart, and Scarlatti will be squeezed into musical form. For info, go to www.santabarbaraaccordions.com.