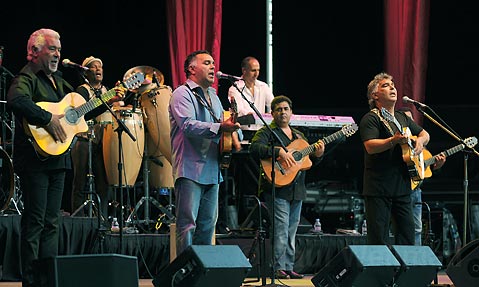 The immediacy with which the Gipsy Kings entered the stage and launched into their signature driving rhythms on Sunday night somewhat resembled racehorses launching from the starting gate. Even with segues into romantic ballads, the high energy of the10-member ensemble persisted throughout their just longer than two-hour set.
The Gipsy Kings include brothers from the Reyes and Baliardo families, whose musical base is rooted in the flamenco tradition-which the Reyes's patriarch, Jose, did much to help popularize. They fuse the clapping, percussion, and melodic guitar-based longing of flamenco music with South American and even pop, rock, and jazz-based influences, giving their music enduring appeal among a variety of audiences.
Their flair for fusion was well displayed at the S.B. Bowl, with the band's six guitars accompanied by a bassist, two drummers (one behind a drum set, the other masterfully dancing with bongos), and a keyboard/synthesizer player. One of the songs in their second set took on the flavor of an extended jazz jam as the bassist, keyboardist, and bongo player traded a series of extended solos that had the audience chanting in unison between bass interludes.
Flamenco is meant for dancing, and the Gipsy Kings are first and foremost a dance band. And Sunday night's crowd happily obliged, turning the strip on the floor in front of the stage into a virtual flamenco mosh pit. More than once, women (and some men) bravely leapt to the stage with varying degrees of acceptance, and even at times by invitation from the band's members. After the growing crowd was shooed away, the stage exploded again as dancers returned to fill the space and began flirting with the crowd, the musicians, and even the security staff.
The Gipsy Kings left the stage a few minutes after 9 p.m., and then returned with two additional young guitarists who looked like they could be sons of the band members. They saved their biggest hit, "Bamboleo," for their encore, and after the final notes echoed, lead singer Nicolas Reyes promised, in Spanish, that they will remain together and keep on touring "y m¡s, y m¡s, y m¡s," much to the crowd's delight.