Living
Birder's Paradise
Santa Barbara Museum of Natural History Unveils Its Revamped Bird Exhibit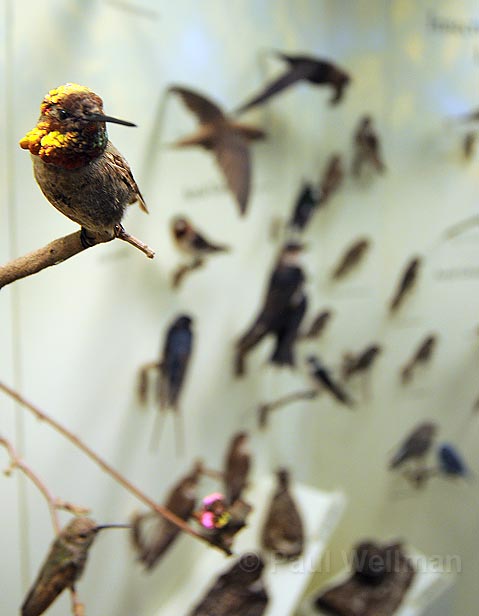 For more than 70 years, an intimate rendezvous with dead birds was all that any nature-loving Santa Barbaran could want out of a visit to the Santa Barbara Museum of Natural History. In fact, since that wing of the museum opened in 1934, bird lovers have come from all over the country to examine the ornithological displays, which are considered to be some of the most regionally comprehensive and perfectly preserved in the world.
So it's no wonder that there's been so much disappointment expressed by museum visitors-residents and tourists, old and young-since 2005, when the bird halls were closed to be renovated and relocated. The dismay ends this week, however, because on Friday, September 12, the painstakingly planned Dennis M. Power Bird Hall will be unveiled to the public, and fans of our feathered friends will once again have a place to learn about and love the birds of Santa Barbara.
"Basically, if you are a bird lover, or a bird enthusiast, or a bird expert, this is the place to be," promised the museum's marketing manager Easter Moorman, on a behind-the-scenes tour of the exhibit last month.
That's because there will be nearly 500 bird, nest, and egg mounts-including old favorites like the peregrine falcon with a bloodied dove in its talons and new ones, such as the stomach oil-spitting northern fulmar and the first horned puffin found in Southern California in 20 years-in the hall, which now combines the old biodiversity and habitat displays into a single but more enlightening exhibit. Boasting 385 distinct species, the collection represents about 70 percent of the 490 bird species ever recorded in Santa Barbara County, which routinely ranks in the top three bird-spotting zones in the country during the annual Audubon Society Christmas counts, when more than 200 species can be found in just one day.
To relay the county's amazing avian diversity, the new hall is meticulously organized by ecological foraging guilds such as "Bark Gleaners," "Seed Eaters," and "Surface Dippers," which show both the habitat each bird frequents and the creative means they employ to survive amid other species. In addition to a short hi-def video on bird behavior and information on evolution, flight, and reproduction, the exhibit also features the realistic dioramas painted by late plein air artist Ray Strong. There will eventually be an interactive component as well, with the public invited to share field notes and photographs online. "We really want people to help create what we're doing," explained the museum's associate curator Krista Fahy, who played a major role in the exhibit's revival.
But the true value of the vast bird collection-both for scientific and recreational pursuits-is its cohesiveness and tremendous taxidermy. Many of the birds were collected back in the late 19th and early 20th century together with their eggs and nests, a practice that is almost impossible to get permitted these days. And once collected, the museum's in-house taxidermist Egmont Rett used cutting-edge methods-such as utilizing silica instead of wax, which can melt in hot weather-to preserve the bird carcasses.
"It's completely irreplaceable," said Fahy, an expert in vertebrate zoology with a special affinity for birds. "You couldn't go out and do this today."
A major reason that the collection is so comprehensive is because the museum-which is located in the oak woodlands along Mission Creek just up the street from the Old Mission-was actually founded in 1916 by William Leon Dawson as the Museum of Comparative Oology, which is the study of eggs and nests. An ornithologist and author of classic bird guides to California, Ohio, and Washington, Dawson grew the museum's egg and bird collection rapidly until leaving in 1923. When other naturalists came on board, they agreed to broaden the museum's appeal by making it a natural history museum instead. But thanks to Dawson-who had a posthumous collection of his descriptive bird essays published last year-the museum remains a hotbed for oology, its collection ranking 10th in the nation with more than 11,000 eggs from 1,300 species. (These and the museum's other animal specimens can be easily searched at sbcollections.org.)
Because of this breadth, the bird collection is also a resource for science, explained Fahy as she sorted through drawers of dead things in the museum's hidden halls. With the help of the museum's electron scanning microscope and other off-site technologies, old specimens can be sampled to test for environmental impacts, such as DDT poisoning, and signs of climatic changes. "Even just a tiny feather can have an important chemical marker," said Fahy, adding that nests are also used for researching plant changes.
For the bulk of bird fans, the new hall-which cost $1.8 million, but still needs to fundraise $198,000 to break even-just means we get to check our field notes of the bird we saw in our yard or on the beach or soaring above the Santa Ynez Mountains. Or, short of that, we can revel in the colorful, charismatic cornucopia of airborne wildlife that shares our outdoor playgrounds.
Fahy assured that this exhibit will be better for viewing than previously because of floor-to-ceiling display cases stuffed full of birds, an arrangement that required Fahy and her staff to make a complete model of the entire exhibit at a one-third scale just to see what would fit where. "You can get eye-to-eye with just about everybody here," she explained. Some of the birds' beaks will be almost touching the glass, meaning that you can go eye-to-eye with a magnificent golden eagle, see the elusive and rare snowy plover up close, appreciate the ornate coloring of everyday turkey vultures, and see the sparkling blue speckles surrounding the eyes of a male double crested cormorant. Just in case you were wondering, a replica of AC-3-the last successful breeding female California condor in the wild-will also be suspended from the roof of the hall.
The opening of the Dennis M. Power Bird Hall, which is named after an ornithologist who was the museum's director from 1972 to 1993, coincides with a new exhibit at the museum's adjacent Maximus Art Gallery called The Illustrated Bird. A display of ornithological drawings from the past 300 years by the likes of John James Audubon, Edward Lear, and John Gould, it's the perfect complement to the new bird hall, revealing the evolution of ornithological studies that seem to now be reaching their peak here in our very own Museum of Natural History.
4•1•1
The Santa Barbara Museum of Natural History's new Dennis M. Power Bird Hall opens to the public on Friday, September 12. For interested donors, there is a VIP reception on Thursday, September 11. For more, visit sbnature.org or call 682-4711.