Living
Brooks Firestone Hospitalized, Recovering
Santa Barbara County's 3rd District Supervisor Has Pacemaker Installed After Weekend of Not Feeling Well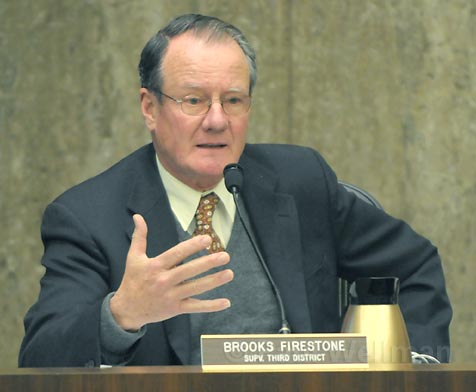 Santa Barbara County's 3rd District Supervisor Brooks Firestone underwent surgery Monday evening to implant a pacemaker in his heart, according to staff in his office.
After monitoring his heart rates over the weekend, doctors at Santa Barbara Cottage Hospital determined Firestone was having irregular heartbeats. He went into surgery Monday after spending the day undergoing tests.
Jimmy Swanson, Firestone's administrative assistant, talked to Firestone and said he was "fine and in good spirits" and was back at his home recovering. Firestone is expected to spend the next week recuperating.
"We wish him the best and have him in our thoughts and our prayers," said 1st District Supervisor Salud Carbajal at Tuesday's Board of Supervisors meeting. A statement from a county spokesperson said that Firestone wished to "thank all of his friends, neighbors, and constituents for their thoughts, prayers, and concerns."
After originally indicating he would be seeking a second term in office when elected in 2004, he changed his mind and announced last September he would step down at the end of his term.
Firestone, often credited with making the Santa Barbara County wine industry what it is today, has spent much of the past 13 years in public office, first as a representative of the 35th State Assembly District from 1994 to 1998, and then as a county supervisor, taking office in 2005. He also ran unsuccessfully for U.S. Congress in 1998, for chair of the California Republican Party in 2000, and for Lieutenant Governor.
Hailing from the Firestone tire family, the supervisor first moved to the county in 1972. His family's Firestone Vineyards and wine brand soon became synonymous with Santa Barbara County wine; much of that winemaking empire was sold off in recent years. His son Andrew Firestone achieved national fame when he starred in the third season of the television show, The Bachelor and his eldest son Adam runs the Firestone Walker Brewing Company.