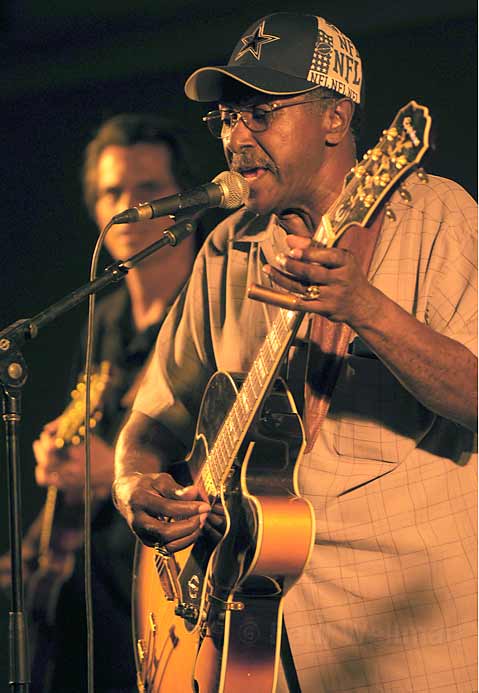 On multiple levels, Elmore James was in the house at Saturday night's blues soiree in Warren Hall. No, the actual blues legend, felled by a heart attack in 1963 at 45, was not literally resurrected for the occasion. But his sound and songs were, in fleshy measure and good supply. We're talking about James's famous chugging slide guitar riffs and rough vocal timbre, dispensed by the actual progeny of the man, the man who would be Elmore James Jr. And the story of how James Jr. wound up here was part of the charm of the show.
Elmore James Jr.'s back story counts. This seasoned bluesman, now 69, changed his name from Earnest Johnson to that of his dad on the advice of Willie Dixon in the 1960s. As "Junior," he has been working on Chicago's Southside for decades.
And then along came Los Angeles-based blues champion Cadillac Zack, who scooped up the well-pedigreed vet and brought him to L.A. to record. The strong album he made there with Zack's accomplished band, Daddy Gave Me the Blues, brought critical acclaim and new fans. Suddenly James Jr. is on the world stage, touring Europe and Canada : and stopping in on Santa Barbara, "the home of the blues."
Just as Elmore James Sr. was best known for a very particular sound, a certain guitar riff that launched a thousand slide guitarists, and the classic blues hit "Dust My Broom," his son clings fast to a similar limited repertoire. In Saturday night's second set, many of the songs were cut from almost exactly the same cloth, in the same key and with slight variations of the same shuffling groove.
In a way, the contrast between the man in the spotlight and the lean, well-oiled machinery of his backing band was telling. James Jr. played guitar, with a literally crackling tone and raw energy, with his father's sound well embedded in the mix. Zack, meanwhile, also leaned into the Jamesian riff sound, but showed his more versatile and limber style, as well.
On James classics like "Look on Yonder Wall," his son wielded his expressive, wobbling slide and rode the 12th fret, with that James-ish combo of sassiness and worry. He also dipped into the slow, stewing end of the spectrum with James Sr. songs like "The Sky is Crying." The broom duster's son is making good and carrying forward the family name, late in the game.