Living
The Logic of Religion
Santa Barbara Author Offers New Approach to Evaluating Faith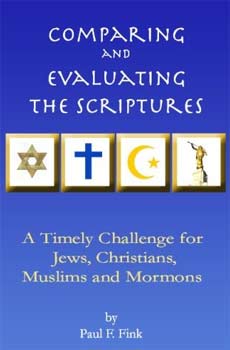 Most books on religious scriptures express one of two opinions: that they're the infallible word of God, or that they're bunk. Paul Fink, an ex-Christian and retired professor of philosophy, has an unusual third point of view. For him, the scriptures of the four major Western religions – which he defines as Christianity, Judaism, Islam, and Mormonism – are a valuable source of insight into the political and cultural relationships existing today, both within and without the United States. Subjecting these religious writings to a fair, objective, and balanced scrutiny is the purpose of his new book, Comparing and Evaluating the Scriptures.
In a recent phone interview, Fink said he's "taken a strong position with regard to logic and moral philosophy," which "makes my perspective a little different than the average writer who writes about religion, who's coming from some religious view or a strongly anti-religious view." And he's right – his refusal to either pull his punches when criticizing the hypocrisy and contradictions that can be found in scripture or to universally condemn them for those flaws is immensely refreshing.
Comparing and Evaluating the Scriptures, published by local company Summerland Publishing, begins with what Fink calls "an invitation," an introductory chapter laying out his ideas about why the scriptures should be evaluated and who should evaluate them. His answer to this second question is, quite simply, everyone.
Religious partisans, according to Fink, are often "isolated, and restricted to their own little belief group," something he said is a part of human nature. "We feel more comfortable when we're in a group," he added. "I think it's just part of being a human being; we're closer to people who have the same mindset and attitudes and principles." But when this natural impulse to stick with what we know is combined with the belief that what we know is both infallible and better than any other idea, well, that's when the trouble starts. A fair portion of the book is given up to an impassioned plea to religious readers to really think objectively about their own beliefs, as well as those of others.
But Fink is equally critical of those who dismiss religion entirely, and who reject religious beliefs based on no more than anti-religious prejudice. He advocates, instead, a philosophical and logical approach to parsing through the writings of Jewish, Christian, Muslim, and Mormon prophets, with a view to becoming a "human being concerned about making the world a more just, fairer, and better place."
In this respect, Fink is in line with the large interfaith groups, such as the Interfaith Initiative, that have sprung up in the United States in recent years. He supports such groups and contributes to their efforts. His perspective is a little different, however, in that he focuses more on what religions have done wrong than on what they've done right.
Where an interfaith discussion will typically revolve around the ways in which all religions are equally valuable, Fink's attitude seems to be that all religions have internal inconsistencies in their belief systems, and that all have done wrong in the world meaning that no one religious group has any right to the moral high ground they're all so anxious to claim.
The book is also, to Fink's knowledge, the only one of its kind to include the Mormon scriptures as one of the major bodies of religious writing in Western culture. Since, he said, Jews, Christians, Muslims, and Mormons all acknowledge the Old Testament as a source of religious truth, and trace their spiritual and genetic lineage back to the prophet Abraham, considering all four together is important in getting at their conflicts and similarities.
While many readers will disagree with Fink's conclusions, most – of any of those four faiths or of none at all – will find the book informative, interesting, and even quite entertaining. His style is neither dry nor even particularly academic, despite his immense body of knowledge and his own professorial past, and his conversational diction will engage readers with no previous knowledge of the subject. Questions for consideration, or for the use of study groups, are provided. He's also carefully footnoted all of his work, and provided notes and a bibliography to guide readers to their own research and conclusions.
That's perhaps the major point made throughout the book, and by the book's existence: draw your own conclusions, through logic, thought, and reason. It's a welcome perspective in a sea of incredibly partisan literature.
Paul Fink will sign and discuss his book at Chaucer's Books, in Loreto Plaza at 3321 State St., on Tuesday, September 23, at 7 p.m. Books will be available for purchase. For more information, call Chaucer's at 682-6787 or visit chaucers.booksense.com. He may also be teaching an Adult Ed class during the winter, using Comparing and Evaluating the Scriptures as a text and guide; keep an eye on Adult Ed class listings for potential dates and times.