Dance
Tiempo Muerto
Presented by Compa±ia Rafael Amargo at the Lobero Theatre, Saturday, September 27.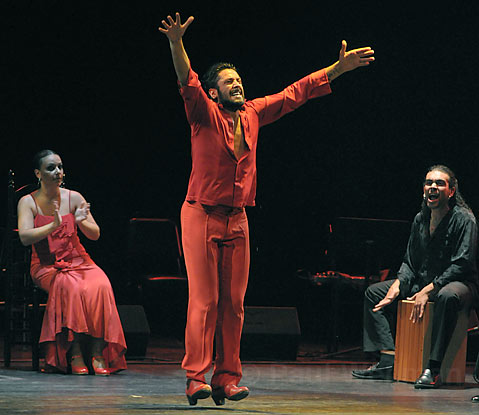 As the centerpiece event of this year's Flamenco Arts Festival, Saturday night's performance at the Lobero by Spain's dynamic Rafael Amargo and his talented company was no sputtering candle. Instead, Tiempo Muerto (Time Out) was a blaze of masterful movement, arresting visuals, and passionate music and vocals, with enough surprises to keep even the most blase viewer on the edge of his or her seat.
It was a good idea to stay poised on the edge, since the show brought most audience members to their feet more than once. And that wasn't counting when the alarm system went off in the theater somewhere between the first and second standing ovations, its sirens and flashing lights not even slowing down the dancers onstage in their fire-engine red dresses.
Amargo's feet were like droplets of water on a hot skillet, lighting onto the floor for a split second before leaving it again. In addition to fiery footwork, his smile lit up the stage, exuding a joyful and generous charm. At one point, he pulled one of his vocalists to center stage, where she danced with abandon. You could almost hear the collective thought: Wow, she sings like that and she can dance?
There were a few of Amargo's signature modern dance moves incorporated into the show, but still plenty of tradition for the purist. The women's costumes reflected the more modern feel, with minimal ruffles and nary a polka dot in sight. Some dresses were straight and simple, some were layered, and there was even one number done in long black skirts, bra tops, and open bolero jackets.
But it was the more traditional costume elements that melded best with the movement, as in a gorgeous shawl dance, and a solo in a white dress with a long, ruffled train that the dancer, kicked, spun, and threw over her arm in the course of her dance.
The mid-show sirens turned out to be a false alarm, but it's not much of an exaggeration to say that Compa±ia Rafael Amargo sizzled, sparked, and smoldered so, they set the place on fire.