At 56 years young, former Talking Heads frontman David Byrne took it upon himself on Saturday night to prove that age doesn't matter. With a two-hour-long, three-encore set that spanned more than 30 years of material without once faltering, I'm inclined to say he succeeded. Backed by a seven-piece band that included two percussionists and three multitalented backup singers, as well as a mini-troupe of modern dancers, Byrne's voice soared through a number of past hits and new compositions, inciting dance parties and standing ovations all along the way.
Dressed in head-to-toe matching white outfits, the 11-part ensemble that made up Byrne's live show provided one of the most dazzlingly out-there rock concerts we've seen of late. Touring in support of his yet to be released to the mainstream collaboration with Brian Eno, Byrne attempted to encapsulate his now three-decade long pairing with the electro guru. Mixing songs from this year's Everything That Happens Will Happen Today with classic Heads tunes (which Eno produced solidly between 1978 and 1982) and 1981's collaborative My Life in the Bush of Ghosts, Byrne's set read like a New Wave time capsule.
Starting things off with newer material, including the poppy "Strange Overtones" and rich "One Fine Day," Byrne showed the crowd early on that his voice had only grown fuller with time. Things took a turn for the avant-garde right around the time Byrne launched into "Houses in Motion," cueing his lone male dancer to enter stage right and swan dive through his spread legs as he stood at the mic. Equally interpretive moves filled the stage on syncopation-heavy tracks like "My Big Hands" and the recently penned "I Feel My Stuff."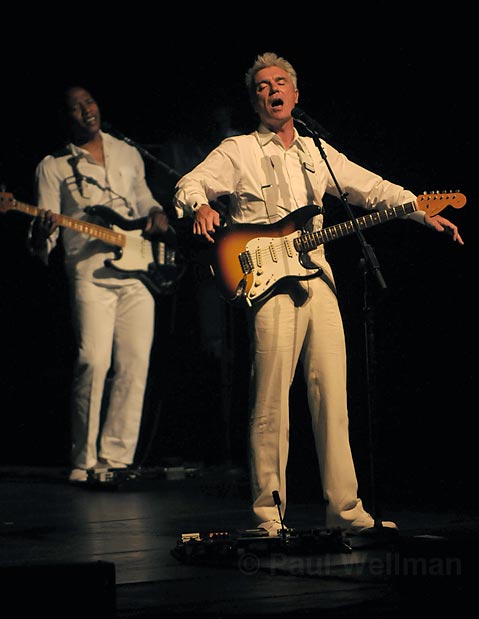 Highlights unsurprisingly included Talking Heads classics "Ain't No Disco," "Burning Down the House," and the quintessential "Once in a Lifetime," but even the lesser Byrne hits held their own. The gospel-tinged "Take Me to the River" (off of 1978's More Songs About Buildings and Food) showcased some of the evening's most climactic guitar and vocal builds, while "Home" provided an experienced man's take on the subjects that made 1983's "This Must Be the Place (Naive Melody)" so poignant. Overall, Byrne provided a retrospective for the ages-and a solid clue as to why his career has helped to shape the way we listen to alternative music.