Dance
State Street Ballet's Swan Lake
Santa Barbara Company Celebrates 15 Years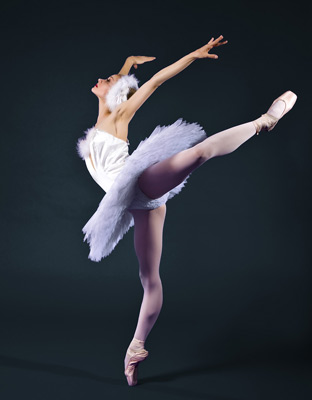 This fall, State Street Ballet (SSB) is celebrating 15 years in Santa Barbara, stepping onto a larger stage at the Granada, and moving into a new studio space on Las Positas. It's enough to make even the most seasoned dancer's head spin.
"The fact that we've been able to sustain this company for 15 years in this town-and now we're getting a home that we can really call permanent-is significant," said Rodney Gustafson, SSB's artistic director. Despite the shift in location, the company will retain its name.
On November 8, the company will host a grand opening at the brand-new Gail Towbes Center for Dance. The public is invited to tour the facility, which will be set up with different areas displaying marketing, photography, music, set design, lighting, costuming, even pointe shoes-all the elements that go into creating ballet for performance.
The new center is named after the late first wife of philanthropist Michael Towbes. Gail was an ardent dance lover; rumor has it that she was reluctant when Michael was first wooing her, but when he bought tickets to an L.A. production of American Ballet Theatre, their love blossomed.
Upon moving to Santa Barbara and founding State Street Ballet, Gustafson learned of the Towbeses' story and decided to dedicate the company's very first performance to Gail's memory. Michael has been a staunch supporter ever since.
"I can't think of a show Michael has ever missed in our 15 year history," Gustafson said. "For a man who's as busy and as philanthropically involved as he is, it's amazing. He's been a great friend and mentor to me, as well."
Along with Towbes, Jon and Lillian Lovelace are the main funders who made the new dance center possible.
"It will be made available for community use as much as possible-for touring companies, and for local companies who need rehearsal space," Gustafson said. "In Santa Barbara, we have lost virtually all of our professional spaces for dance." Although SSB has not been forced from its current home at 322 State Street, the company has been renting on a short lease basis ever since the property was sold two years ago. Knowing that the new owner had plans to develop condominiums on the site, Gustafson jumped at the opportunity to occupy a new, larger, dedicated space for his company, as well as for the hundreds of students Gustafson Dance serves.
State Street Ballet is getting not just one, but two, new homes if you count the Granada, its new home theater. Though they performed at the theater's opening festivities and presented Carmina Burana with the Choral Society there last spring, this will be the company's first full production of their own at the Granada. To mark the occasion, they are paying tribute to the classical ballet canon.
"Usually, we take classical ballets and do our own version," Gustafson said. "This is a rare case where we do the original-adapted to cut some of the length, mercifully. There's one version with a sad ending, but we do the happy one. The reason we chose to do Swan Lake, even though it's outside our normal scope, is that it's our way of saying thank you to these historical ballets. They were the structure for what followed."
Gary McKenzie is a ballet master with State Street Ballet. One of the founding members of the company, he recently returned to Santa Barbara after a stint with the Tucson Ballet, and is now sharing duties with Marina Fliagina. "I think seeing something like Swan Lake really enhances the enjoyment of modern works, in contrast," he said. "Even for audiences who like modern work more, it's good to go back and revisit the traditional pieces to get a sense of where it comes from. It gives a different reference point."
McKenzie has a solid background with many of the classics, though this is his first production of Swan Lake. Originally drawn to ballet as an athlete who wanted to improve his soccer game, he said he was won over by the combination of "athleticism and art."
"I fell in love with the theatrical aspect," he said. "And dancing with beautiful women is great, rather than running around with a bunch of sweaty men."
"The company is really enjoying this experience, because we don't do many white ballets," McKenzie continued, referring to the term used to describe the Romantic Ballets, which were traditionally done in white tutus. "It's a good chance for them to get back to the classical traditions and form."
A few weeks ago, the company performed their Swan Lake at the Redlands Bowl for an audience of 5,000.
"This company is very versatile," said Gustafson. "They can do contemporary stuff, they can do jazzy stuff. This is a real challenge because it brings them back to that very pure, simple line." That versatility will come in handy as the company prepares for their big move. If the past 15 years are any indication, SSB will continue to rise to the challenge.
4•1•1
State Street Ballet will perform Swan Lake at the Granada on Saturday, October 11, at 8 p.m. and Sunday, October 12, at 2 p.m. For tickets and information, call 899-2222 or visit granadasb.org. The grand opening of the Gail Towbes Center for Dance takes place Saturday, November 8, 4-6 p.m. For more information, call 965-6066.