Best Of
Highbrow to Get-Down
Best of 2008
S.B. Celebrity
Oprah Winfrey
One year ago, the media-saturating Montecito dweller added kingmaker to her impressive, multifaceted resume. Back when Montecito liberals were mainly lining up for Hillary Clinton kaffeklatches, Winfrey threw a little party for Barack Obama mainly inviting Democratic Party activists and close personal friends with the $2,300 it cost to mingle on her meadow near San Ysidro Pharmacy. This A-list included Stevie Wonder, Chris Rock, Dennis Haysbert, Oprah's then boyfriend, and a lot of polite gawkers, too. The results? More than $3 million raised and a credibility that only fame confers in America. A cultural warrior both sophisticated and homey, Winfrey's money-raising ploy went rather well for a picnic. It would be naive to think it wasn't a turning point toward the White House.
FINALIST
John Cleese
Place to Hear Live Rock Music
Santa Barbara Bowl 1122 N. Milpas St., 962-7411
Its historical role is more assured every year. This is the place that hosted Bob Marley, Joni Mitchell, The Kinks, Jeff Beck, and Marvin Gaye, who played one of his last shows here. Now, you're likely to see the other Beck, Jack White's new band, Stevie Wonder's return from retirement, and Radiohead-arguably the best rock band since the Beatles-who chose to end their world tour with a live Internet-streamed concert for the globe. Most of the giants drove up Milpas Street to serenade a crowd much smaller than the stadiums they usually play. Why? Anybody who's seen a show there in the last 40 years can tell you that the bowl rocks, with the weight of history and more than a touch of beauty, too.
FINALIST
Velvet Jones
Museum
Santa Barbara Museum of Art
1130 State St., 963-4364
"I'm delighted that the community recognizes the museum for its excellence," said Director Larry Feinberg, who after six months on the job admits he's just getting how great the place is, too. "I think there will be continuous surprises ahead for everybody," he promised. "I've asked all the curators to come up with their dream exhibitions, and I'm going to do my best to see these dreams fulfilled."
FINALIST
Santa Barbara Museum of Natural History
Place to Dance
Single's Bar
Wildcat Lounge 15 W. Ortega St., 962-7970
"Being off State Street seems to work to our advantage," said Bob Stout, founder and owner of one of the city's better-known designated party zones. "Maybe not so great at Fiesta, but the rest of the year. And we try to mix it up; Monday night is karaoke, Tuesday night is local bands, Thursday's College Night, and go-go dancers on Friday and Saturday." While go-go dancers obviously create an appeal, Stout is sure that it's the customers who make the place great. "We're very happy we won," he said.
FINALISTS
Place to Dance: SOhO Restaurant & Music Club
Single's Bar: Elements Restaurant & Bar
Art Gallery (not a museum)
UCSB University Art Museum UCSB campus, 893-2951
Now beginning her third year, Kathryn Kanjo's museum will host the offsite portion of the California Biennial, and then, believe it or not, the museum may close for a short while to be retrofitted. Much of the construction scheduling was up in the air at press time, but one thing was clear. "We are thrilled that the readers voted for us again," said Kanjo.
FINALIST
Contemporary Arts Forum
S.B. Newspaper Columnist
Barney Brantingham
His wrath, once wakened, is a relentless thing, as anybody with half a conscience over at the News-Press now knows. A longtime writer there, Barney Brantingham's departure from and tireless chronicling of the owner-beleaguered daily is common knowledge. But Brantingham's almost-forgotten forte has always been the candidly observed detail of everyday life in this extraordinary town. The play appreciated, the dumb traffic snarl exposed, or the uncommon courtesy paid by one Santa Barbarian to another noted. He does it with clarity and obvious sympathy for the human side of every story. Nobody doesn't love the savage indignation he's brought to bear on the NP crowd. But most people treasure Barney's writing because he helps us feel at home.
FINALIST
Starshine Roshell
S.B. Radio Station
KJEE
302-B W. Carrillo St., 962-4588
KJEE does modern rock format radio, which seems like the most obvious of programming ideas: play the stuff that's particularly in tune with very young adults, who are, presumably, the target audience of rock music in the first place. "Steady as she goes," promised General Manager Eddie Gutierrez, discussing their plans for the future. Yet this apparent nonchalance covers up a bit of anxiety relieved. "We didn't get it last year," he said, speaking of the reader votes, "and it's good to be on top again. This is the 10th out of 11 years for us. Next year we're changing to country music, though. Just kidding. It's steady as she goes." Rocking the kids, that is.
FINALIST
KTYD
Place to Shoot Pool
Juke Box
Dargan's Irish Pub & Restaurant 18 E. Ortega St., 568-0702
One half of the building is a surprisingly accurate re-creation of pub life on the Emerald Isle. Great Lord Guinness's grog rules a roost of fine beers and healthy (i.e. strong) drinks, a nice fireplace, brilliant chat, and live music. The other half, however, is a big cavern of a pool hall with lots of tables (green felt, natch) and, as the readers have pointed out two years in a row now, the best canned music in this part of Amerikay.
FINALISTS
Place to Shoot Pool: Q's Sushi a-Go-Go
Juke Box: Sportsman
Sports Bar
Santa Barbara Brewing Company 501 State St., 730-1040
Another winner in the almost-unintentional category, S.B. Brewing Company is self-consciously in the mold of the many brew house/pubs that sprung up in the mid 1990s as American brewing restrictions loosened and the idea of mini-brewery drinking made inroads on a nation addicted to Bud and Coors. Well-known for their beer, ribs, and garlic fries, the corner State Street store began attracting a big clientele with their 20 plasma screens and ample space to gather and cheer on your favorite sports franchise from Sunday Night Football to Olympic diving feats. Beer made on the premises doesn't exactly diminish wild sports camaraderie, either.
FINALIST
Madison's Sports Grill
College Night
Sandbar Mexican Restaurant & Tequila Bar 514 State St., 966-1388
However it happened that Thursday night became sacred to college partying, we've no doubt that it pleases the people who own nightclubs downtown. As for pleasing the crowds that come in from Isla Vista, Westmont, and SBCC (otherwise known the University at the Corner of Loma Alta), Sandbar rules the roiling waves. Three-for-one drinks, $4 J¤ger bombs-somewhat more potent than college lectures for sedation effects-and DJ Akorn who spins hits, mash-ups, and dance mixes. Everybody knows TGIF means Thank God It's Friday. College-friendly Sandbar spells So Happy It's Thursday real good.
FINALIST
Wildcat Lounge
Dance Troupe
State Street Ballet 322 State St., 965-6066
This could turn out to be an annum mirabilis for this perennial Best Of winner, according to Tim Mikel, managing director of State Street Ballet. "We're absolutely thrilled to win, especially because this is our 15th anniversary and this year we're moving into a new building, a new studio-the Gail Towbes Center for Dance on Las Positas Road-and, of course, we're beginning our first year at the Granada and opening with Swan Lake. This is perfect, and the readers' pick couldn't have come at a better time."
FINALIST
Linda Vega Dance Studio
Theater Group
Santa Barbara City College Theatre Group 721 Cliff Dr., 965-5935
For the second year in a row, the Santa Barbara City College Theatre Group has taken the Best Of award and Artistic Director Rick Mokler could hardly be happier. "You know, we never have a show up during the period when people are voting, so it's even more gratifying to us that the readers remember us," he said. "What I'm most proud of is that everybody from the people in the box office to the scene shop and the actors try to treat each other with respect and I think that people who come here for shows can sense that. If there's one thread here, it's a kind of courtesy. Besides that, we have great performers and our audiences have been wonderful, too."
FINALIST
Ensemble Theatre Company
Children's Theater Group
ShowStoppers Theatre Productions 3579 Modoc Rd., 682-6043
It's another big anniversary for an esteemed arts group: "This is our 15th year and now we really are seeing the kids who have gone through our program go off to college and start their own careers," said Marian Azdril, who cofounded and runs ShowStoppers with her husband, Radu Azdril. "We had a wonderful summer and are looking forward to a great 15th year."
FINALIST
Boxtales Theatre Company
Classical Ensemble
Santa Barbara Symphony 1900 State St., Ste. G, 898-9626
"We thank Santa Barbara for recognizing the symphony as the premiere classical ensemble in the community," said John Robinson, the symphony's executive director. "There's a strong spirit behind the symphony this year, and especially as we get ready to move into our new home in the Granada, and we promise that the year ahead will hold untold treats for the people who come out to hear us."
FINALIST
Music Academy of the West
Charity Event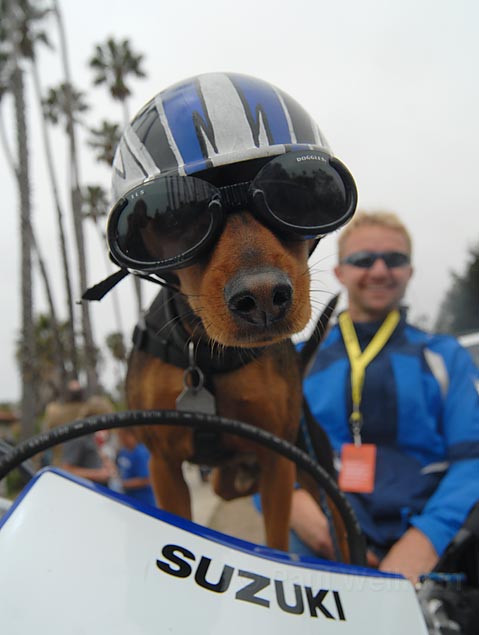 Big Dog Parade & Canine Festival
Almost 15 years ago, when Big Dog was opening its corporate offices right after the mythic flood that broke the drought, the staffers wanted to throw a big party to make the town happy, according to Mike Walker, vice president of marketing. "What should we do, throw a dog parade?" someone asked sarcastically. "And then everybody just looked at each other," said Walker. The first parade only had about 100 Fidos enrolled, but it has grown with dogged persistence ever since and raised lots of money for a variety of charities mostly surrounding children and animals. "It's fun when you throw a big party for the town and a lot of people come," said Walker. "And then to win an award? That's just a giant tug on the heartstrings."
FINALIST
Black & Blue Ball
Nightclub
Place to Hear Live Latin Music
Place to Hear Live Jazz
SOhO Restaurant & Music Club 1221 State St., Ste. 205, 962-7776
"It's so cool to win again," said Gail Hansen, who is celebrating 14 years of running the club, which has proved itself popular booking everything from indie rock to dinner-music jazz. "It's especially great considering all the strong competition we have." Hansen promises excitement to come; she is looking forward to acts as different as Jolie Holland, The Devil Makes Three, and an appearance of The Quarrymen, who were John Lennon's band before he started that other one that had a few hits and played the Ed Sullivan Show. "Please thank the readers very much," said Hansen.
FINALISTS
Nightclub: Wildcat Lounge
Place to Hear Live Latin Music: Ruby's Cafe & Spirits Lounge
Place to Hear Live Jazz: The James Joyce
Karaoke Bar
Madison's Sports Grill 525 State St., 882-1182
Though they see themselves primarily as a sports bar, the people at Madison's are not complaining about this win. "You should come see this," said owner Diane Harding, who hosts karaoke every Tuesday and Sunday night. "You would be floored. Did you see that movie Duets? Well, it's just like that. We take a lot of pride in these events."
FINALIST
Tiburon Tavern
S.B. Author
Sue Grafton
"Tell everybody I'm working my little butt off," laughed Sue Grafton, on the phone from Kentucky where she spends half the year writing and dreaming of Santa Barbara. "Actually, what I love about Kentucky is the big thunder storms raging outside; we don't have those in Santa Barbara," said the writer who has immortalized our city under the urban pseudonym of Santa Teresa with her tough gal detective Kinsey Millhone series that has proceeded in alphabetical fashion. "I'm working on 'U' now. I keep telling people that and they say, 'You're working on me?' Very funny. You know, it's hard, this job, and for some reason it just doesn't get easier as you get older, but I do appreciate all the support I get from my readers in Santa Barbara. It keeps me going. Thank you very much, and tell them I'll be back soon."
FINALIST
T.C. Boyle
S.B. TV News Personality
John Palminteri
We want to ask John Palminteri (aka the Palm) how it feels to be simultaneously ubiquitous in Santa Barbara airwaves-from KEYT to numerous radio gigs no one can keep up with-and, at the same time, be a genuine cult figure (see PalminteriIsPrimeTime.com). Unfortunately, though we left two messages on machines that featured his dulcet tone, the Palm was apparently stretched too thin to call back. We know him as the friendliest of media people, though, not stuck up or anything, and very generous helping with charitable and otherwise goofy events in town from Solstice to Jody House. Of course, it's very exciting to go to a show at the famed Troubadour in West Hollywood and see the Palm's richly mustachioed face on a sticker outside the club. We know he's primetime and also that he's working hard for us.
FINALIST
Paula Lopez
S.B. Radio Personality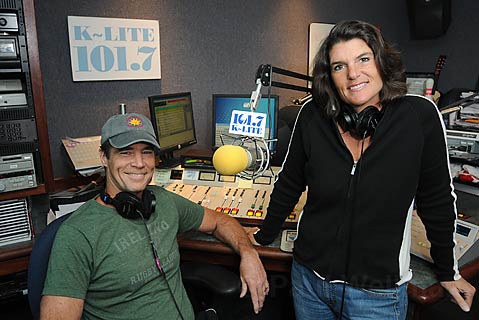 Gary & Catherine
"It's been a long drought; we're delighted," said Gary Fruin, who has partnered with Catherine for the last 15 years on K-LITE. "I'm not really sure why the readers voted for us, except I think we come across as being regular folks. We like to keep things light and friendly. Mostly because we're friends in real life, there was a chemistry between us when we first met that's lasted all these years, and we don't have to fake anything."
FINALIST
David, Julie, and Hayseed
S.B. Club Deejay
Matt Moore
Matty Matt is his nom de spin, the reader-picked disc jockey who plays at both Statemynt and Tonic using a mix of sounds called Pop Rocks. "I don't know why they picked me; maybe it's because my name's easy to spell," he said waggishly. "Seriously, people do come out in this town and they like to party, so I'm just glad they like what I spin. Also, I want to give a shout out to the band that plays with me. They're called the Smart Guys, and maybe they're the secret to my success," he said.
FINALIST
Gavin Roy