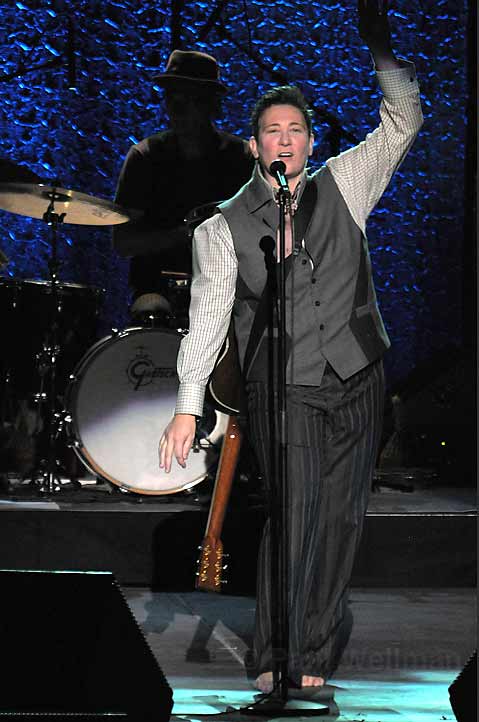 "Wasn't I just here?" questioned k.d. lang from the stage of the Arlington Theatre last Saturday. "I have missed the smell of popcorn : "
In a night brimming with one-liners, flirting gestures, and a vocal range that was matched only by the dynamics of the set, lang ensured that popcorn wasn't the only thing in the Arlington that has been missed since her last visit. Opening with "Upstream" from her recently released album Watershed, it wasn't long before lang was crooning her way through the contemporary standards. Her version of Neil Young's "Helpless" was nothing short of breathtaking-as was a rendition of the original "Thread."
Drawing on the combined talents of Grecco Buratto, Daniel Clarke, Ian Walker, Danny Frankel, and Joshua Grange, lang surrounded herself with both an ensemble of "handsome young men" and a bottomless quarry of musical talent. And nowhere was this more apparent than on "Western Stars," as Buratto's Spanish acoustics and Grange's wallowing pedal steel elbowed their way across Frankel's shuffling beats. While Clarke's piano on "I Dream of Spring" increased the intensity, it wasn't long before lang lightened the musical mood.
If lang's playful stage antics during "Smoke Dreams" weren't playful enough, the pseudo-grace of her sashaying around the stage throughout "Miss Chatelaine" sealed the deal. Redirecting the temperament once more, lang threw forth stirring versions of Jane Siberry's "The Valley" and Leonard Cohen's "Hallelujah"-offering insight into her true mastery as both vocalist and performer. By following the covers with "Constant Craving," lang asserted her own standing as a prolific contemporary songwriter.
For the encore, the band stepped to the front of the stage and huddled with lang around a central microphone, reaching all the way back to Angel with a Lariat for a rousing rendition of "Pay Dirt." With Grange, Buratto, and Walker gathered around a microphone and Clarke adding piano to lang's banjo, the ensemble then offered an infectious version of "Jealous Dog."
From country to standards to pop, few performers have embraced as many musical tangents as successfully as lang has. And as Saturday night displayed, no one has done so quite as collegially either.