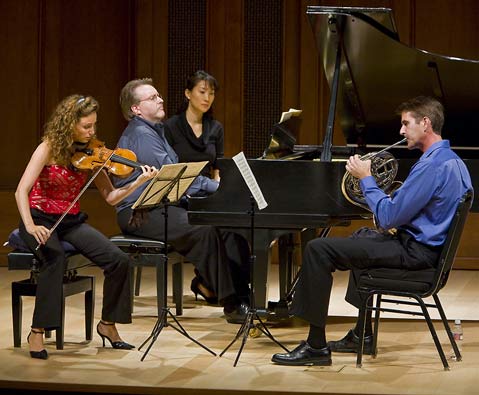 "Some of you may not want to be this close to a bassoon," said John Steinmetz in his opening remarks, which was surprisingly far from the truth. The performance that he and pianist Kevin Fitz-Gerald gave of the Sonata for Bassoon and Piano, Op. 168 (1921) by Camille Saint-Sa»ns turned out to be an ideal way to get to know the bassoon up close and personal. Not only did Steinmetz give impeccable voicing to the complex, brilliant score of the composition's propulsive section, he also taught the audience to pronounce the composer's name, complete with thumb and index fingers firmly pinching the nose. The remarkable acoustics of Hahn Hall worked their stuff as well, and made not only the bassoon, but also the piano, the flute, the violin, and the horn all sound as great as they possibly could.
Adrian Spence and Fitz-Gerald quickly got down to business with the second work on the program, a beautiful Sonata for Flute and Piano in A Major by Philippe Gaubert. If he weren't so busy being the musical mind behind Camerata Pacifica, Spence might be identified more commonly as one of the West Coast's premiere exponents of French music. He captured the work's hypnotic effect perfectly, first inhabiting the flutist Gaubert's musical world, and then beckoning for his listeners to join him there.
A fascinating, jazzy John Harbison trio called "Twilight Music" followed, with Catherine Leonard on violin, Fitz-Gerald on piano, and guest artist Steve Becknell on horn. Harbison's music has been making regular appearances on Camerata programs recently, and it is easy to hear why. This piece-originally written for a group that included David Jolley, James Buswell, and Richard Goode-was full of rich sonorities and sophisticated interplay, making for a highly sensual almost-nocturne sound.
After the interval, the audience got even closer to a bassoon when Steinmetz returned to the stage with Spence for Heitor Villa-Lobos's Bachianas Brasilieras No. 6 (1938). This extraordinary duet for flute and bassoon married Bach's counterpoint to the earthy sounds of indigenous Brazilian folk music. The finale was a magnificent rendition of Brahms's Trio for Violin, Horn, and Piano in E-flat, Op. 40 from 1865. This is one of the greatest of Brahms's many brilliant chamber works, and among the most important pieces ever composed for the horn.