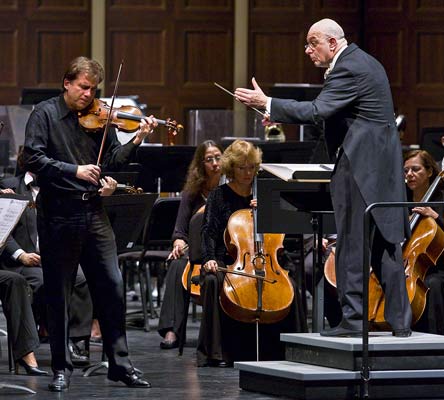 CAMA's first full season in the new and more acoustically kind environs of the Granada Theatre unfolded in an exciting evening with the Jerusalem Symphony Orchestra, in its Santa Barbara debut last Wednesday. As it happens, at 90, CAMA is decades older than this orchestra, founded along with the young nation of Israel. And the orchestra, led boldly and brightly by Leon Botstein, comports itself with a fitting spirit of youth. The program here, highlighted by too rarely heard works of great American composers Aaron Copland and Leonard Bernstein, had a tasty freshness in contrast with CAMA orchestral programs that can traditionally be, well, traditional.
Opening the concert on a mixed note, German-turned-Israeli composer Erich Walter Sternberg's big-minded 1938 piece "The Twelve Tribes of Israel" is based on themes from Genesis. Musically, it's a mildly interesting admixture of Jewish motifs, subtle Modernist spices, and stale Romantic manners from the previous century.
Raising the bar and the musical intrigue, the orchestra turned to Bernstein's fascinating Serenade, circa 1954 and based on Plato's Symposium. Impressive violinist Robert McDuffie served as soloist, in sensitive collusion with the orchestra. After the violinist's tender, yearning solo introduction, the score navigates a musical landscape of rugged beauty and variety.
Bernstein was one of the 20th century's most masterful jugglers of head and heart. Here, the music blends gorgeous and vibrant melodic parts with harmonic and structural elements clearly of its post-Stravinsky era. Through the bittersweet airs of the "Adagio" movements, the nervous kinetics of the third movement, and the finale's dark-to-light penumbra, the piece is a satisfying adventure, delivered with due drama and clarity by the orchestra. Toward the end, we got twisting hints of jazz riffs and West Side Story colors still to come in the composer's future.
Botstein lent much flair and finesse to Copland's Symphony No. 3, which conveyed its inherent grand American sweep and cautious optimism. Written at the end of WWII, this piece has a jubilant, can-do spirit, tempered by traces of mournful lyricism, like the nagging stigma of harsh memories in need of transcendence. Ironically, the Jerusalem Symphony's concert enlightened us about American cultural identity as much as anything Israeli, per se. The real message was all about the music, nationalities notwithstanding.