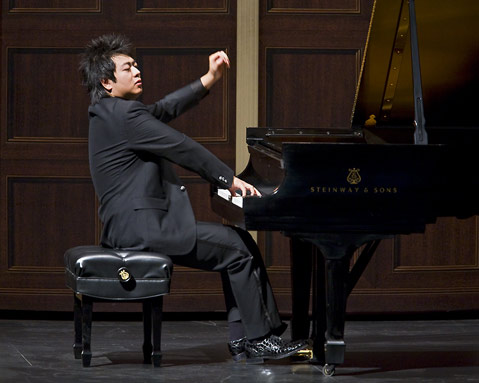 By some cultural-emotional tic, we tend to want to personalize our encounters with gifted and super-famous performing artists, as if to make a link between the global and the local, to insert ourselves into the loop of their time on Earth. So when the increasingly global celebrity pianist Lang Lang performed at the Granada last Tuesday, apart from his striking and conspicuously maturing way with his instrument, another impression made was along the lines of "what a difference five years makes." In 2003, Lang made his Santa Barbara debut at Campbell Hall, then already a precocious and rapidly rising star. Two years before that, he was the flashy soloist with the China Philharmonic Orchestra at the Arlington Theatre.
At the Granada, Lang arrived on a cloud of public acclaim rare for a classical musician in a year that found him performing before millions at the Opening Ceremony of the Olympics, and also in a duet with Herbie Hancock at the Grammy Awards. He is one of the world's brightest and best-known classical musicians, and his meteoric rise to fame happens to be in sync with a serious dedication to deepening his musicality.
What we heard on Tuesday night were snippets of the formerly more showy Lang, especially with the crowd-pleasing panache of his take on Chopin's Polonaise Opus 53 in A-flat and a more fuel-injected romantic energy during his selections of Debussy's Preludes-while treating others with downy/dreamy tenderness. The handsome Chinese 26-year-old's dramatic stage presence includes unique hand gestures-as if he's a conductor and a puppeteer-and a habit of tilting his face up toward the audience, looking fleetingly cherubic in the spotlight.
But the best came first on this night. The real measure of Lang's maturity was his subtle reading of Schubert's alternately grand and hyper-personal Sonata No. 20 in A, D. 959, which filled the concert's first half and wowed the audience. To his credit, Lang also opted to include a taste of the 20th century in the program, with Bart³k's Piano Sonata BB 88 Sz. 80, which he delivered with apt brusque beauty and brought to a shuddering climax.
Indisputably, Lang is a masterful player, with a musicianship deepening by the season, although it seems still that there's something a bit green in his interpretation. But that's nothing that time and commitment to his life's art and work won't fix. Our ears are open to the unfolding saga.