Arts & Entertainment
Beck and Jenny Lewis at Club Nokia, Monday, November 9.
L.A.'s Newest Venue Throws an Opening Night Party to Remember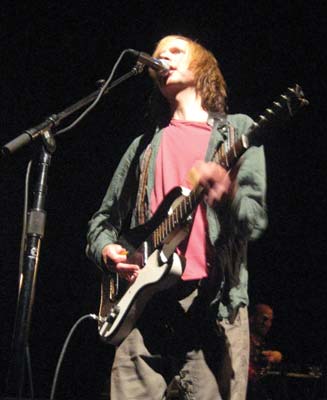 The scene at Sunday's opening night party for downtown Los Angeles' Club Nokia was a well-orchestrated mix of rock 'n' roll greatness and industry schmoozing. Upstairs and far removed from the fan kid enthusiasm bubbling on the venue floor, label big wigs, talent agents, musicians, and camera-toting photogs meet-ed and greeted amidst a super modern setting. DJs spun mixes of dance rock and karaoke favorites while VIPs huddled, sipped, and took in the eclectic mix of low lighting and pristine decor. The plush reserved cabanas and a swanky bar scene that greeted those entering through the club's exclusive entrance on Figueroa St. felt more West Hollywood club and less concert venue – and, perhaps most importantly, it felt nothing like downtown L.A. as I once knew it.
Through a small, dark corridor the lounge spilled out onto Club Nokia's expansive balcony, which wrapped perfectly around the stage below and provided an excellent view from almost every seat it housed. One level away an enormous glass wall separated the intimate-by-comparison club to the work-in-progress L.A. Live project. The venue itself is just one part of a $2.5 billion, 5,600,000 square foot whole which, when finished, will house the Grammy Museum, restaurants, a high-end bowling alley, a broadcast center for ESPN, office spaces, a Ritz-Carlton, and a Marriot. Currently, the spacious Nokia Plaza, the Club, and its big sister venue, the Nokia Theatre, are the only completed portions of the puzzle.
All developmental issues aside, Club Nokia feels and sounds like a concert venue should – and the showspace's inaugural performer was sure to take full advantage. Ripe on the heels of her sophomore solo release, L.A. native (and Rilo Kiley fontwoman) Jenny Lewis took to the virgin stage for a short-but-sweet set of new tunes that faced only slight feedback problems. Starting things off with the upbeat "Jack Killed Mom," the jean-and-fedora clad Lewis giggled, "That was the first song played in this joint." Lewis sipped daintily at her beer in between guitar swaps and stops at the piano, playing snippets off 2006's Rabbit Fur Coat ("You Are What You Love," "Rise Up with Fists," "Happy") and this year's Acid Tongue ("The Next Messiah," "See Fernando") with swagger and grace. Props must also be given to Lewis's new touring band. In particular, acoustic dynamo Jonathan Rice, who took over and nailed all the vocals that Lewis had employed Elvis Costello to take on in the studio. Likewise, Acid Toungue's title track found the entire fivepiece huddled around a single mic and singing pitch-perfect backup to Lewis's alt-country cries and acoustic strumming.
But there was little confusion as to whom the sold-out crowd had amassed to see. Hitting the stage just before 10 p.m., resident Los Angeleno and musical guru Beck launched aggressively into a rocked-out version of his first hit, "Loser," to the audience's delight. In front of a sheet of tiny flashing white bulbs and surrounded by looming vintage metal spotlights, Beck kept banter at a minimum as he pounded through "Nausea" and "Girl." And while the mononymous musician stayed relatively mum throughout the majority of his set, he also left plenty of room to pack in the tunes. Playing nearly 30 songs spanning his 20-year-long recording career, the evening provided both an aural onslaught and a poignant retrospective of sorts for the fans. Performed live, newer tunes like "Modern Guilt" and "Chemtrails" were pedal and reverb heavy masterpieces, while the classics like "Devil's Haircut" and "Novocain" hovered somewhere between hard rock and 60s kitsch. Undoubtedly, the night's highlight came about midway through the melee when Beck and his cohorts abandoned their respective instruments, donned microphone headsets, and manned an awe-inspiring collection of antique samplers and vocoders. Clustered together at the head of the stage, the foursome created a synthesized wall of sampled sounds, bringing "Hell Yes," "Black Tambourine," and "Clap Hands" to frenzied reality. The slower and emotionally raw material off of 2002's melodic Sea Change was glanced over with the one-two punch of "The Golden Age" and "Lost Cause," allowing just enough time to mellow the masses before restarting the party.
The night closed with a high-intensity rendition of "Where It's At" (which even got the VIPs upstairs out of their seats and grooving), followed closely by a three song encore. The band's return to the stage also marked the return of Beck's resident interpretive-dancer-meets-hype man, Ryan (who dresses like Goose from Top Gun for reasons still unbeknownst to me). Thanks to his help, the new club hit its sonic stride early on in its life, and by the show's end it was the synth-and-beat-heavy sounds of Beck's "E-Pro," "Gamma Ray," and "Timebomb" that provided the soundtrack.