News
Planned Marine Science Center Aims to Inspire
State-of-the-Art Facility Promises Oceanic Insight, Academic Outreach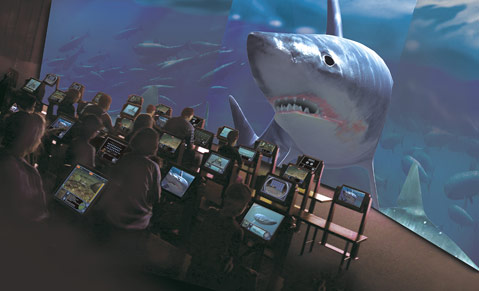 By June 2009, UCSB will have begun construction on a state-of-the-art interactive marine science center called the Outreach Center for Teaching Ocean Science (OCTOS) that will include a floating lab, a virtual dive center, and a digital theater capable of streaming live video from anywhere in the world. In the works for three years now, OCTOS's designers hope that it will get students of all ages excited about marine science.
"Our primary goal is to provide access through the very opaque surface of the ocean," said Gay Larsen, OCTOS's director of development. "Not everyone is able to dive so we want to show people who can't dive the opportunity to be a researcher and explore the mysteries of the ocean."
The center is also looking to entice University of California students into becoming science teachers, which the state is in desperate need of and will theoretically lack even more in years to come.
"There is a huge gap between the rate of science and math teachers we're producing and the amount of teachers we will need," said Steve Gaines, OCTOS director and UCSB professor. "Its the perfect opportunity for us to increase the number and quality of math and science teachers." One of the center's planned features that has generated a lot of excitement is an interactive globe that can can project what Earth looked like at any point in time. "We are taking data in a variety of forms and displaying it in this sphere," Gaines said. "It can be dynamic, you can do anything, it opens a window to the ocean."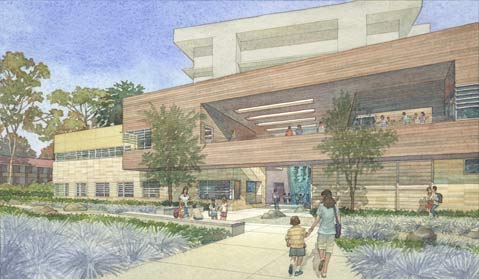 Although the center's main goal is education through fascinating scientific displays, UCSB will gain an extraordinary relationship with the Santa Barbara office of the National Oceanic and Atmospheric Administration, which is currently located downtown at the harbor but will move into a connected building wing once OCTOS construction has completed. But the university does not want to sacrifice the integrity of other ocean centers by adopting NOAA.
"We're not looking to compete, we are looking to be complimentary to other ocean facilities around here," explained Gaines, who is referring to the Santa Barbara Maritime Museum and the Ty Warner Sea Center. "With all three centers we are going to have the best set of educated ocean kids around."
Although OCTOS was designed by famed architectural company EHDD, which built the Monterey Bay Aquarium, the new center plans to steer away from an aquarium-like setting. "What you're seeing in the aquarium is what you put in the tank," Gaines said. "We want to do the same thing but looking through the glass into a camera and looking at the actual ocean. We want to see the ocean from a variety of perspectives."
To pay for OCTOS, at a time when budgeting requires a certain frugality, federal appropriations were gained by Congressmember Lois Capps and Senator Dianne Feinstein, who offered the idea of the center to the legislative branch as a way of connecting the university with the government. "It was an easy sell. Everyone loved the idea," said Gaines, who journeyed back and forth to Washington, D.C., for nearly a year to lobby for funding. "Our science will help their management issues. If [NOAA] has a problem they can look to us … and tap into this huge student resource. By linking the two we can do more science relative to what they need to know."
In the end, NOAA is projected to pay for around half of the total construction costs.
"But the administrative level partnership with UCSB and NOAA is just icing on the cake," Larsen boasted.
UCSB scientists know that the ocean plays a crucial role in climate control through its function as a natural carbon sink, so to minimize the university's carbon footprint, OCTOS will be constructed as a zero-emissions building. However, this dream will become a reality only if the money is there and if extra funds are leftover to add expensive solar cells to generate electricity. Federal grants will take care of half the building costs and, if possible, the university is ultimately searching for private contributors to cover the rest.
"We're working with donors now and there are naming opportunities," said Larsen. "It's a tremendous opportunity for people."
If the remaining tab is not picked up by philanthropists, UCSB will seek funding from the state that is set aside solely for scientific outreach programs. "We've got the vision [for OCTOS] now really worked out," says Gaines. "We just have six months to get the funding."
4•1•1
If you are interested in aiding OCTOS in its transition from a plan to a reality, or you would like more information, contact Gay Larsen at (805) 893-3423.