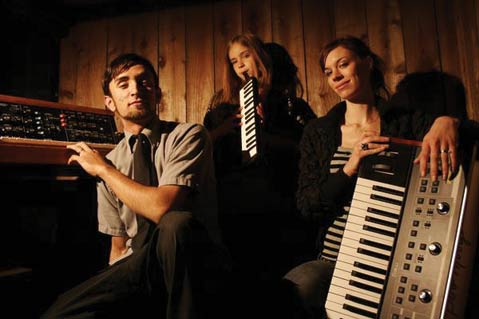 NICK AND ANNA'S INFINITE PLAYLIST: It is with great sadness, best wishes, and a backing track of awesomely eerie Theremin warbles that Santa Barbara says goodbye to the Volt Per Octaves (myspace.com/thevoltperoctaves) this week. After a grueling month following the Tea Fire, which destroyed almost all of the Moog duo's prized possessions in its short-but-destructive blaze, husband and wife Nick and Anna Montoya played their final hometown show in S.B. this past weekend. Later this week, the pair, best known for their quirky, forward-thinking, and inspiring electronica, will be leaving the seaside city that they've played in for almost five years, embarking up the Pacific coastline to start anew in Portland, Oregon.
Returning to Elsie's (117 W. De la Guerra St.) last Saturday night for a final musical farewell, the pair's combined power was apparent. The place was filled to near capacity throughout the VPO's set and afterward, drawing fans and friends into the little watering hole for a chance to say farewell in style. Over the years, the Montoyas have frequented Elsie's-the-Venue perhaps more than any other live act, and every single time they've played they've brought with them an energy and enthusiasm that truly lights the place up from the inside.
But perhaps even sadder than the musical loss we're now faced with is the loss of two such amazing folks. For those unfamiliar, the Montoyas added an extra special something to so many parts of the Santa Barbara community, and their talent and kindness will not be forgotten anytime soon. So, to Nick, Anna, and little Eva, I wish you great luck in everything that comes next. And to everyone else, keep your eyes and ears peeled for the duo's third album, originally due to drop some time this winter. With guest spots from some of the biggest names in the electronica biz-Brian Kehew (Air, Moog Cookbook); Justin Meldal-Johnsen (bassist for Beck); Bernie Worrell (P-Funk, Talking Heads)-it is certain to live up to any and all hype. Visit myspace.com/thevoltperoctaves for additional updates.
WRECK THE HALLS: 'Tis the season to pack up the tour bus and head on home for some good old-fashioned family time. So just as the visiting acts start to fizzle out for the month, so too do the kids of S.B. start rolling back through. Case in point: this week's Big Bad Voodoo Daddy show at the Arlington Theatre.
As of this Thursday, December 18, the boys of Tommy & the High Pilots (myspace.com/thehighpilots) will also be back in town, and gearing up for a night of music that will surely put Velvet Jones (423 State St.) in the holiday spirit. Since releasing their debut album, Everynight, via an intimate showcase at Center Stage Theater back in May, the foursome has been traveling all around the country, playing over 150 shows and selling more than 2,000 copies of their disk.
To the uninitiated, THP rose out of the ashes of Tommy Cantillon's first success, the one-time S.B. heavyweights, Holden. A couple of failed projects and a few lineup changes later, Tommy & the High Pilots were born. Seeing as how this will be the boys' first gig time show this year, I suspect they'll bring a couple friends along for the ride. Add to that the promise of seeing Velvet Jones lit up like a Christmas tree, and I suspect that this might be the one must-attend holiday party of the season. The show starts at 8 p.m. and is open to those 18 and over. For more info and tickets, call 965-8676 or visit velvet-jones.com.