Visual Arts
Anthology at the Contemporary Arts Forum through February 8
Five SB Artists Featured in CAF's Annual Call for Entries Exhibit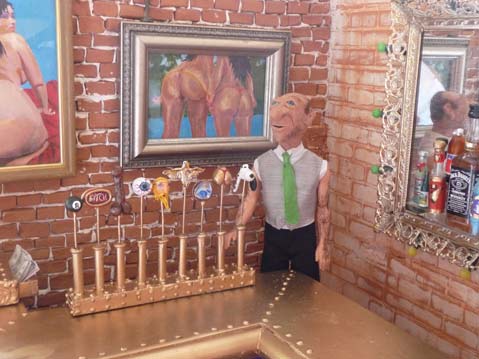 Anthology rounds up the winners of the Contemporary Arts Forum's annual open call for entries: Laura Devendorf's observational pen-and-ink drawings, Carlos Grano's abstractions of repurposed magazine paper, Jamie Caliendo's photographs and art books, Michael Barton Miller's hazy scenes of college debauchery's aftermath, and Paul deBruynKops's dioramas of urban squalor. The exhibit then hopes, perhaps vainly, that they'll all get along.
Though the clash between the artists' distinct goals, sensibilities, and aesthetics triggers some chaos, it also captures the unexpected variety among Santa Barbara's contemporary artists. Grano's large, flat images, studies in the creative arrangement of colored squares, rise neatly above the fray. They're constructed out of pages that once carried the latest celebrity gossip, but at a distance resemble modernist paintings. "White Grid Elevation" works best in a calming (though not anodyne) way, designed as more of a unified grid than the others, and colored entirely within a narrow band spanning a few shades of off-white.
A few feet away, deBruynKops's harrowing scenes of sleaze and decay provide the polar opposite art experience. In city streets, jail cells, bathrooms, and strip clubs cobbled from toys, found objects, clay, and other school-project materials, his hideous, malformed characters go about their business. Whether that business is drinking, spying through a hole in the neighbors' fence, dealing what must be a variety of controlled substances, or simply shooting themselves, they exist in a nihilistic reality of grime, trash, and ugliness. But the grime is intricately applied, the trash is finely detailed, and the ugliness is deliberately wrought. Several of the dioramas are even electronically equipped for viewer interaction.
Between the former-magazine color fields and the badly behaving dolls lie some squishy looking cartoons, old buildings photographed in eerie nighttime yellow-gray light, laboriously assembled books-as-art-objects, and examinations of the destruction left in beer pong's wake. Even if a viewer dislikes the work Anthology offers this year, she's highly unlikely to find herself bored.