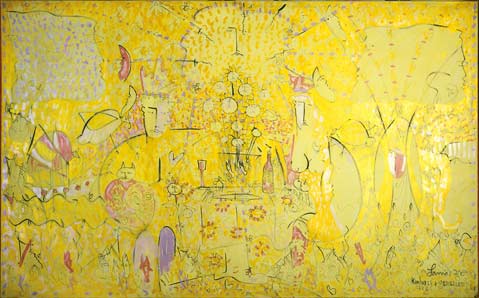 Sometimes it takes a little ingenuity to transform a space that's strictly for business into one that's aesthetically inspiring. These businesses have made use of nooks, crannies, and unlikely places in order to accommodate the arts, with pleasing results.
Art in the House
CASA Magazine has shown some true curatorial colors since becoming a First Thursday site. The office, located next to the Lobero Theatre, is cozy, but the magazine has learned how to utilize its wall space efficiently, and has hosted an impressive roster of regional artists including Karen Fedderson, Ed Inks, and Dan Merkel. Most recently, it boasted a series of portraits by Mary Carol Kenney that featured nudes in unconventionally casual contexts.
The current exhibition features works by Ojai artist Howard Lamar in glass, paper, canvas, and bronze sculpture. Lamar's signature style-a mixture of playful imagery and lighthearted colors-borrows a sense of lyricism from early-20th-century artists like Marc Chagall and Wassily Kandinsky. Lamar uses a unique symbolic language peppered with whimsical figures like small animals and abstracted dots and lines to spin magical narratives, like a triptych of picnickers partying in the bright sunlight. Although the plane is flattened and titled towards the viewer and the subjects are abstracted, the joy of the scene is palpable.
Fashionably Gritty
Around the corner on State Street, clothing boutique Bryan Lee has long supported the work of area artists. With its tall ceilings and excellent lighting, the store has an abundance of open walls perfect for an impromptu gallery space. Owner Jen Smithwick believes in supporting resident creativity, and she walks the talk by featuring both clothing designers and artists who have a connection to Santa Barbara. Currently, Bryan Lee is exhibiting the work of three Santa Barbara artists: Craig Takahashi, Wallace Piatt, and first-time exhibitor Nikki Schipper, a recent high school graduate. All of the work in this unofficial show borrows from a street-inspired graffiti aesthetic, with exaggerated portraiture, neon colors, and slashes of paint across the canvas. Takahashi's paintings combine this style with a Japanese anime subject matter, while Wallace's portraits are more expressive and abstracted. Schipper's work is subversively sweet, her illustrative painting style momentarily distracting from its gritty subject matter.
Strong and Sweet
NorthStar Coffee Co. is no stranger to the arts or the unconventional. One of the last true coffeehouses in Santa Barbara, NorthStar offers its guests more than the average mocha by hosting a roster of live musical performances throughout the year. It also incorporates the visual arts into its offerings, brightening its dark wood walls with colorful, Santa Barbara-themed paintings by Samantha Monaco. Inspired by the region's natural vistas, Monaco paints seascapes and mountains profiled against striking sunsets, oversized flowers, and triptychs of East Beach. These images are sweet, but they're not overly sentimental; their strength is in conveying the artist's sincere delight in the natural world around us.
Currently Showing
Howard Lamar (howardlamar.com)
At CASA Magazine (23 E. Canon Perdido St.) through December 31.
Samantha Monaco
At NorthStar Coffee Co. (916 State St.) indefinitely.
Wallace Piatt, Nikki Schipper, and Craig Takahashi
At Bryan Lee (802 State St.) through December 31.