Film & TV
Yes Man
Jim Carrey, Zooey Deschanel, and Bradley Cooper star in a film written by Nicholas Stoller and Jarrad Paul and directed by Peyton Reed.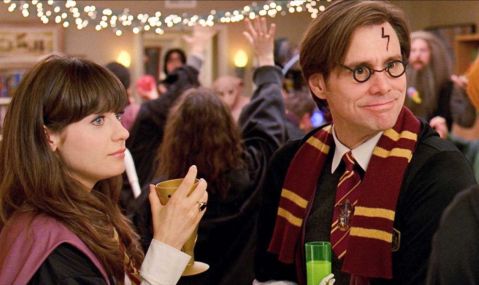 Yes Man provides a perfect vehicle for Jim Carrey to engage in the outrageous antics and physical humor at which he excels. But it's also a reasonably credible romantic comedy, with Zooey Deschanel projecting both confidence and vulnerability, holding her own against Carrey's goofy energy.
Carl (Carrey) is sleepwalking through life – dumped by his wife, stuck in a dead-end job as a loan officer, annoying his friends with his negativity to the point that they're ready to give up on him. But after attending a "Say Yes" seminar led by a messianic self-help guru (a spot-on Terence Stamp), he resolves to say "yes" to whatever opportunities come his way, unwelcome though they may seem – giving rides to homeless guys, accepting his elderly neighbor's advances, approving every half-baked loan application he gets at work. As advertised, life starts looking up immediately as Carl gets promoted, makes new friends, and meets Allison (Deschanel), a free spirit who likes his impetuous ways. But Carl still needs to learn the limits of his new approach to life.
Presumably to win the PG-13 rating, the raunch level is kept relatively low, considering the premise: Dance Dance Revolution contests, stunt motorcycle riding, and Red Bull drinking parties are mostly as wild as things get. The romance between Carrey and Deschanel seems quite chaste (although the nearly 20-year difference in their ages remains the elephant in the room), and the various threads of the plot are tied together in an amusing, Seinfeld-esque sort of way.