News
County Supervisors, Judge Sworn In
Doreen Farr Takes the 3rd District Seat; Jed Beebe Ascends to the Judge's Bench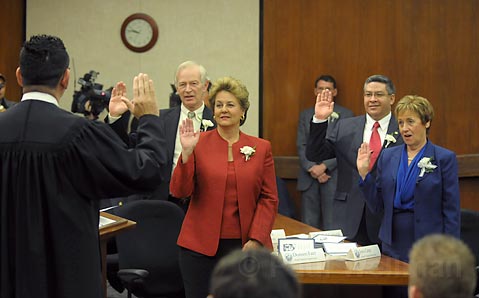 It was a festive morning in the Santa Barbara County Board of Supervisors' hearing room, as three supervisors – one for the first time – were sworn in, along with a new Superior Court judge.
Doreen Farr, who defeated Steve Pappas in November's general election, took over the 3rd District seat, which has been held for the past four years by Brooks Firestone, a Republican who stepped down after one term. (Pappas, meanwhile, is currently fighting to get some November votes thrown out and change the outcome.) Farr, a Democrat like supervisors Salud Carbajal and Janet Wolf, gives a new left-leaning majority to the officially nonpartisan board, marking the first time since 2003 that the county's governing body will be run by three progressive-minded supervisors. That prospect sure was appealing to much of the audience, which was full of city councilmembers from the region as well as community activists and other supporters who proved critical to getting Farr elected. "They must've liked you," said county CEO Mike Brown while introducing Farr to a standing ovation.
Also being sworn in with Farr on Tuesday morning were 1st District Supervisor Salud Carbajal, who is starting his second term after running unopposed, and 4th District Supervisor Joni Gray, who is beginning her fourth term after defeating former Santa Maria police chief John Sterling handily in last year's primary election. Jed Beebe, a former Superior Court research attorney who beat Deputy District Attorney John MacKinnon in a tight November race for judge, was sworn in, too, and will have his robing ceremony Friday in Santa Maria.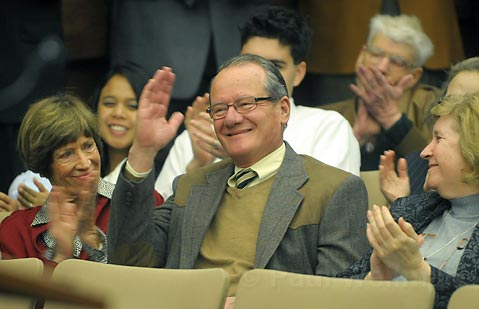 The five supervisors are beginning the new year at a time when the challenges couldn't be greater – and that follows a very difficult 2008, which saw the board cut millions of dollars of programs and services. "This past year had some ups and downs," said 5th District Supervisor Joe Centeno. "We look forward to an '09 that has less severity in it."
While the county was plagued by two major fires in 2008 that cost millions of dollars and hundreds of homes, it's no mystery that the country is now in a recession and that the state's finances are a mess and will stay that way for some time. The budget crisis is "truly real," according to Gray, who was appointed to the board by Gov. Pete Wilson in 1998. "This year coming up will be about the economy, the budget, the economy, the budget, the budget, and did I say the economy?" Carbajal said.
Judge Arthur Garcia, who swore in the four, had challenging words for them. "It's not just words you're repeating," he said. "You're taking an affirmation you're going to serve : to really put the needs of the public before your own needs. Too many people have just said those words and gone on to embarrass the people wearing robes or in elected positions."
Keynote speaker Thomas Tighe, who is the CEO of Direct Relief International, began his talk with a few lighter comments for the new board. "It's nice to see you sworn in before you get sworn at," he said, adding, "I hope your children will now listen to you out of deference."
After Tighe's speech, Carbajal handed the chair of the board gavel over to Centeno, who will run the board meetings in 2009. Second District Supervisor Janet Wolf will serve as vice chair.
With former supervisors Gail Marshall, Susan Rose, Naomi Schwartz, and Frank Frost in attendance, Farr explained that she had earlier walked down the hall to view all the portraits of the county's former supervisors, which made her "realize what a history of government we have in this county." After being sworn in, Farr told the crowd, "I promise I will work very hard over the next four years."