Arts & Entertainment
The Meat Puppets Return with a New Record, Bright Future
The Family That Rocks Together :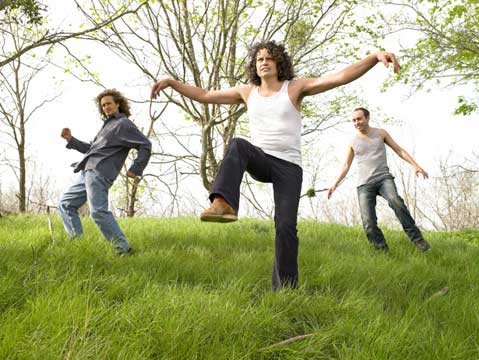 The Meat Puppets have been around, though flying somewhat under the radar, since their inception in 1980. It was then that brothers Curt and Cris Kirkwood formed the three-piece Americana-meets-alt-rock band that would eventually grow to inspire fans and musicians alike. The Puppets reached commercial success in the mid '90s before drifting into hiatus, reforming just two years ago to release their first record since 2000, Rise to Your Knees. And with another album in the works and scheduled for release this March, the Meat Puppets are hitting the road once again-and stopping at SOhO on Thursday, January 15.
Though the Meat Puppets often are credited with inspiring grunge heroes like Nirvana and Soundgarden, as well as lo-fi indie all-stars Dinosaur Jr. and Pavement, they aren't a band regularly remembered from the era. In fact, a lot of their success came after performing live-at Kurt Cobain's explicit request and insistence-with Nirvana during a session of MTV's Unplugged. It was there on national television that Cris and Curt played three Meat Puppets songs ("Plateau," "Lake of Fire," and "Oh Me") with Cobain on vocals. "Lot's of people heard us through the Nirvana thing," Cris explained when asked about what is often considered one of Nirvana's best performances. "The cool thing about Cobain taking us onstage was that he was really into us and bands like us who carved out the indie rock scene. It was his appreciation of us and our understanding of indie that led him to take us onstage with them. It was really a cool thing. It goes to show what the money guys know."
"We weren't commercially successful at the time, but artistically, we were successful as fuck," he continued. "It just goes to show, you can't only hang your hat on commercial success. And that's what Cobain was all about: Good art is whatever moves people. Commercial success is good for those who get it, but it's not the only measure or worth of work."
The Meat Puppet's popularity grew considerably after that legendary performance, and their subsequent release, 1994's Too High to Die, found them Billboard-charting success. But only two years later, the combination of a 16-year run and substance abuse wreaked havoc on the threesome. Curt began a solo career and the Meat Puppets took a break. Cris had little to say about this well-documented dark period of his life. "It's very unfortunate, the things some people do to themselves, and it can be tragic. Fortunately, things turned around and I'm in awe with the resiliency of the human spirit."
In 2006, the brothers reunited, replaced their original drummer (Derek Bostrom) with Ted Marcus, hit the studio, and got back in the game. "Rise to Your Knees got us back together musically," said Cris, "and things are groovy as crap again. My brother is a blast and the Meat Puppets are a cool project. We brought [the band] down to its knees and we brought it back. It's great. And it brings a certain something to the music-a human quality. Part of my whole thing is asking, 'What does it take to get through life?' and it comes out in our art. We've always had this strange, haunting sense of mystery and poignancy though. It's how we've always written."
With their first full-length recording and supporting tour since the mid '90s now under their belts, the Kirkwood brothers and Marcus recently reentered the studio for their upcoming record, Sewn Together.
"That's what you do when you're a musician: you put out a record and get another in the can," Cris explained. "This recording was like a rebirth into what Meat Puppets was always about. It's only about the record. The band has gelled back into the band again, this groovy little unit. One cool thing about the Meat Puppets is we set ourselves up as a band that can grow old, so the band ages as we age; the music ages as we age. So yes, this record was a blast to make. We touched into corners we've never been in before: self-generating interest in change, growth, beauty, depravity, and colors. We've got lots more places to go, too, and I definitely want to make more records. I absolutely look forward to making more music with my brother. There's so much heritage involved in our band."
4•1•1
SOhO and Club Mercy present the Meat Puppets at SOhO (1221 State St.) on Thursday, January 15, at 9 p.m. Call 962-7776 or visit clubmercy.com for ticket and show info.