Sports
Santa Barbara's Alpine Connection
Snow Scientist, Gallery Owner, and Ski Bum David Court Leads Wintry Adventures in the Alps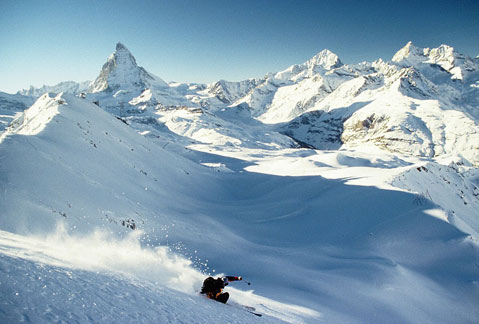 For many skiers in America, a good day is all about quantity-we rush the lift lines to get in as many runs as possible, repeatedly hit the peaks to tally the most vertical feet, and skip the lunch break to maximize the number of hours spent on the slopes. But for European skiers, a good day is more about quality-quality of the snow conditions, of course, but also the quality of the food and drink, the quality of the conversation among friends and strangers, and the collective quality of a winter's day enjoyed in the mountains.
That distinction is exactly what Santa Barbara gallery owner and UCSB scientist David Court wants to share with his fellow countrymen. Court, who co-owns The Frameworks/Caruso Woods Gallery on Anacapa Street with his wife, Christi Westerhouse, and does technical research for UCSB's Institute for Computational Earth System Science, is moving this month with Christi and their young daughter, Francesca, to a little hamlet called Les Houches in the French Alps. From there-and until they return to town in April-Court will be expanding Alpine Exposure, the side business he's quietly run for the past four years that takes skiers and snowboarders into the Alps for adventures that focus on culture and camaraderie rather than death-defying drops and number of kilometers covered.
"I'm a cultural concierge," explained Court, a Redwood City native who fell in love with the Alps while living in Zermatt, Switzerland, for about two years before going to UCSB. "I am taking people into places so that an American can have the quintessential European experience : It goes beyond skiing. Skiing in Europe is more of a community event, and it's more social. It's about enjoying being in the mountains with people, eating good food, drinking good wine, and listening to good music."
To do so, Court personally escorts groups of up to six people from the airport (be it Geneva, Zurich, or Milan, all about three-and-a-half hours from the ski towns), onto the correct trains, and into their fully appointed apartments in either Zermatt or Verbier, Switzerland; Chamonix, France; or Courmayeur, Italy. After a night out on the town, skiing begins the next morning and features uninterrupted runs-some as long as seven miles!-that slope across international borders while connecting chalets and alpine huts where you can snag a sip of brandy or chow down on an entire meal. This routine continues for a week or so, with Court providing everything needed for a carefree and complete Euro-ski experience.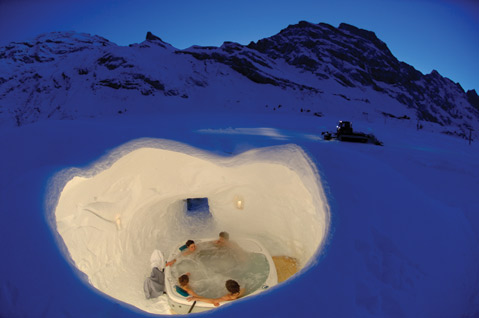 The price tag-which includes the lift passes, the apartment, ski gear rental, ground transportation, and Court's concierge services-ranges depending on duration and location, but for seven nights in Zermatt, you can expect to pay about $1,600. And that seems like a steal, considering that Court charges about the same amount for a week at Mammoth Mountain, a trip that he markets mostly to Europeans. He has taken one group for each of the past four years, and this year-with no advertising or marketing whatsoever, save for word-of-mouth-he already has two trips lined up. That unprompted growth-thanks, assuredly, to his satisfied customers-was a sign to Court that it was time to move to Europe for a few months and see if he can turn Alpine Exposures into a sustainable business. Well, that and the need to quench the desires of his inner ski bum, of course. "People know it: I have an addictive personality, I fall in love with stuff," explained Court, who turns 40 this February. "The mountain thing has always been a hard thing to shake. People say it's like a drug addiction, and it's a bad one, because I can't find a cure."
In addition to adding more trips this year, Court is also making Alpine Exposure more environmentally conscious, using apartments that have eco-friendly aspects, running his Web site with windmill power, and taking his clients to see glaciers in full retreat. "Let's face it-skiing is not the most environmentally friendly sport out there," said Court, whose UCSB work involves calibrating satellites to better track conditions of ocean life, a method he first honed while investigating snowpack as a graduate student at the Bren School. "But nevertheless, I feel the foundation of a good vacation needs to include some sort of responsibility for conservation and protection for the environment I am working in. I can't expect my clients to arrive in Zermatt on a dogsled and stay in an igloo, but I'm taking this burden of sustainable tourism off their shoulders, so they can take a vacation knowing I've been able to manage and take care of all this stuff."
Lucky for Santa Barbara, Court and his wife also have a very capable manager watching over The Frameworks when they're gone, and Westerhouse will even be working in a gallery in Chamonix, said Court, explaining, "Hopefully, we'll come back to Santa Barbara with a refreshed attitude about what to do."
With Alpine Exposure, Courts seems to be spreading that notion of refreshment to his customers, and that's exactly what makes him most proud of this work. "It's really cool when they come back and identify the cultural differences between life in the U.S. and life in Europe," he explained. "The thing I really get a kick out of is when people come back with a richer attitude toward life."
4•1•1
Learn more about David Court's Alpine Exposure by visiting alpine-exposure.com.
SoCal Ski Deals
Mammoth Mountain
January Midweek Pass: Unlimited skiing Monday to Friday in January. $199 for adults, $149 for youth (13-18), $99 for children (7-12) and seniors.
Flights from LAX: Horizon Air now flying daily to Mammoth Airport. $79-$99 each way. See mammothmountain.com or call 1 (800) mammoth.
Mountain High
6-Pack: Six any-day, transferable, sellout-proof lift tickets for $179. Ralphs Tickets: Buy lift tickets at the grocery store for $49, a $15 savings. See mthigh.com or call (888) 754-7878.
Mt. Baldy
Club Card: Makes lift tickets $15 per day, $20 on peak weekends and holidays with Internet reservation, plus $10 off rentals. Also, 50 percent off all lift tickets, with 24-hour advance reservation. Costs $149. See mtbaldy.com or call (909) 982-0800.
Big Bear
Midweek Lift and Lodging Packages: Discounts on lodging Sunday-Thursday, interchangeable lift tickets for Snow Summit and Bear Mountain Monday-Friday. Some blackout dates. Rates start at $69 per person per day. See bigbear.com or call 1 (800) 4-big-bear.