Film & TV
Mr. Scene-Stealer
An Interview with Michael Shannon, the Unexpected Star of Revolutionary Road
Academy Award-winning director Sam Mendes of American Beauty fame has returned to suburban life, this time adapting Richard Yates's 1961 novel Revolutionary Road. On the surface, Frank and April Wheeler are the perfect young couple with two kids-but they both are deeply disillusioned with the trappings of consumerist America. Their plan to escape to France is derailed by an endless cycle of jealousy, recrimination, fights, and co-dependency. Road boasts remarkable ensemble acting and marks the reunion of one of the most iconic movie couples of all time: Titanic's Leonardo DiCaprio and Kate Winslet. I got the chance to speak with scene-stealing actor Michael Shannon about his breakthrough performance of the disturbed son of a neighbor who challenges the young couple.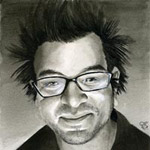 It's quite a feat to own the scenes you share with Leo DiCaprio and Kate Winslet. Thank you. You know, it's kind of the way it is in the book with this character. It's set up in the story that this character comes in and takes over the situation. I think one of the reasons it's able to be that way, frankly, is because Leo and Kate in those scenes are just reacting to me. Actually, their reactions to me are what make my performance seem so convincing.
Were you familiar with the book before you took on the role? I had gotten it as a gift actually from my girlfriend. It was the first gift she ever gave me.
That's an ominous gift : Yeah, I told her, "This is probably one of my favorite books, but I don't know why you gave it to me. I don't know how this bodes for us in the future. "
Did Sam Mendes approach you for the role? No, absolutely not. Not at all. I actually found out they were making a movie via the newspaper, I think, some little blurb, and I called up and said, "Why haven't I heard about this? What's going on?" And then they got me an appointment. I went in to read for Debbie Zane out here in L.A. and then I had a callback and sat with Sam and he just offered me the job.
Were you freaked out about working with Leo and Kate? Yeah, I was. It's very intimidating. They are two of the most down-to-Earth people you could ever hope to meet and they are very humble. They were also very anxious. : I know it's not a universally adored book, but everyone on the set was united by their passion for this book and wanted to get it right. : People who are fans of this book are kind of rabid fans and knowing that there was going to be a very small margin for error kind of put us all on equal footing.
What was it like on the set with Sam Mendes directing his wife, Kate Winslet? I think Sam really tried to remain invisible and let Kate and Leo alone. Sam knew how important that relationship was to the film and he was really banking on capitalizing on their history together, because they are such good friends from what they went through on Titanic. I don't think it really would have worked as well even without great actors if they didn't have that history that Kate and Leo had. And Sam was really gracious about it and happy to have that.
Your character serves as a big comedic relief because, up until you arrive, we are so tense. Were you aware when you were performing that there was a comedic aspect to it? When you read the book, it's funny-it makes you laugh out loud. But Sam was very wary of that and he would always be quick to remind you that. : He didn't want it to seem like just blindly coming in and making fun of everybody and leaving. He wanted to have more outlook and depth. But it is; it's very funny. It's very rare to laugh when you read a book, to laugh out loud, but I was howling. I just loved the guy. He's very funny and, if he does provide some relief in that moment, then God bless him, because I'm sure it's needed or warranted.
When you were shooting, did you know that your final shot is completely out of focus? Yeah, I saw them setting up that shot. Sam is not secretive about that stuff. I didn't take it personally. I kind of figured he kind of had a good reason for it.
Did he explain why? No, but, I mean, it's one of the best shots in the movie.
What happened to the girlfriend that gave you the book as a gift? She's now my wife.
4•1•1
Revolutionary Road is now playing in Santa Barbara theaters.