Dance
Santa Barbara Dance Alliance's New Works
A Review of the Annual Dance Showcase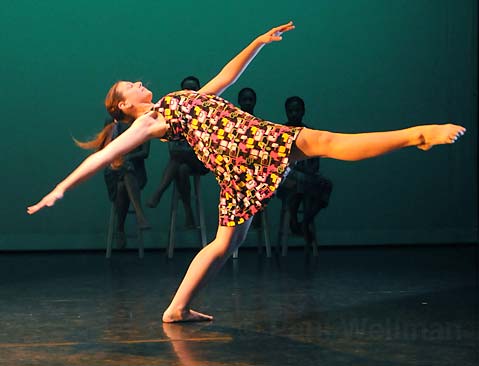 Every January, the Santa Barbara Dance Alliance celebrates the New Year in two ways: by honoring a figure who has made a lasting contribution to dance in the region, and by hosting a showcase of new work. Last Friday night, beloved ballroom, swing, and salsa instructor Derrick Curtis accepted SBDA's Lifetime Achievement Award with characteristically comic charm and a long list of thanks.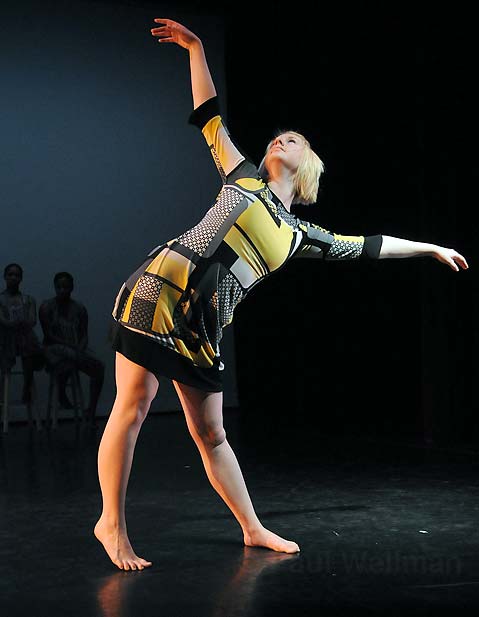 It was a fitting culmination to a night of dances offered in a spirit of thanks and celebration. At the center of the program was Cybil Gilbertson's "Skinny Long Legs," a solo she performed herself as a tribute to her aunt, who committed suicide in 2006. Accompanied by her guitar-playing father, Gilbertson's dance and monologue moved from childhood memories-her aunt as a beautiful woman dressed in pink sparkles and lace, and later as a hospital patient with white bandages on her wrists-into a prayer of gratitude. Ultimately, her reflections brought her back into the space of the black box theater where she lay on her back, simply breathing.
Erika Kloumann joined Gilbertson for Robin Bisio's ethereal duet, "The Meadow Is Six Kisses Wide."
UCSB's dance program was well represented, particularly in faculty member Delila Moseley's Spanish-tinged "Estancia" featuring the freshman dance company, and in her colleague Nancy Colahan's "Take Two," a playful dialogue between dance and live percussion. Colahan was also featured in Tonia Shimin's film, "Of Time and Spirit," turning slow circles in the surf, and dragging her toes through wet sand. UCSB grads Sidnie Charnaw, Erin Martinez, and Nicole Helton all presented challenging athletic works informed by release technique and pushed along by driving scores.
Matthew Nelson and Susan Shaberman both performed solos of their own creation; Nelson's "Collaukus" was a formal investigation of the body in space, while Shaberman's "Impressions" built from close, sped-up gestures to full-bodied motion.
Among the group works on the program were Emily Wheeler's polished trio "Back to Waiting," and Maria Rendina Frantz's "Le Donna Della Terra," which was not performed on Friday night due to an injury.
From Misa Kelly, whose work has in past years tended toward the shadow side, came "Something Sweet," an unexpectedly playful trio in which long-limbed Melissa Block and Jacque Wiley pushed petite Kaita Lepore back and forth until she protested-but not too bitterly.