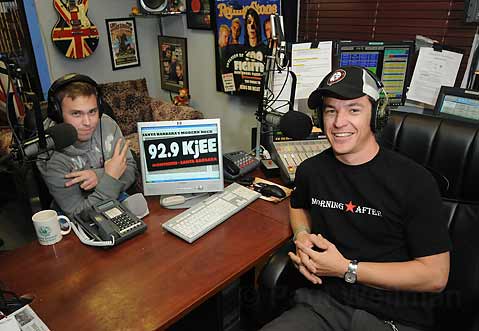 For those poor souls forced out of bed and off to work before the 9 o'clock hour every morning, few things can help to ease the pain of waking up before Mr. Sunshine. For many, coffee, shower, and a grab-it-and-go breakfast signal the start of the workday. For others, it's an even more slapdash endeavor. But no matter what your morning ritual may entail, the folks over at 92.9 KJEE are there to help. For just about three months now, the station has been calling on resident personalities Spencer and Adam "The Sports Guy" Lundquist to carry their weekday morning show. And based on a recent trip to the studio, I'd say it's working out mighty fine. For a censored rehashing of what the boys are bringing to the table, check out our rundown of the "new and improved" show below. And to tune in for yourself, the guys can be heard from 6 to 10 a.m. every Monday through Friday on 92.9FM.
1) Totally Live, Five Days a Week: Our hats go off to anyone who is up and working at six a.m.-especially if they're willing to do it in front of an audience. Together, the duo is relying on their own antics and off-the-cuff banter to get your morning moving. "We take the stuff that we think would be funny in the moment and we us-ify it," explained Spencer. (Note: both the Independent and the KJEE staff are well aware that "us-ify" is not a word.)
2) The Cast of Characters: While Lundquist and Spencer man the controls, they also employee a rotating troupe of on-air personalities. Take, for example, John "Primetime" Palminteri, who checks in hourly to provide up-to-the-minute news coverage, and Russ "Moviefone" Leatherman, the voice behind your neighborhood box office listings and KJEE's Friday morning film chats.
3) Keeping it Topical: NPR they ain't, but Lundquist and Spencer certainly do their part to provide a comical take on the community at large. "We're the most Santa Barbara of all the Santa Barbara stations," laughed Lundquist. And whether that means national news coverage (last week, they had a correspondent calling in from the presidential inauguration), or S.B. goings-on (in-the-studio interviews; man-on-the-street reporting), they manage to make it work.
4) They're Doin' it for the Ladies: "[We're] two of the best looking men in radio-hands down," Lundquist asserts of the pairing. Whether or not we agree, the duo certainly strives to maintain female-friendly programming. Just last week, in fact, they took to the streets to teach some women just what goes on inside the mind of a man. Yikes.