Film & TV
SBIFF '09: Closing Night's Hometown Connection
An Interview with Mike Cram, the Santa Barbara-Based Screenwriter of Lightbulb
On Sunday, January 31, the Santa Barbara International Film Festival dazzles for the final time this year, with the closing night film Lightbulb. Written by Mike Cram and directed by Jeff Balsmeyer (see an interview with him here), Lightbulb ends the festival reminding its viewers of the seemingly lost American principle of perseverance and of the original American Dream. A classic "rags to riches" tale, the film has been described by fest director Roger Durling as "timely to our current circumstances." In this way, Lightbulb coincidentally leans upon President Obama's words that inspire all Americans to keep working: "We must pick ourselves up, dust ourselves off." First-time screenwriter and Santa Barbara resident Mike Cram based Lightbulb off his own life as a struggling inventor. Calling his film "humorous, warm-hearted, and hopeful," Cram spoke with me earlier this week.
Tell me a little about yourself. Where have you lived? What are some of your hobbies?
I work in marketing, and I have my own private business. I've always worked for myself. I moved to Santa Barbara from Seattle, mainly because of the rainy weather. I don't have too many hobbies-mostly hiking, mountain biking.
What is the story of Lightbulb?
The film is about persistence and hope in face of hard times. Two good friends have been struggling through many failed inventions and finally they come up with one product that saves the day. It's not just a story about hard times. It's the story about three people who speak together and persevere.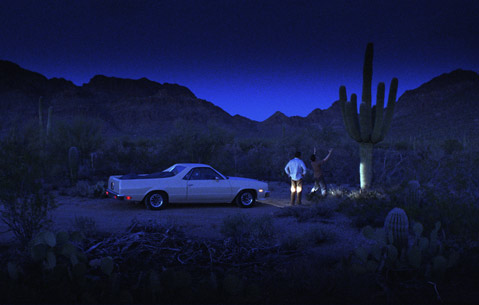 What is the message you intended to pass along with this story?
The underlying message is that you should overcome hard times with hope, humor, and true American ingenuity. You need to grit your teeth.
I read that Lightbulb is based on your own life. How does the film go about showing this?
The movie is pretty true to form. I'm not an inventor in the sense of Edison. Rather, the movie emphasizes all the failed products that lead up to the invention of a highly sellable product.
What is an example of one of your own failed products?
A lottery watch. It was an animated watch and when a button was pushed, six random numbers came up for your lottery ticket. But it failed because it wasn't practical or functional. For a product to sell, it's got to be a combination of fun and functional. Otherwise there's no need for it.
Could you give a rundown of the whole process you had to go through to get your story transformed into a film?
Sure. I started by looking at seven "how-to" books on indie movies. Greg Goodell's Independent Feature Film Production book was the one that got me. I contacted Greg and from there we continued with a director search by watching about 100 indie movies. Narrowing our choices to about five or six directors, we contacted Jeff Balsemeyer. He lives in Australia. Jeff got a copy of the script and was right away very enthusiastic. We began casting in L.A. with the help of the amazing casting director Ronnie Yeskel. Out of a little more than 500 auditioners, we picked Dallas Roberts and Jeremy Renner for the two lead roles, Matt Reeder and Sam Schooler, and Ayelet Zurer for Matt's wife. Once that was done, we began looking for suitable places to shoot in Tucson, Arizona. Some of the movie was also shot in Hong Kong with the help of our second unit.
Is there anything that you would like Santa Barbara to know about Lightbulb?
I just want to say that I and everyone who worked on the film are overwhelmed with the generosity of the freelance on the movie. Everyone at the festival has been amazing, especially Roger Durling and Candace [Schermerhorn]. I couldn't have asked for a better premiere!