Food & Drink
Epiphany
A Review of this Purveyor of New American Cuisine on Victoria Street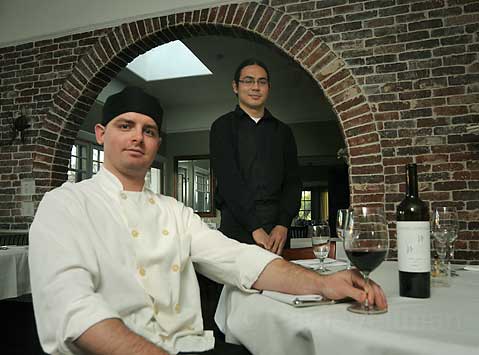 Where: 21 W. Victoria St., 564-7100, epiphanysb.com.
What: New American cuisine that, like America, takes its inspiration from the best the world has to offer to create exciting combinations.
How much: Appetizers from $7-$19, entrees from $21-$32, desserts from $8-$12.
The dish: In a house built in the 1800s, just steps away from the Arlington and Granada theaters, is Epiphany-a restaurant and bar that strives to live up to its name, and succeeds. With a minimalist decor that makes the most of the red brick archways lit by wall sconces and candles, patrons' attentions are drawn to-and kept by-the food. While the restaurant is pricey, the cost seems appropriate for the attention lavished on each carefully prepared morsel. The wines, both regional and imported, are surprisingly affordable. Rather than be merely the invisible purveyors of food and drink, the wait staff is clever and friendly, and adds to the overall dining experience. Every evening, the chef creates a small amuse-bouche for the first course, which is served with herbed bread baked fresh each morning. Entrees bring together continents, like the sweet Japanese kombucha squash in a pasta purse with a light citrus sauce, or the lamb spiced with North African ras al hanout over parsnip mash. For after-dinner drinks or pre-theater treats, the bar offers about 30 imaginative cocktails, cooked and raw "teasers" like parmesan truffle fries or filet mignon carpaccio, and cigars that are served in the outdoor patio. The dessert selection varies, but if the vanilla and lavender crme br»lee is on the menu, get it.
4•1•1
This week at independent.com, E is also for: El Bajio (independent.com/elbajio). And, for all of our restaurants, see independent.com/restaurants. Next week, see what F/G are for :