Arts & Entertainment
Tracy Grammer Pays Tribute to Her Other Half in a New Season of Tales from the Tavern
Grammer Lesson
For most musicians, the path to success is a long and winding road that typically contains more trappings than it does riches. But, as difficult as its progression might get at times, most wouldn't swap it for the world. And while a successful trek will not shower all travelers with unparalleled fame or glory, it usually makes for a good story or two. Every spring and fall, some of music's finest gather in an old saloon on the outskirts of Santa Ynez, where they share both the music that has fueled their careers and the tales that have flavored them. And with another season of Tales from the Tavern about to get underway, there is probably no better introduction to the series than Tracy Grammer.
Born in Florida and raised in Southern California, Grammer's induction into music was two-fold. While it was a borrowed violin that first introduced Grammer to composition, it was with a violin in hand that she saw the dawn of her second musical coming-thanks to an accidental meeting with Dave Carter. And though the violin has laid the foundations of Grammer's musical career, it is Carter who has defined its direction.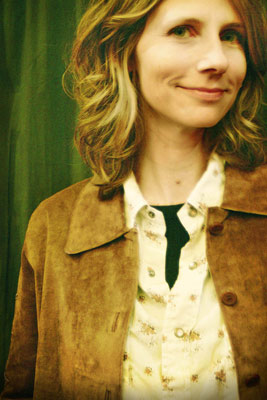 Grammer's musical journey started in Oregon. Although she was studying at UC Berkeley at the time, her then musical partner was residing in Portland. During one particular visit, Grammer felt an undeniable calling from the city and, as peculiar as it was, she heeded the call.
"On one of my first visits to Portland I had this premonition," explained Grammer. "Two words came to me, and they were 'He's here.' I had never heard anything like this in my head before, but I left and went back to Berkeley and had this nagging feeling about Portland. So, six months later, I moved up there. About three weeks after I got there I was at a songwriters' night accompanying my boyfriend. There were a whole bunch of people playing two songs apiece and at the end of the night this tall cowboy-looking guy walked in and people were whispering, 'It's Dave Carter. It's Dave Carter.'"
When Carter climbed onstage and started performing, Grammer was transfixed-and not just by his defiant presence. Carter's literary sensibility, delivered with a country twang, was a revelation to Grammer, who saw the performance as somewhat of a calling and resolved to redirect her own musical ambitions starting then and there. As luck or fate would have it, Carter and Grammer tangled guitar cases while exiting the venue that night, and by the time they had straightened themselves out Grammer had accepted Carter's offer to join his band.
"It wasn't like me to accept such invitations, but I realized that was a chance that I wouldn't get again," explained Grammer. "We started playing together and had a band of about five people for around a year before everybody else gradually got busy with their lives and we were the only two people with nothing better to do. So we kind of broke off and started playing as a duo, and as soon as we did things started happening for us. It was a very fast trajectory, relatively speaking. Four years later, we had made three albums and were on tour with Joan Baez."
Baez had started playing one of the duo's songs and invited Carter and Grammer to join her show. Shortly after, the pair found themselves touring across the country again. Then in July 2002, while traveling through Massachusetts, Carter went out for a jog and, shortly after returning to his hotel room, suffered a massive heart attack and died. Since Carter's passing, Grammer has made it her mission to keep her partner's legacy alive. It is a musical torch that she is only too happy to carry, and one that inspires her daily.
"Since then my job has been what it was from the day I met him; to carry on these songs and make sure people hear this music," she explained. "I play songs from other songwriters, but a lot of the show is dedicated to Dave Carter's music, not just because I think it is some of the best songwriting that I will hear in my lifetime, but also because I love the songs and people seem to love discovering them. I never tire of them. In fact, the more I sing them, the better I come to understand them."
Grammer's are not the only tales to be told in the upcoming season of Tales from the Tavern. Joining her to open the series will be I See Hawks in L.A. On Wednesday, March 4, Teresa Tudury and Greg Trooper will share the stage, and Priscilla Ahn and JD Souther will round out the month on March 18. Kenny White and Jack Tempchin play Tales on April 1, and April 15 marks the return of Dave Stamey and Steve Moris. The series will be brought to a sparkling close by our very own Glen Phillips when he is joined by David Wilcox on Wednesday, April 29.
4•1•1
Tracy Grammer will headline the season-opening Tales from the Tavern show this Wednesday, February 18 at the Maverick Saloon, 3687 Sagunto St., Santa Ynez. Call 688-0389 or visit talesfromthetavern.com for details.