Arts & Entertainment
New Pornographers Frontman Heads to SOhO
A.C. Newman Brings Get Guilty to the Santa Barbara Masses
There are few contemporary pop musicians as respected and prolific as Carl Newman. As the frontman and lead songwriter for the Canadian-American indie collective The New Pornographers, Newman has helped to craft some of the smartest, catchiest, and most structurally complex ditties of both his genre and his generation. As a solo artist, Newman has doled out two sonically dissimilar, yet equally impressive records, with the latest (the recently released Get Guilty) further indebting us to his musical might.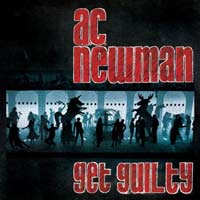 Get Guilty packs in plenty of Newman's signature hook-laden punch, as well as some truly clever lyrical content. On the album's lead track, "There Are Maybe Ten or Twelve," Newman starts his onslaught with the following doozy: "There are maybe ten or twelve things I could teach you / After that, well, I think you're on your own / And that wasn't the opening line / It was the tenth or the twelfth / Make of that what you will."
Whatever you make of it, Newman's wit is hard to deny, or ignore. In the coming weeks, the singer will head out in support of Get Guilty, on a tour that includes a stop at SOhO this Friday night. Newman recently phoned in from his home in Brooklyn to discuss the making of the album, bandmate Neko Case, and what it's like to rock out on Letterman.
Compared to The Slow Wonder, which you wrote and recorded during a down year for The New Pornographers, how did Get Guilty come about? Um, I don't know. I just felt like it – it's what I do. I'm a musician, so I like to keep working. I have this fear that if I don't keep working it will all just disappear; I've just got to keep going. And to a certain degree, maybe I knew this was going to be an off year. It was all kind of accidental, but Neko's record is coming out next month, so it wouldn't make any sense to have a New Pornographer's record go against a Neko record. I can do a solo album while Neko does that, and next time around, about a year from now, maybe there will be another New Pornographers record.
Do you look at the two of you as going head to head when you release solo material? No, I don't see us going head to head. It's a ridiculous, unwinable fight. I think I'm like Don Quixote and she's the windmill – the impossible dream. By that I mean she would slaughter me in any fight.
What makes a song idea an "A.C. Newman song" versus a "New Pornographers song"? I don't know. I used to think there was a difference. I made the first solo record because I thought there was a difference – because I thought all the songs I put on Slow Wonder wouldn't work with The New Pornographers – even though looking back, I think a bunch of them probably would have. Ever since then, there hasn't been a huge difference in my head.
Does it bother you to have the two outfits compared to one another? Well, I don't know. You can't really stop people from saying what they want to. You can't write a new record. If you sat down and read all of the press, you would find that it kind of makes no sense. One person thinks, 'Oh, this is way too rock.' And another person says, 'Oh, this is way too quiet.' And one person will say, 'This is exactly the same as the last record!' and then, 'It's way different. It's too different from the last record!' 'Best album of the year.' 'Worst album of the year.' It's hard for me to even respond to what people think about the record.
You're known for your ability to write really good hooks. As a listener, what draws you to a song? Um, I guess it's usually melody, but it changes. I like things that are kind of unexpected. I like when music moves in places that you don't really expect it to – but not in a jarring, Frank Zappa kind of way. Like Animal Collective's album Feels; I remember that record really was amazing and weirdly melodic and the groove of it and the direction that it went in. I've always loved bands like that.
The percussive elements on "Like a Hitman, Like a Dancer" really stuck out for me. Is there a story behind that song at all? The drumbeat? Like the [mouths drum line of song]? That song started with that riff or progression or whatever you'd call it, which I just really liked. And I thought, 'I gotta write a song.' The drums just kind of followed that because it was such a rhythmically strange [structure], I just had a bass drum underneath it to move it along. And those rim shots seemed natural. Jon Wurster did most of the work on that.
You employed a number of people to play parts on Get Guilty. How did you hook up with Kori Gardner and Nicole Atkins and Jon Wurster? Well, Jon was a temporary drummer for a couple weeks in The New Pornographers. And the first couple weeks we did on the Challengers tour he was our drummer, so I got to know him through that. Kori and Jason [Hammel] from Mates of State, I think I've known them for about five years. They actually played at my wedding reception. It was Neko and Mates of State – that was our entertainment. It was a pretty good gig. And Nicole Atkins, my wife and I met her because we were both backup singers when Feist played on Letterman. In August 2007, she did "1, 2, 3, 4" on Letterman and they put together this kind of indie rock choir of backup singers. It was like three of The National guys, Mates of State were there, a couple Broken Social Scene guys, Grizzly Bear, and a few other people. And I was there and my wife was there and Nicole was there. I didn't really know anything about her, but we hung out with her all that day and night and thought she was cool.
What was rehearsal like for that performance? It was just a sound check, but it was kind of bizarre and surreal. It was very fun actually for me. The New Pornographers had just played Letterman a week before, and when you have to do it it's very nerve-wracking. You're really nervous because you have to go and play on this show and there's a million people watching, which will never cease to terrify me. So when a week later it was like, "All I gotta do is sit with 20 other people and go, 'Whoa-oh-oh-oh' – I can do this in my sleep." But my wife, she was totally nervous because she'd never done anything like it before. Her knees were totally shaking. I was nearby going, 'Man, nobody is even looking at me. This is awesome.'
The thing about it is, when I have to sing or do too much in that situation, you're concentrating so much on what you're doing you can't do what you really want to do, which is just stop singing and look around you and go, 'Holy shit. This is so crazy. Look, Dave's over there. And there's Paul Shaffer.' That to me is what makes those experiences really amazing. And when the New Pornographers first did Letterman in 2003, I remember that was the best part for me, when we got on stage and we were totally ready to go and we realized we still had like 45 seconds or a minute before the commercial was done. And the Paul Shaffer Band was playing and we were looking at each other and looking around and looking at the desk and just thinking, 'This is so crazy.'
It still seems insane to me, you know? I actually just got booked to play Letterman on April 2, at the very end of our tour. It just seems really bizarre. It's one of those things where, I feel like the fact that it will be my third time on Letterman totally devalues being on Letterman. In my head I'm thinking, 'If you're going to let somebody like me on Letterman for the third time, they'll let freaking anybody be on Letterman.' I'm excited about that the most because nobody in my band has done it, so I think I'm going to be able to see it through their eyes – like being with a bunch of people who are doing it for the first time, and that will make it more exciting.
And is this the same band that you toured with for Slow Wonder? It's two people, Shane Nelkin and Shaun Brody, who play guitar and keyboards and trumpet, they're with me, and the other people are new. Jon Wurster is touring with me; my friend Kera who played violin on [the album] is touring; and then this girl Miranda who is in Crooked Fingers is playing bass and vocals.
Did you ever think about going out on tour without a backing band? No, I never thought of that. I don't want to do it. I don't think anybody wants to see me do it. I don't know what purpose it would serve. I would be terrified every night. I would feel like giving people refunds. I just couldn't do it – it's not my way. Although I can appreciate why people do it because you get to keep all the money. I don't think very many [people] can do that and pull it off, especially the people that just play by themselves with the looping. That really blows my mind. My friend Charles, who's in the Wrens, I saw him do a solo show with looping and I thought it was so impressive. This person can go up on stage by themselves and create [a band]. Final Fantasy is amazing in the same way; Andrew Bird is amazing in the same way. I've seen Feist do that too and it was really cool. It's not my thing. I'd have to practice too much, and it's not my way to practice for my pleasure.
You're headed out with Dent May for this leg of shows. How did that paring come about? He was just suggested by my booking agent, and I listened to his stuff and thought it was really good. It's cool. I'm looking forward to it, but I've never met him before. I think his record is coming out very soon. I'm hoping he becomes an instant sensation and it causes all the shows to sell out.
Currently your name is all over the web for your dazzling cover of "Take On Me." I have to ask how that project manifested, and whether you had that lying around, or it was recorded specifically for the compilation? They asked me to do a song, and I'd seen those records before, like Rock Artists Cover Love Songs, and I thought, 'OK, love song, what can I do?' and it just occurred to me. I did it a little slowed down and I was shocked it actually worked. It's a pretty good song. I was shocked that if you took the song and gave it a little more gravitas, or whatever it is, it actually works, even though the lyrics are a little questionable.
4•1•1
A.C. Newman will play SOhO (1221 State St.) with Dent May and The Coral Sea on Friday, February 27, at 8 p.m. Call 966-7772 or visit clubmercy.com for details.