Environment
Supergreen Condos Break Ground
Victoria Garden Mews Designers Aim to Beat Environmental Record
During Thursday's groundbreaking ceremony for what may be the greenest condominium development in the United States, contractor Dennis Allen spoke of his desire to "integrate with the natural world, instead of being separated from it as we have been for so long." Allen anticipates that Victoria Garden Mews will earn the greatest number of environmental points ever – 120 out of a possible 130, in the rating scale of the U.S. Green Building Council's Leadership in Energy and Environmental Design (LEED). The closest competitor is a 106-point-earning project built by the founder of the Green Building Council.
Although developers are not yet sure precisely when this model of green infill will be completed, they intend to live in it. The structure will be three stories tall and will be planted behind a 19th-century house, which is located at 320 East Victoria St. and which they are also refurbishing. One of the condos is to be occupied by Allen and his wife, while Devon Hartman, Allen's fellow designer-and-builder, and Hartman's wife will occupy another. (Joe and Kathy Bush, longtime friends of the two other couples, have claimed the house.)
Its most innovative feature will be a hydraulic lift so that vehicles can be stacked two-cars high in garages with ceilings 11 feet tall instead of the usual eight. The purpose is to preserve outdoor environment that would otherwise be consumed by driveways and parking garages. The paving over of gardens has long been a troublesome, seemingly inevitable side effect of the high-urban-density scenarios to which most environmental builders currently subscribe. Such so-called "smart growth" is supposed to preserve the countryside, reduce energy use, and encourage attractive, walkable cities, among other things.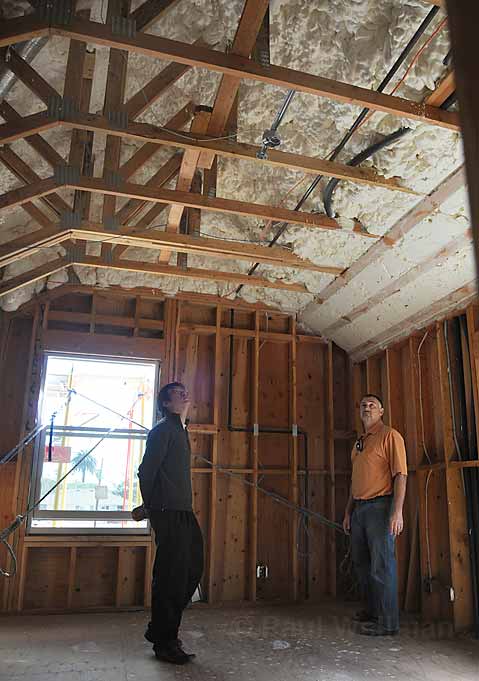 Hydraulic lifts are sometimes used by car collectors to store their fleets, but as far as Allen knows, they have never been used for residential parking. Dennis Thompson, the project's architect, said it takes only 30 seconds to get the car up or down, but conceded that there is a downside to the arrangement: If you're parked on top and want to get your car out, you will have to move the car on the bottom out of the way.
In any case, because the project is downtown, the prospective residents don't expect to drive as much as they would otherwise – and the location within walking distance of many services gained the project LEED points. Walking their talk, two of the three couples are moving into town from suburban neighborhoods.
The stacked parking will preserve 800 square feet of outdoor space. In addition, the compact arrangement means that driveways will cover just 2 percent of the lot instead of 20 percent. (It also saves money, said Allen: The hydraulic lifts cost $6,000 each, compared to about $20,000 each for off-street covered parking spaces.)
"Minimizing the pressure of cars along with modest living spaces allows for increased density while permitting us to provide more nature in this downtown neighborhood," wrote Allen, one of the founders of Santa Barbara's Green Building Alliance, in his announcement for the project's groundbreaking. Among other delights, condominium's garden courtyard will boast "abundant birds."
Hayward Lumber and REC Solar, as well as several other national firms with Santa Barbara offices, were among the geen-leaning area sponsors who are donating materials and expertise to the project. A spray-on insulation called Icynene was also featured at the groundbreaking ceremony, which Masco Contractor Services representative David James said is so nontoxic that it is edible, though he added that it "has no food value." Comparing it to the fleece overshirts popular among outdoors-lovers, James claimed the product also breathes, so that residents are not inhaling the same stale air over and over. Other features include a rainwater collection and reuse system, sustainably harvested lumber, superefficient utilities, and solar cells that on sunny days are expected to provide for all water-heating and electrical use. The project is "almost" 100 percent carbon neutral, the builders said, thought not quite. City Councilmember Grant House congratulated the sponsors for their commitment to the environment. Mayor Mary Blum praised the project as a private development that nevertheless was "a measure of our success as a city."
The ceremony was briefly interrupted by a next-door neighbor who shouted, from his upstairs apartment, "Yeah, but it blocks my view of the mountains!" The crowd of several dozen builders and city officials laughed, some nervously, and some called back that he would still be able to see the mountains from where he was, to which he responded, "But what about from my bedroom window?"