Dance
Daughter of Zion Dance Company's Je T'Aime
A Review of the Company's Santa Ynez Performance,
Friday, February 20
In a tiny, homemade black box theater behind a roll-up garage door in Santa Ynez, there beats the pulse of a unique, grass-roots artistic endeavor. Its name is Daughter of Zion (DoZ) Dance Company, and its founder and artistic director is Rina van de Kamp.
What sets DoZ apart from so many other competent and creative dance companies across the country is that these dancers are not bound to the earth. They blend aerial dance – using circus-style trapezes, ropes, and silks so that the dancers cavort in the space above the stage – with more traditional contemporary dance.
In addition to performing, van de Kamp and her assistant director Ken Gilbert shape and direct the choreography in collaboration with four dancers. In their performance last Friday night, the company members used many types of apparatus, including sculptural pieces like a window frame hanging at an angle from chains. Gilbert climbed on and through this structure, eventually dangling from it by his harness. Jumping stilts allowed Jaime Birkett to leap like a gazelle as he danced with Courtney Trowman, who dangled from a rope by her hands, and sometimes her feet.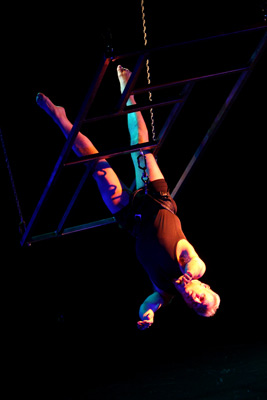 A highlight of the evening was Rebekah Leach's silk dance, "Liquid Grace." Leach navigated the airspace above the stage with exquisite grace and sensuality, her supple and expressive body entwined in two expanses of red silk. Her long, red-gold hair flowed free as she hung upside-down, creating a beautiful visual further accentuated by Chris Turner's lighting.
Special guest company Nebula Dance Lab directed by Devyn Duex performed "Release," a piece with an arrestingly dynamic style. In it four dancers moved together, gasping, falling, leaping, and tumbling to an industrial score. Especially effective was a section where three dancers moved in tight unison, a physical version of a Greek chorus.
The second half of the evening's program consisted of one long work, "Flanders Fields," on the theme of war and loss. Taking inspiration from World War I, and set to music by Jacques Brel, Leonard Cohen, and the Beatles, this piece evoked the timeless and overarching tragedy of lives lost and the grief of those left behind. The effective blend of contrasting musical tracks was interspersed with the dancers reciting short excerpts from John McCrae's poem by the same title, written about the battle where so many died among the red poppies of France.
With the exception of a short intro featuring a dancer on a web-like system of aerial ropes, this piece was earthbound. So adept and eloquent was the expression of its themes, though, that nothing felt lacking. Whether on the stage or flying above it, Daughter of Zion is bringing a whole new dimension to the expression of deep and abiding themes through contemporary dance.