Sports
Charging the Pools of Orange County
Dos Pueblos High Girls Water Polo Team Takes SoCal Title
Their two best players missed significant playing time because of injuries, but they carried on in the spirit of their slogan: "Team!" They were promoted to CIF Division I, the nation's strongest collection of girls high school water polo teams, and they welcomed the challenge. They had to take long bus rides into hostile territory, but the journeys only made them more focused.
Dos Pueblos High School made history last Saturday night by defeating top-ranked Corona del Mar 3-2 in the final match at the Woollett Aquatics Center in Irvine. It was the first time a team outside Orange County won the Division I championship since the playoffs were instituted in 1998.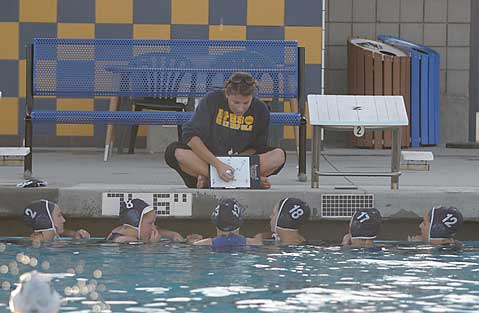 It was the Chargers' second consecutive CIF title. They won the Division II crown last year, defeating Santa Barbara in the final with a lineup of precocious freshmen and sophomores. Mark Walsh, who had coached Santa Barbara to eight CIF divisional championships, could see the writing on the wall. "It's going to be pretty depressing for the rest of us the next few years," Walsh said. "Dos Pueblos is loaded."
This year's final victory came a day after DP coach Danelle Little's 31st birthday. "I'm never going to forget these girls," Little said. "The reason I got into coaching was to have a group like this."
The Chargers had to overcome some misfortune. Sophomore sensation Kiley Neushul broke her hand early in the season and missed 11 games. A month ago, junior goalkeeper Sami Hill smashed her hand on the cage and sat out five games with her thumb in a cast. Despite missing their veteran stopper, the Goleta girls were encouraged when they battled Corona del Mar down to the wire in an 8-7 defeat at the SoCal Championships.
"That was the first time we played together as a team," said Jessica Morelos, their central defender. "We felt like we could go all the way. We're still pretty proud of that game."
Little said that Morelos and Sienna Van Alphan, the only seniors, brought character to the team. "They are the most amazing, positive, friendly girls," the coach said. "They affected the younger girls in a profound way."
The Chargers traveled to Irvine twice in the last week of the CIF playoffs. They held a ritual dance party on the bus, with Van Alphan leading the way. They watched the movies Remember the Titans and Miracle for inspiration. "They're feel-good, pump-up movies," Little said. "It doesn't hurt that they star a bunch of cute guys."
Dos Pueblos, ranked number two in the CIF, downed third-ranked Newport Harbor 9-8 in the semifinals, as a healthy Neushul scored five goals. The championship game figured to be a defensive battle. Corona del Mar featured goalie Kate Baldoni, a senior bound for Stanford. The Chargers countered with Hill, sometimes called "Samson," a blend of strength and skill whose father, Pe'a Hill, was a football lineman at Fresno State and mother, Cindy (Battistone), was a star basketball player at San Marcos High and BYU.
With her right thumb in a protective sleeve, Hill lunged left, right, and up high to snag or swat away 17 Corona del Mar shots. "Our defense helped me a lot," Hill said. "When it's a close game, it helps us win as a team. We work harder." The Sea Kings put up a formidable defense, too, concentrating on Neushul, and the Chargers needed somebody else to pull the trigger. Three players scored their goals: sophomore Tiera Schroeder and juniors Alex Hill and Amanda Redfern.
The champions arrived back in Goleta early Sunday morning and had a sleepover at Van Alphan's home. "I'm just so happy," Hill said. "We worked so hard." They finished with a 26-3 record, losing only to Newport Harbor and Corona del Mar, the teams they beat when the chips were down.
GAMES OF THE WEEK: UC Riverside has put together a 13-game winning streak in women's basketball since a 47-40 loss to UCSB on January 4. The two teams clash at Riverside tonight (Thu., Mar. 5) with the regular-season championship of the Big West at stake. Radio coverage on AM 990 begins at 6:45 p.m. The Gaucho men, meanwhile, will try to improve their standing-and their seeding in next week's conference tournament-when they host UCR tonight and Long Beach State on Saturday night. UCSB's baseball team, which won two of three at a tournament in Minnesota's Metrodome last weekend, will face Loyola Marymount in a four-game series (doubleheader Saturday) at Caesar Uyesaka Stadium.