Film & TV
The International Music Man
Santa Barbara Composer Reinhold Heil Scores Cinematic Success
It's fitting that Tom Tykwer's latest film comes in the form of The International, which follows its two stars, Clive Owen and Naomi Watts, as they crisscross the globe from Berlin to Milan to Manhattan to Istanbul in an attempt to put a stop to a bank's underhanded ways. While our town might not be one of the many exotic locations embraced, it did play a significant role in the film's production, as composer Reinhold Heil crafted the soundtrack in his Santa Barbara studio.
Moving here more than 10 years ago, the German musician and composer also used his studio to create the soundscape for One Hour Photo, Run, Lola, Run, and such television productions as Deadwood and Without a Trace. Heil has been a constant collaborator of Tykwer's since they redefined the cinematic soundtrack with Run, Lola, Run, but his musical genesis is tied to much more traditional roots.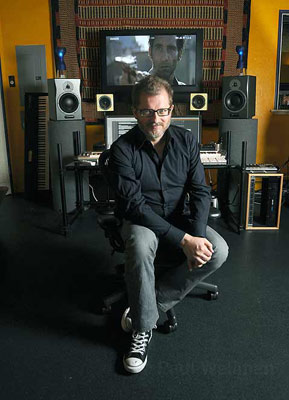 Born just outside of Frankfurt, Heil migrated to Berlin in the mid '70s to study classical music production. At that time, Berlin was a Western enclave surrounded by the East, and he promptly was sidetracked by the resulting cultural explosion. After playing keyboards in various bands, Heil teamed up in 1977 with musical icon Nina Hagen, and the two set out to redefine music.
"That was all infinitely more interesting than learning how to read scores and record properly," confessed Heil, who was approached by Hagen while playing in a punk band whose members had "eclectic and elaborate" musical backgrounds. "Nina was trained in operatic singing, so we kind of created our own style."
The ensemble explored that style across two landmark recordings: 1978's Nina Hagen Band and the 1980 follow-up Unbehagen. By the second album, however, touring had taken its toll, and Hagen was contributing vocals from Los Angeles while the band was still in Berlin. She eventually left, and the band morphed into Spliff and released four more albums. Heil completed his studies in Berlin, but not before working with Kim Wilde and Nena, scoring some films for friends, and crossing paths with Australian musician Johnny Klimek from the band The Other Ones. In 1996, Klimek called to say he had just met a director who was looking for musical collaborators.
"Johnny told me [the director] was a musician and wrote the music for his films, but he needed other people to complement him," recalled Heil. "So we met him and we started working immediately on the score for this movie called Winter Sleepers. I did this movie and then packed up my studio and moved to Santa Barbara. It was an insane thing to do-I had no ties in the industry over here and failed to go to events like the MTV Music Awards or the Grammy Awards when I was the producer of Nena. On my way out, Tom Tykwer gave me a screenplay and said this is going to be the next film. I read it on the plane here. It was called Run, Lola, Run."
The screenplay was unlike any he had read previously, so he decided to get involved. And good thing, because the soundtrack to Run, Lola, Run has become a landmark composition, even being played live in the middle of Sydney harbor during an outdoor screening.
"It wasn't using pre-existing techno music and slapping it on a movie and licensing it from some hip band. We were actually using the genre and style to score a movie properly."
"The approach of Tom Tykwer is to create the music in the very early phases of the film," explained Heil. "Normally, they don't really start using the music until the director's cut is finished." So Heil, Tykwer, and Klimek sketched out the tempo and determined the film's pace. "We used techno music and I think that was the first time that this was done," said Heil. "It wasn't using pre-existing techno music and slapping it on a movie and licensing it from some hip band. We were actually using the genre and style to score a movie properly."
People immediately took notice, but their success was a double-edged sword, as there was a question whether they could score a traditional film. It took some time, but they eventually landed Mark Romanek's One Hour Photo and later Sophie Scholl, Perfume: The Story of a Murderer, television shows, and, most recently, The International.
"Trust me, we don't have the luxury of even refusing a mediocre or stinker small Hollywood movie," Heil laughed. "So we are always happy if there is good material on the desk and, with Tom Tykwer, we can't go wrong." For this political thriller, Heil said the music had to be more restrained than Run, Lola, Run, and not as opulent as Perfume. "It's kind of cool because it's very different from both of those," he explained. "I think it really does serve the movie."
From Berlin to Santa Barbara, musician to composer, Heil's journey has been as much a personal revelation as it has a professional one. And he wouldn't have it any other way.
"I really love the art of filmmaking," said Heil. "I'm happy to have widened my horizon and now to think about the dramatic development of the story and to understanding the structural aspects of the story I am scoring. I'm not just illustrating the nice pictures or giving some images nice sounds. I actually make an emotional statement and that way I can actually take a side. I take a point of view, just like the camera does."
4•1•1
The International is now playing in Santa Barbara theaters.