Cover Story
Santa Barbara and the Search for an American Eden
Love, Sex, and Garden Magic
As for the actual remains, these palaces now become convents, condominiums, and asylums, surrounded by copies of Western European and Far Eastern landscapes grown up in briar and poison ivy, what is their ultimate value? They were built on the crassest piles of American loot, and the cultural history they reveal is one of frantic borrowing and adaptation of every available garden model. Yet running through their owners' lives, and implied by every casino, pagoda, and tumbling rambler rose, is a more wistful sense of appropriation: a desire to re-enter the old garden of delight. – Mac Griswold and Eleanor Weller, The Golden Age of American Gardens, 1991.
Looking back on growing up in Santa Barbara in the 1970s, I remember life as a kind of endless ramble through one big garden. I remember climbing in giant avocado trees in old orchards not yet subdivided, and I remember standing still, arms extended, in the 100-year-old Blue Gum grove on Eucalyptus Hill, covered in dribbling gobs of mating Monarch butterflies, and skateboarding by the Bird Refuge past banks of aloes blooming coral red at Christmastime. But the endless ramble also included more mysterious, hidden adventures, such as roaming through neighbors' lots (today it would be called trespassing) and discovering secrets behind old stone walls and towering pittosporum hedges. There I found sagging pergolas draped in wisteria and ancient, untended bowers, benches covered in ivy, bits of colored tile glinting on old pavings, and a reflecting pool seemingly forgotten in a bright clearing in a dark grove of Araucarias and cedars.
I especially remember exploring the gardens at El Mirador with my best friend in sixth grade. With its lake, Japanese garden, 500-foot-long Italian formal garden lined with cypresses along a staircase set with water rills, and its subterranean grotto complete with glued-on stalactites and stalagmites, the old Armour family estate on Cold Spring Road was a magnet for our wandering. Mind you, we didn't just go there for the gardens, but because of a woman. My friend's father's girlfriend rented an apartment in one of the houses on the property. She was an occasional substitute teacher at Montecito Union School, and to us she was unimaginably, irresistibly attractive. We would go all the way up there just for a glimpse, before she shooed us away like gnats. It was then that we would roam the grounds of El Mirador, which were rendered magical not only by their exotic, dilapidating follies, but by the afterglow of our encounter with a preteen obsession. It would be five years before Van Halen's "Hot for Teacher," but was in fact the year their first album was released-and believe me, we knew the words to "Ice Cream Man" and "Jamie's Cryin'."
What does the ardor, however humid, of sixth-graders have to do with gardens? Perhaps it illustrates that even at this crude level, what grows in gardens is passion and desire. Ask a flower, which is, after all, a plant's sex organ, doing everything it can to seduce a bee. Ask Adam and Eve. Or ask Thomas Jefferson, who spent much of his term as the new United States' Minister to France in the summer of 1786 avoiding his official duties, to which he often sent an underling instead, in order to spend his days in gardens around Paris in the company of one Maria Cosway, a blonde, 27-year-old who was the Italian-born wife of a prominent English painter. In one garden, a frisky Jefferson vaulted over a fountain, and broke his right wrist, an injury that made writing difficult for the greatest prose poet in American history. But Jefferson's passion for gardens never ebbed, and drove him for the next 40 years to make and remake his estate at Monticello, putting his family deep in debt, yet managing to create one of the most personal, complex, and continually surprising American gardens.
After the exhilaration of Maria Cosway and France, Jefferson sought his gardening destiny at home. But other distinguished American intellects continued to range abroad in search of horticultural bliss. In Italian Villas and Their Gardens, Edith Wharton wrote about an elusive "garden-magic" that she found in only the best Italian gardens. Astute as she was, Wharton found the quality hard to define. She knew it lodged somewhere in the interplay between nature and art, in the sequencing of spaces, or in the subtle architecture of transitions from the house, to the garden, to the wild or agrarian landscape beyond. In spite of her relentless analysis, Wharton never succeeded in boiling down garden magic to a set of rules of style. Italian gardens vary widely by region and era, yet garden magic might be visible in any of them, but not in all. That imponderable something that delighted her, which fed her passion for Italy and brought her back to the hunt over and over, was evanescent. The romance of Italian gardens has everything to do with age, with patina, and with the deep time of the Mediterranean that has transfixed English speakers for centuries.
The American Riviera Complex
As we enter the 21st century, the great gardens of Santa Barbara occupy a curious place in American culture, at once part of Thomas Jefferson's monumental effort to build paradise here, on this continent, and of Edith Wharton's endless search for Mediterranean garden magic. Indeed, for an American city, Santa Barbara has banked up a fair coating of patina, not all of it ersatz; occasionally it can even smell ancient. It seemed that way to me as a child when my family built a house on the subdivided grounds of the old Peabody estate, Solana. When we dug under the rank ivy that covered the yard, we found an elaborate series of stone-walled terraces and fountains cascading down the hill in consummate Italianate style. This kind of inadvertent garden archaeology is something that many Santa Barbarans will recognize.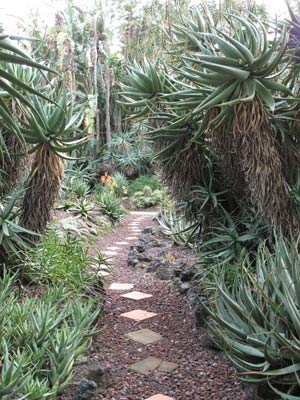 But even Solana, a 1917 neoclassical temple built for an heir to the Arrow shirt fortune, was once new, blindingly white and naked before the landscape grew in around it and softened it. Worse, it might have once seemed garish in its ostentation, like an early 20th-century McMansion. In truth, every bit of built California no matter how seemingly august was concocted out of the residua of other places by immigrants bringing their baggage. In Santa Barbara, this began with the Mission itself, a baroque mirage from Spain erected on a frontier plain to impress the Chumash Indians into submission before its fluted pink columns. Architecture, and by extension, garden design, in America has until very recently always been imported from somewhere else, with the specific intention of wowing the less-savvy locals. Like Jefferson at Monticello, Americans have forever been searching for a useable past on which to construct a new identity. It is an ironic fact that we, so convinced of our exceptionalism, have never escaped the spell of other, older traditions, whether Italian, English, Japanese, or something else. Intoxicated with new styles from Europe that he invested with the liberatory promise of the Enlightenment, Jefferson paired a rigid and symmetrical pseudo-Roman architecture with the latest naturalistic English landscape garden, all flowing lines and poetic incidents-an odd pairing, but it stuck, and for 100 years became the national style. By the late 19th century, Americans had spread over the continent, and the neoclassical buildings that looked right in Virginia or New York didn't sit so well in Idaho or Arizona or Southern California. A hunger for distinct regional identities resulted in a mishmash of regional styles: the Northeast settled for Italian Renaissance and English colonial, with gardens of box hedges and axial paths; the Midwest, newly flush with industrial money from railroads and meatpacking, tried to gin up a "Prairie" style, a variant of the English Arts & Crafts Movement, and matched it with landscapes expensively edited to look like innocent woods and meadows.
In California, Americans arrived in force just as the actual Indians and Mexicans had been brutally swept under the rug by the American pioneers, freeing the newcomers for a bout of guilt-free, romantic nostalgia. In Ramona, Helen Hunt Jackson's bestselling 1884 novel about persecuted Mission Indians, the crumbling missions themselves provided an iconography for what became the Mission Revival style, an architectural idiom that allowed California to set itself apart as a romantic, beguiling, warm idyll. People from less salubrious climes the world over bought the myth greedily and came in droves.
Eventually, the Mission Revival grew tiresome: It was too bulky, low, thick, and plebeian for the aspirations of a new set of immigrants, this time patrician Easterners rich from banking and Midwesterners rich from meatpacking, who all came to winter in the sun. They needed a more exalted version of Mediterraneanism, and found it in the notion that California-similar in climate, terrain, ecology, and Latin history to the original-was America's Riviera, and had to be made to look like it. So architects, landscape architects, and clients mounted a concerted, deliberate, and lavish effort to bring Italy and Spain to Southern California-nowhere more so than in Santa Barbara. The New York stockbroker-turned-gentleman-architect George Washington Smith traveled to Europe with his client Ralph Steedman, documenting Spanish models, then came home and built Casa del Herrero, with gardens by Lockwood de Forest, another genteel New York transplant, made up of a sequence of garden rooms linked by exquisitely tiled fountains and rills and lush with subtropical plantings. From Hope Ranch to Montecito, astonishingly well-executed versions of Mediterranean villas and gardens popped up, some spectacular in their scale, like Las Tejas, by Mrs. Oakleigh (Helen) Thorne; El Mirador; or La Toscana, an endless Roman fantasy villa, also by Smith and the Los Angeles landscape architect A.E. Hanson.
Santa Barbara wasn't unique-a few sister cities embarked on the same project of making themselves Mediterranean paradises for the well-to-do at about the same time: Pasadena, Carmel, and
Holmby Hills in Los Angeles. Yet they followed her lead, and didn't go all the way-not all the way to adopting a Spanish Colonial Revival architectural code as Santa Barbara did, at George Washington Smith's urging, before and after the 1925 earthquake, guaranteeing that Smith's austere, Andalusian-derived, unornamented version of the Hispanic metaphor now sets the city apart from the others. (And the rest of state went the way of progress, welcoming modern ideas, modern scale, modern machines, and modern expanses of developer ranch-burger houses and oceans of asphalt.)
In retrospect, Smith, Hanson, and the other talented historicists could with some justice be accused of being no more than skilled copyists. What they made was beautiful, and it often reeked of money-an occupational hazard when your clients are would-be modern Medici-but just like in Edith Wharton's Italy, it might or might not be invested with the elusive quality of true garden magic. For some, re-creating Renaissance palazzi for nouveaux riches in the American West was an empty exercise, indulging the privileged in a fantasy world, and was ultimately frustrating as an aesthetic path to an American identity: dressing up as someone else, in an over-the-top Renaissance costume, when what we are looking for is ourselves.
The Goodhue Difference
Within the Mediterranean Revival tide of the early-20th century was another current, cutting deeper, in some ways concealed below the surface, and leading to something new. A key figure was the architect Bertram Grosvenor Goodhue, credited with jumpstarting the Spanish Colonial Revival style with his ensemble of Mexican baroque buildings at the 1915 Panama-California Exposition in San Diego, but whose more interesting contributions started much earlier. From a wealthy New York family, like most of his clients, Goodhue spent the 1890s as a young partner of Ralph Adams Cram, the famous Boston architect who converted to Catholicism as a student in Rome and espoused medievalism as the answer to modern life. It was Cram who brought us the Collegiate Gothic of Princeton, Notre Dame, and countless other crocketed and gargoyled college campuses. He and Goodhue were also lovers, until the latter went out on his own. In 1898, Goodhue and J. Waldron Gillespie, a rich New Yorker invariably referred to as a bachelor, traveled together through Spain and Italy, then rode 400 miles on horseback through Persia, visiting ancient gardens during the day and returning at night to watch the play of moonlight and shadow. On their return, Goodhue immediately began planning El Fureidis on a piece of Montecito land that Gillespie owned. The first of many houses, El Fureidis was a mix of styles: Persian, Italian, Spanish, and Mexican, the whole simple and little-adorned, like Smith's best work, but not beholden to one region-a new, Californian synthesis. The elegant gardens he designed, with foursquare pools, rills, fountains, and palms, were straight out of the Persian desert, but also belonged to the late Victorian Orientalist fascination with Saracens and Moguls, Sheiks and Pharaohs. It was, to be sure, movie magic (a silent costume drama was shot there in 1915), but no less magic for that. Historian Kevin Starr wrote of California in that era: "In a very real sense the entire society was a stage set, a visualization of dream and illusion, which was, like film, at once true and not true." That building of dreams on the ground is what California was then all about, and what it struggles to remain about today: the ability to remake oneself and one's vision of paradise within the forgiving, enabling embrace of a like-minded culture and a beneficent climate.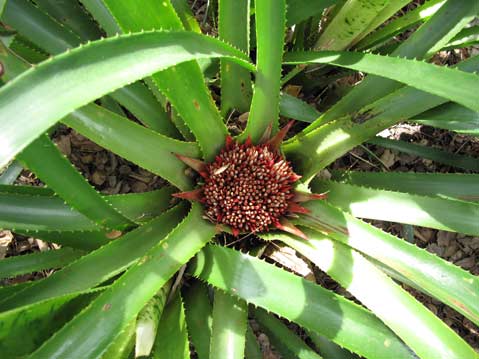 Gillespie sold a piece of land next to El Fureidis to his cousin Henry Dater, a businessman, who hired Goodhue to design a house, called Dias Felicitas, in 1915. For Dater, he made another mixed-Mediterranean house, with long terraces descending a hillside to a reflecting pool at the bottom, on a bench above Montecito Creek. Apparently Dater and his wife never used the place; author Robin Karson has suggested that he was "nonplussed by his cousin's fervid love life." Instead, he rented it to Goodhue until his death in 1924, when it was sold to Charles Ludington, a wealthy New York art collector, who died two years later, leaving it to his son, Wright Ludington, who happened to be a cousin of "Lock" de Forest, with whom he had done a European Grand Tour, studying buildings and gardens. The two immediately set about remaking the estate, which Wright renamed Val Verde ("Green Valley"). De Forest added outbuildings and a parking court and slowly began transforming the gardens: running low-walled paths through woods that he thickened with oaks, leading to "keyhole" rooms-round, walled enclosures where two paths met at angles. He replaced the lawns that flanked the house with shallow pools framed by lemons and olives and dominated by classical statues. Statuary was everywhere, and pieces of bas-relief, all from Wright's serious and expanding collection of antiquities.
On the top terrace, de Forrest built a massive colonnade, antiqued with different colors of paint and made simultaneously grand and eerie by the fact that they had no pergola on top. He complicated Goodhue's staid grass terraces with hedges of box and black acacia, and balanced dark oaks with silvery olives to give a play of chiaroscuro to the whole. He turned an unused water tower into a study and built a colonnaded courtyard for more Roman art, and turned the old reservoirs outside into pools. Paths and allees knit it all together into a stage set for Ludington's lifestyle, which bears describing: Hollywood actors, set designers, and musicians mingled with the odd European royal at lavish, louche parties. Ludington liked the idea of himself as a Roman emperor holding court, Hadrian in his villa: He threw toga parties no doubt, with young men in the baths (there are pictures to prove it) and liaisons in the garden, one can only assume. The garden seems quite clearly made to induce love: the keyhole rooms beckoning through traceries of oak branches, hedges and columns offering tentative sightlines and privacy for moonlit walks down the garden path. One may approve or disapprove of such goings-on, but must allow that the garden is perfectly of its place and time, based in traditional forms but modern in its eccentricity, and perfectly fit to the mind of its owner.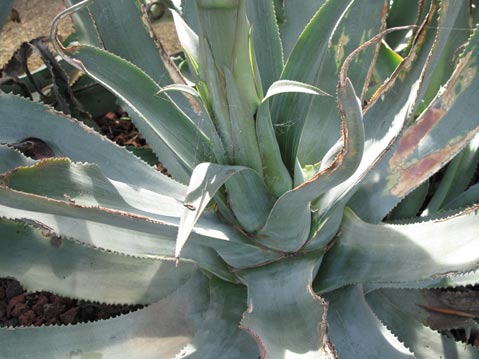 Affairs with Plants
What de Forest did at Val Verde and in his other gardens owes much to Santa Barbara's tradition of exuberant, world-embracing horticulture: an outright obsession, amounting to a love affair with plants. From the 19th century onward, a fraternity of nurserymen, imports themselves-Peter Riedel from Holland, E.O. Orpet and Kinton Stevens from England, Dr. Francesco Franceschi from Italy-imported hundreds upon hundreds of plants from the four corners of the globe, giving the town the character of a slightly surreal botanical wonderland, with probably more species than anywhere else on Earth. And this love of plants and flowers has managed a nice miracle: buffing off the hardest edges of even the most combative Modernist interventions and rooting them into the common landscape. Richard Neutra's Tremaine house of 1948, built up Cold Spring not far from El Mirador, is a prime example: de Forest helped site it, focusing north on a view of mountain peaks, as he always did if he had the chance. When he died before the garden was finished, Ralph Stevens, son of the nurseryman Kinton Stevens, laid out a carpet of wild and woolly succulents, with textures and colors so unbridled they could be described equally well as psychedelic or Victorian. The effect is to make a rather clinical box of a modern house into a sensual garden pavilion-and to effortlessly bridge that sharp historical polarity.
At about the same time, just down the street from Neutra's masterpiece and up the road from Val Verde, de Forrest was engaged with Madame Ganna Walska at Lotusland, remaking an estate grounds originally settled by Kinton Stevens in the 1890s, who peppered it with stands of palms, araucarias, and dragon trees. Walska, a Polish-born ingenue and sometime opera singer, with great beauty and apparent seductive force, had lived a novelistic life moving between St. Petersburg, Russia, Paris, New York, Chicago, and eventually Montecito, first collecting men-six husbands, most of them rich-before settling down and collecting plants and making gardens. To the formal gardens laid out by Paul Thiene around the Spanish house by Reginald Johnson, Madame Walska added unique, themed gardens throughout several decades, some organized around collections of exotic plants like cycads or bromeliads, some around a quality, like the color blue. She brought to her work a true passion (likely more than she ever allowed her husbands), amassing rare things and staging them in whimsical, theatrical, often bizarre ways-like the hedge theater populated by garden gnomes. Along the way, she collaborated with a series of men to help her with parts of the garden. With several of them she had to ask, cajole, or demand participation, and her working relationships with them were often fraught with dramas of resistance and acquiescence; each garden space had its own partnership, which ended when the project was done-just like a love affair, I would suggest.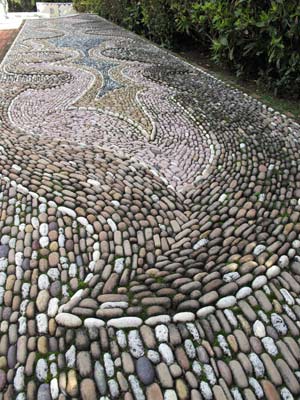 Walking through Lotusland is remarkably like walking through the insides of someone's head, each garden room a fantasy or a dream, a mental space. Unlike most Santa Barbara gardens, which fetishize the views of distant peaks, Walska's look down or in, not up, as she carefully framed not mountains but intricate, surreal compositions of light and color and textures of plants and stones. The sum is beyond category, in the sense that it transcends canons of style or period and rejects anxieties of influence, borrows from many sources, and recombines them into something utterly new, because each moment is utterly passionate and personal. The result is garden magic; it suffuses the place. Here, in a garden made by a Polish immigrant in a long-running opera of self-creation, is a fully formed, completely American style: free, individuated, and intelligent, relentless in its gathering of bits of everything in the world, botanical and cultural, immersed in history but ultimately free of it, garden magic untethered.