Arts & Entertainment
The Merry Widow at the Granada
Opera Santa Barbara Pulls Off Fanciful Frolic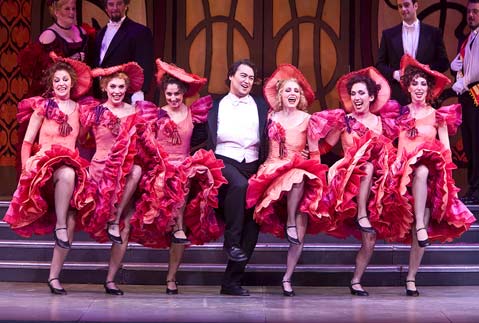 Before Madonna became the Material Girl and before Marilyn was the Blonde that Gentlemen Prefer, there was the Merry Widow. A citizen of the fictional country of Pontevedro, but more importantly a single woman of great fortune living in Paris, Hanna Glawari (Janette Zilioli) attracts men like swarms of buzzing bees. As she enters the drawing room down the majestic staircase at the center of this production's elegant set, Hanna is surrounded by men in evening clothes. As each of them pays his suit, and rivalries develop among them, it is only the dashing Count Danilo Danilovitsch (Eugene Chan) who can rise above the crowd and secure the lady's full attention. Thus begins an evening full of comic intrigue, flashing visions of high life, and beautiful music of all kinds.
Although the first act includes much mugging and clowning around, it is not until Act Two that The Merry Widow finds its feet as a real opera, or at least a very accomplished and beautiful operetta. It is then that the farcical dilemma of Baron Mirko Zeta (Steve Grabe) and his fickle spouse, Valencienne (Ani Maldjian) gives way to the more nuanced and fervently mixed feelings of Hanna and Danilo as the drama's main subject. Zilioli did a magnificent job with the "Vilia" song, a nearly perfect operatic rendering of the romantic era commonplace of the woodland sprite. And, although the diplomatic sashes the men wear with their formal attire and the fictional land of Pontevedro both recall the Marx brothers, the mood shifts toward a slightly more serious tone. Valencienne and her lover, Camille (Thorsteinn H. Arbjornsson), play a more complex scene that reveals their relationship's shifting nature, and Zeta, now accompanied by his sidekick Njegus (James Calvert), becomes even more antic.
As with any true music hall entertainment, The Merry Widow builds irresistibly to a wild climax. The integration of the State Street Ballet dancers to the Maxim's sequence as cancan dancers brought an excitement and authenticity to the last act that succeeded in raising the stakes admirably. In the end, all is for the best in this most fanciful of possible worlds.