Arts & Entertainment
UCSB Hosts Chick Corea's Latest Creation
Jazz Heavyweights Team Up to Form Five Peace Band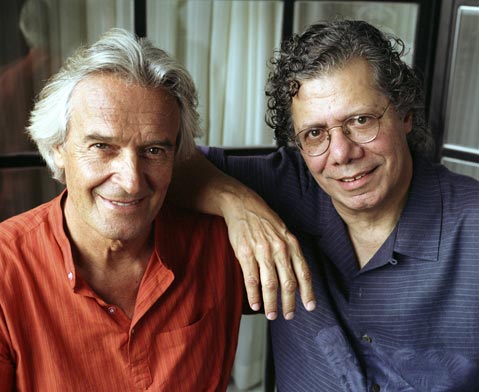 Pianist Chick Corea and guitarist John McLaughlin were both integral parts of that whirling vortex of creativity caused by the Miles Davis groups of the late 1960s. Both players also stepped into the spotlight as leaders in the 1970s, and as such have become avatars of a sophisticated and wildly successful new kind of electric jazz. They have since maintained outstanding reputations as musicians and bandleaders for several decades. A new group called the Five Peace Band brings these two titans of improvised music together with three other all stars-bassist Christian McBride, saxophonist Kenny Garrett, and drummer Vinnie Colaiuto. The group will play UCSB's Campbell Hall on Friday, March 20. I recently spoke with Chick Corea about the group via phone.
How did this project get started? The Five Peace Band came out of conversations about playing together that John McLaughlin and I had been having for years. He has always been one of my favorite musicians to play with and to listen to. We did play a duet concert back in the 1980s in Montreux, and a live recording of that was released. But as far as this group goes, I saw that I had some time opening up, and it started with the idea of asking John, but then first I called Christian McBride, and he was interested, and then I contacted Kenny Garrett, and he said yes, and I got Vinnie Colaiuto to come in-I knew that John liked playing with Vinnie Colaiuto because he had used him on his album Industrial Zen. When I had all these guys ready to commit to the project, that's when I called John. I told him what I wanted to do and he asked me if I had a band, and I got to lay that line-up on him.
What are you thinking when you are backstage before a gig? How do you prepare? Right before I go on, I am looking for my Castile soap. It gets my hands squeaky clean and with no film. That's how I like to prepare for a set; by washing my hands real good. Seriously.
I understand that Brian Blade sometimes replaces Vinnie Colaiuto. How does that work? It's like there are two different bands at this point because the two drummers we work with, Vinnie Colaiuto and Brian Blade, take such different approaches. It's a completely different sound depending on who's in the chair. Brian Blade's concept is almost the opposite of Vinnie's.
Describe the players in this band. Christian McBride is an all around incredible genius. I knew his acoustic playing, but when I heard him on electric bass I was blown away. Kenny Garrett is one of my favorite saxophonists of all time. He has such an intuitive, emotional style, yet he remains totally reverent towards the music. I worked with him on the Bud Powell project, and he was just great on that.
What are your feelings toward John McLaughlin and his music? What I love about John McLaughlin is that he is an unrelenting creator. We've been friends ever since we first met back in 1968 in New York City when we were both playing with Miles Davis. We have crossed paths again and again throughout our careers, partly I suppose because we share so many musical tendencies and enjoy some of the same forms.
People must be excited when the Five Peace Band is in town. How do they respond? We get a really warm and happy reception from audiences wherever we play. I think the people who come to see us are doing very well as far as their musical taste and adventurousness goes. Because, you know, this music is not for the faint of heart. I sometimes feel like I am getting away with something to be out on the road playing stuff that is this free and exciting for me. I am just glad people are interested and enjoy it.
4•1•1
Chick Corea and John McLaughlin will play this Friday, March 20, at UCSB's Campbell Hall at 8 p.m. Call 893-3535 or visit artsandlectures.sa.ucsb.edu for ticket information.