Opinion
When Essie Spells Hope
Baseball Star Ryan Spilborgs Remembers His Mother
Esperanza Avalos Spilborghs-Essie to her family and friends-always lived up to her name, which means "hope" in Spanish. "Don't worry, I'll be okay," she would tell her son when he expressed anxiety about her condition. With such assurances, Ryan Spilborghs got through the 2007 major league postseason as a reserve outfielder for the Colorado Rockies, the Cinderella team that won the National League pennant and played the Boston Red Sox in the World Series.
Ryan enjoyed the ride, to be sure, but he did not wallow in the glory. "Baseball is a job I do," he said. "I love it, but it's not who I am." He is a family man, first and foremost. He was still worried about his mother, suffering from a serious lung infection in Santa Barbara.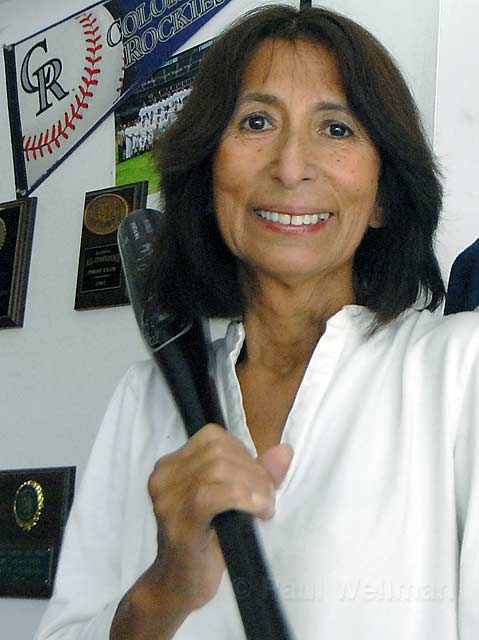 Heading into the 2008 baseball season, Spilborghs showed his priorities. He bought a house in Denver and moved his family-his mother; his father, Rene; and his sister, Natalie-into it. They stayed almost a year, a very meaningful year in Ryan's life. Essie Spilborghs died on February 27, 2009. She was 58.
"As hard as her sickness was, I wouldn't trade the last year for anything," Spilborghs said. By moving to Denver, his mother was able to receive care at the National Jewish Medical and Research Center, where the staff is renowned for its expertise in respiratory diseases. She underwent four surgeries there. "The doctors here in Denver prolonged her life," Spilborghs said. "She could have passed away two years ago."
Essie also was able to attend almost all of the Rockies' home games last season at Coors Field. "We would sit in the center field stands the first few innings stands if Ryan was playing out there," Rene said. Then they would move to seats the Rockies provided behind home plate.
It was just like the old days, when Ryan's parents would watch all his games at the Goleta Valley South Little League, Santa Barbara High, and UCSB. His mother wondered why he seldom started for the Rockies. "She'd say, 'You're better than those other guys,'" he said. "I'd say, 'Mom, I've got to wait my turn.'"
His turn is now. Spilborghs is projected to be the Rockies' full-time starter in center field, since they let Willy Taveras go, and he will bat leadoff. But that is not a reason he is sad that his mother won't be around this year.
"That stuff is not important," he said. "The stuff I wish she was here for is seeing me become a father, babysitting her grandchildren, speaking Spanish to them, telling stories. At least she got to see me get married." Ryan and his wife, Stacey, are expecting their first child, a girl, in July. Her name will be Kierra Esperanza Spilborghs.
Spilborghs has the word "Esperanza" tattooed on his left wrist. He lives with a sense of hope-and more specifically, trust. "I represent my family whatever I do," he said. "I do them a disservice if I get in trouble. I do them a disservice if I don't play hard. That reflects on them. I don't want to cast a negative light on them."
Rene Spilborghs said Ryan's mother would constantly tell him, "Hit the ball hard." He followed her instruction last Sunday, when Colorado faced the Los Angeles Dodgers in an exhibition game. In the first inning, Spilborghs hit a ball so far into the Arizona sky that Manny Ramirez, the Dodgers' leftfielder, just stood and watched it disappear over the fence.
Spilborghs takes a career batting average of .302 into the upcoming season, his fourth in the majors (the first two he went back and forth to the minors). It's a big year. He will be up for arbitration at the end of the season, and he has hired super agent Scott Boras to represent him. "I figured it would help to have a big gorilla on my side," he said. But that's no match for the "Esperanza" on his wrist and in his heart.
There will be a memorial service for Essie Spilborghs on Saturday, March 21, at 11 a.m. at the Free Methodist Church, 1435 Cliff Drive. A celebration of her life will follow at Shoreline Park. Rene Spilborghs said the Rockies plan to hold a moment of silence at Coors Field on August 10, Essie's birthday, before they play the Chicago Cubs. n