Courts & Crime
Murder Accomplice Gave Gun, Will Walk
Johnny Lopez, Whose Gun Was Used to Kill Frank Tacadena in 2006, to Be Freed
Originally charged with murder in the September 13, 2006 shooting death of Frank Tacadena, Johnny Lopez will find himself a free man in a matter of days.
Earlier this month, Luis Sosa was convicted of Tacadena's killing in Judge Frank Ochoa's courtroom. That led prosecutor Hilary Dozer to work out a deal with Lopez, who testified in the trial against Sosa, his childhood friend and fellow Ventura gang member.
Dozer said no concessions or assurances were made in advance of Lopez's testimony at Sosa's trial last month. But despite going into the testimony not knowing what Lopez would say, the testimony was "frankly quite important to the people's case," Dozer told the court. Lopez testified "without precondition," Dozer said and gave the jury a lot of significant details of what happened prior to and following the murder, all of which corroborated what investigators uncovered. "His testimony, in essence, guaranteed a conviction for Mr. Sosa," Dozer said.
Even after Sosa's case, however, Dozer could have still gone after Lopez for the original murder charge, because Lopez was at the scene of the crime, provided the gun to Sosa, and there was well known bad blood between he and Tacadena. Sosa, in fact, only approached Tacadena after a day of drinking because of that standing animosity with Lopez. But based upon the evidence, facts, and circumstances, Dozer said there was room for reasonable doubt as to Lopez's murder charge.
Instead, on Monday, Lopez pleaded no contest to a felony charge of being an accessory to Sosa after the crime, and was sentenced to three years in prison. Since he's been in jail since being arrested for the crime, Lopez has accrued enough credits to be released as soon as paperwork is completed.
But Lopez, despite his pending freedom, is essentially a marked man. Snitching on a fellow gang member is considered a big taboo in the gang culture. But an even bigger problem is talking about La Eme, a.k.a. the Mexican Mafia. Lopez did so on the stand, calling himself a soldier for the criminal enterprise largely run in the state's prison systems. The penalty for such openness can be death.
While Lopez had spent a lot of his time at Santa Barbara County Jail in isolation, he won't have that protection in the open world, a point not lost on members of Tacadena's family, some of whom expressed outrage and fury at Lopez.
"I hope what I hear about being a rat is true and you live in fear for the rest of your life," said Tacadena's sister during the sentencing hearing on Monday. Tacadena's second eldest son, Richard, told Lopez that "you're going to be looking behind your back. And you'll get what's coming. Not from the family but from people who care."
While Lopez's attorney, senior deputy public defender K.C. Williamson, called the shooting a "senseless and tragic loss of a loved family member," there was no love lost from Tacadena's family toward Lopez. For it really was Lopez, not Sosa, who had the beef with their father, they said. Tacadena and Lopez had known each other for years and, more than two years prior, the two had an altercation where Tacadena beat up Lopez.
It was also Lopez whose gun was used. He admitted to supplying a gun to Sosa earlier that day, explaining that Sosa had some unfinished business in Lompoc he had to take care of. Lopez, who was given immunity during the Sosa trial, meaning anything he said couldn't be used against him in his own trial, claimed he didn't know Sosa was going to shoot Tacadena, and didn't actually even see Tacadena get shot.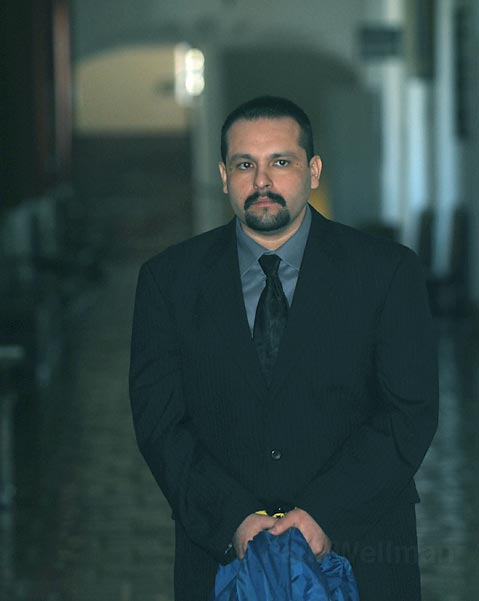 During the trial of Sosa, who's facing an upcoming sentence of 50 years to life, Lopez also testified about an incident a few months before the shooting when he was being attacked at his apartment, which was two doors down from relatives of Tacadena's. Lopez said he fired shots at the gang members, and hit one. During sentencing, Tacadena's family members suggested that had something been done about Lopez's possession of a gun on that day, things could have turned out differently. "If they would've arrested Johnny [then], we wouldn't be here today," said Frank Tacadena Jr. "My dad wouldn't have been dead."
Kathy Tacadena, the victim's wife who was sitting in the car when her husband was shot and testified at Sosa's trial, didn't believe Lopez's claim that he wasn't involved. "I know you had every to do with this Johnny," she said, sitting in the witness stand looking directly at the defendant. "You are a liar and you are no good, and I don't know how you can live with yourself. I hate you and what you did. You should be dead, not my husband. You're nothing but a piece of crap:I just hope you burn in hell."