Food & Drink
Paradise Cafe
A Look at This Anacapa Street Restaurant with a Classic Oak Grill and Lovely Patio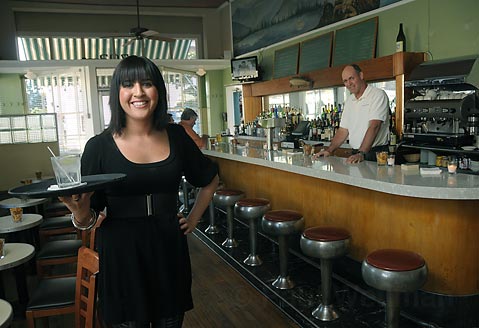 Where: 702 Anacapa St., 962-4416, paradisecafe.com.
What: A Santa Barbara classic oak grill stop for burgers, sandwiches, and a lively patio dining experience.
How Much: Appetizers $8.95-$12.95, prime top sirloin $20.95, freshly grilled seafood $14.95-$23.95.
The Dish: Some Santa Barbara restaurants just stick and staple, meaning they are tightly knit into the rolodex of dining favorites. Established in 1983, Paradise Cafe continues to be operated by one of the original partners out of a 1915 vintage brick-and-stucco building on an unassuming Anacapa Street corner. Santa Maria-style oak wood grilling is the centerpiece of preparations on the menu, whose distinct Santa Barbara flavors come from fresh ingredients, thick cuts of prime beef, and freshly caught seafood. Patio dining amid forest green umbrellas and a historic mural of Leo Carrillo on horseback contribute to the comfort and local feel of lunch and dinner dining. A full bar is available for restaurant patrons and also for late-night cocktail lovers in an adjacent martini and wine focused space. Not to be missed are the oak-grilled prawn or mussel appetizers as well as the signature Paradise Burger ($10.95), whose half-pound of beef is served on a soft onion roll with a beefsteak tomato and Tillamook Cheddar.
4•1•1
This week at independent.com, N/O/P are also for: Panino (independent.com/panino). And for all of our restaurants, see independent.com/restaurants. Next week, see what Q/R are for :