It is not enough that yearly, down this hill,
April
Comes like an idiot, babbling and strewing flowers.
-from "Spring" by Edna St. Vincent Millay
"To what purpose, April, do you return again?" begins Millay's poem, "Spring." The Academy of American Poets replies, "For National Poetry Month, of course!"
Santa Barbara poets agree, having cooked up a month of poetic feasts, and now fueled by the exciting news that David Starkey is our city's new Poet Laureate. Starkey is not only an exceptional, awarded, and prolific poet with eight books to his credit but also a playwright, teacher, chair of the Creative Writing Program at SBCC, and creator and host of the weekly Creative Community TV show on Cable Channel 21. On Tuesday, April 7, at 2 p.m., he will be installed at the City Council Hall. It will give me great pleasure to pass the poetic wreath to such a talented writer. The public is invited.
As part of poetry month, several open-mike readings are planned in Santa Barbara. The first one kicks off on April 2 as part of 1st Thursday, at the downtown Borders Books from 6-7:30 p.m. with me as your host. Bring a poem or two to share. Other opportunities include the Poetry Zone monthly reading on Saturday, April 11, at 2 p.m., featuring guest poet Mary McGinnis with Suzanne Frost as host; Tax Relief Reading: Comic Poems, at the Blue Agave on Wednesday, April 15, from 5:15-6:30 p.m. with Chryss Yost; and Favorite Poem Reading on Monday, April 20, at the Blue Agave from 5:15-6:30 p.m. with Lois Klein. On Saturday, April 25, don't miss the Tree Reading at the Natural History Museum amphitheatre at 3 p.m. with Enid Osborn. Come a little early for each of these events to put your name on the reading list.
Sojourner Kincaid Rolle will host the annual Langston Hughes tribute on Friday, April 3, in the Lobero Theatre Courtyard at 6 p.m. On Saturday, April 4, from 7-9 p.m. in the downtown library's Faulkner Gallery, the Santa Barbara Poetry Series will feature regional poets who have published collections in 2008-'09, including Mary Rose Betten, Paul Ferricano, Ellen Kelley, Peg Quinn, Diana Raab, Barry Spacks, Kevin Patrick Sullivan, and Paul Willis. Other poets may also bring their books to sell. Contact Carol DeCanio at 966-1423.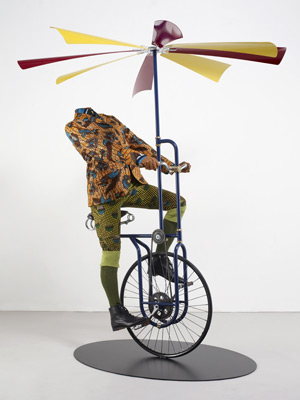 Each year, the Santa Barbara Museum of Art graciously invites poets to read and write poems inspired by a current exhibit. This year, the chosen work is Yinka Shonibare's A Flying Machine for Every Man, Woman and Child and Other Astonishing Works. Shonibare was born in Britain to Nigerian parents. His works include those that speak to cultural myths and misinterpretations of colonialism. The related reading, to be held Sunday, April 19, at 2 p.m. in the museum auditorium, is organized and hosted by Melinda Palacio. Mary Brown, Susan Chiavelli, Sojourner Kincaid Rolle, and Chryss Yost are included, as well as poets from Santa Barbara City College and UCSB. On Sunday, April 5, at 2 p.m., the museum will host a reading by young poets from the California Poets in the Schools program.
Other highlights of the month include a reading by renowned poet Robert Bly at the Granada Theatre on Thursday, April 23, at 7:30 p.m. On Saturday, April 25, from 7-9 p.m., a group of poets selected by David Starkey will give a reading at the Contemporary Arts Forum, with Barry Spacks hosting.
4•1•1
For a full schedule of April's Poetry Month events, visit sbpoetry.net. All events are free and open to the public.