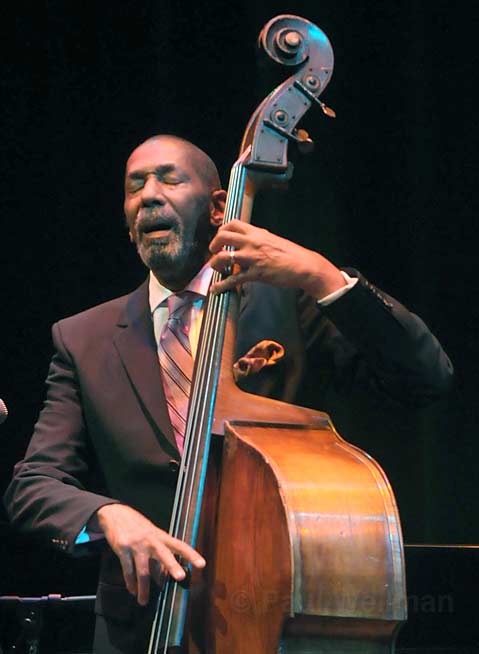 While the work of fellow jazz king and former bandmate Herbie Hancock grows bigger and bigger by way of pop collaborations, bassist Ron Carter's late-career work whittles the genre down to its bare essentials. His approach, demonstrated last Thursday at the Lobero as part of the International Guitar Festival, is one of class, reverence to 1960s cool and bop, and restraint. He and his sidemen – Russell Malone on guitar and Mulgrew Miller on piano-are essentially a rhythm section without percussion (unless you count Malone briefly using his guitar to mimic the boom-boom-pop of a bongo set), and Carter's ability to both provide the combo's internal pulse, and remain a compelling frontman of sorts, was astonishing. No less can be expected, though, from the man who played alongside Miles Davis throughout most of the 1960s.
Their renditions of jazz standards such as "Mack the Knife" and "My Funny Valentine" showcased the musicians' classic improvisational styles. While Malone's solo recordings have made passes at jazz-pop fusion, his guitar work with the trio paid, in full, his debt to Wes Montgomery. His Montgomery-esque chord solos, dark tones, and blazing triplet licks proved him a worthy carrier of the bop pioneer's legacy. Miller's piano stylings – heavily indebted to McCoy Tyner – took the lead with sweeping runs, and at some points the two sidemen soloed at once, as if in friendly competition, while Carter's steady rhythm held the piece together.
Professorial in demeanor (watching the trio can be like watching an exquisite master class), Carter soloed with precision and grace on his not terribly graceful instrument. Malone and Miller dropped out for one whole piece, during which Carter seemed to pack all the tricks he could come up with into one cadenza. A master of making more out of less, he made his bass sound, at times, like at least two instruments playing at once. Carter managed to keep things light, though he is professional on an unmatched level. He enjoyed the spotlight, but is not one to take his legendary status too seriously, it appears. After all, one of the best parts about being a bandleader, he said, is getting to pick what ties the musicians wear.