Visual Arts
Yinka Shonibare at the Santa Barbara Museum of Art
Hip, British-Born Artists's Show Ushers in a New Era at SBMA
The Santa Barbara Museum of Art (SBMA) has entered a new era with the recent hire of Director Larry Feinberg and Curator of Contemporary Art Julie Joyce. After just six months with the museum, Joyce is making a strong impression with her debut exhibition featuring world-renowned contemporary artist Yinka Shonibare.
A British-born artist heavily influenced by West African culture, Shonibare was propelled into the art world's spotlight in the 1990s when art collector Charles Saatchi included him as one of the Young British Artists (YBA) in his infamous Sensations show. Since then, Shonibare has continued to infiltrate the contemporary art scene with an artistic prowess based on an exceptional eye for design and a sheer talent that outlives many of his YBA contemporaries.
Thus, it is remarkable that Shonibare's work-in its many manifestations, from installation to photography, sculpture to film-is now on view in Santa Barbara. In his art, Shonibare borrows imagery and design from sources as diverse as African batik wax prints, Western literary giants, and famous paintings from the annals of art history, creating clever reinterpretations that tickle the imagination while challenging conventional ideas of racial, sexual, and cultural identity. The SBMA exhibition includes several excellent examples of Shonibare's well-known installation work, in which he dresses life-size, headless mannequins in Victorian era costumes crafted from African batik cloth.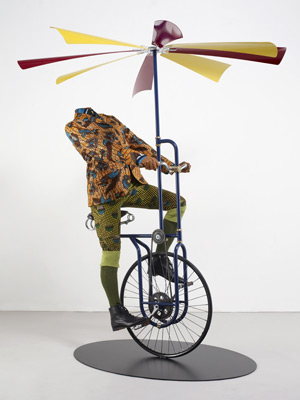 In "A Flying Machine for Every Man, Woman and Child," a family of these mannequins sit poised on contraptions made of unicycles with helicopter-like propellers. Commissioned by the Miami Art Museum, this installation evokes post-Colonialist notions of immigration and displacement, and at the same time conveys a sense of great hope for the future through invention and ingenuity.
Whimsy plays a consistent role Shonibare's work, lending it a lightheartedness that battles with his darker undertones, and nowhere is this revealed more completely than in his film, Un Ballo in Maschera. Influenced by the theatricality of opera, Shonibare adopts Verdi's opera about the Swedish royal court in the 18th century to create a lush, alternative version. In the film, actors wear Shonibare's signature costumes, detailed down to their batik-covered shoes and neon tights. This adaptation of the opera is devoid of music and dialogue, using instead a series of choreographed movements and sighs to convey the plot. Projected in a large-scale format across the back wall of the gallery, the film functions as an oversized painting in which Shonibare's sculptures come to life in a magical transformation.