Arts & Entertainment
NKOTB's Danny Wood on Reunions, Fans, and Stardom
The Indy's Lisa Engelbrektson Gets Under the Skin of a New Kid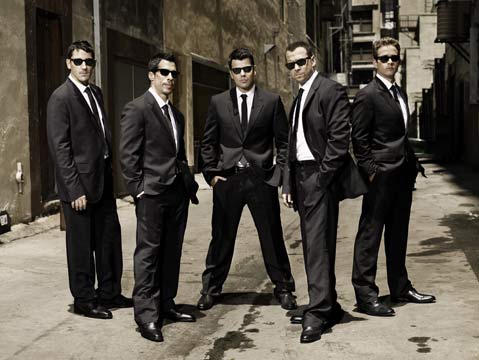 Midway through the North American leg of a tour to support their recent comeback effort, Danny Wood of New Kids on the Block (NKOTB to those in the know), spent a few minutes talking shop before abruptly, and angrily, hanging up on The Independent. Before the volatile ending, however, Wood had a few enlightening things to say about getting back together with the New Kids, life between the group's dissolve in 1994 and now, and the boys' largely female fan base. Just don't ask him what it was like to experience public scrutiny (allegations in '92 of lip-syncing, which were later denied, come to mind), because according to Wood, the past is inconsequential.
So how is the New Kids' reunion going so far? "I think a year ago we did a reunion tour," Wood explained. "Now that we went to Europe and are back with a new record, I think the reunion is over. We're back."
The five founding members of NKOTB, Donnie Wahlberg, Joey McIntyre, brothers Jordan and Jonathan Knight, and Wood officially rejoined forces in April of 2008 and now find themselves back at it after a breakup that technically lasted about five years longer than the group's official career. "Musically, it's the same as it was before," said Wood. "Everyone does their own thing, but better." While some of the boys cut solo records, launched acting careers, competed on Dancing with the Stars, or stayed out of the spotlight entirely during the time off, one has to wonder what it is that's making things work now. "Maturity," Wood explained. "And the 15 years apart."
Though Wood himself has taken on a solo career, he didn't do so until recently. "I've been keeping busy. I have four kids and some other businesses," he explained. "I'm involved with Halcyon Jets, where I'm VP. It's a private aviation company. : It's fun. I've been involved since the beginning." But don't assume the boys on the block tour via Halcyon. "We tour on busses," Wood pointed out. "It's more comfortable and we sleep better."
It's fitting, perhaps, because one of the most famous images of the New Kids is of their tour buses, always surrounded by female fans who would wait hours for the band to pull into parking lots all over the nation. And so far their fans don't seem to have grown out of the custom. "We pulled up [in Lousianna] at 9 a.m. this morning and girls were already here," said Wood. "It's fun; the girls are calmer." In fact, Wood had nothing but praise for group's largely female fan base. "We have some younger fans, [but] the core is between 25 and 35. Older fans are bringing new fans along, and the younger audience is liking our music. We run into a lot of older fans who are now independent women, successful, and in positions of power. It's very cool."
After such a complimentary nod to the women who, as girls, bought their albums, concert tickets, lunch boxes, posters, dolls, and other miscellany merchandise, it was somewhat surprising to hear just how quickly Wood's mood went south from there.
Considering the stigmas attached to the boy band enterprise, it's certainly no small feat that the New Kids have reemerged so prominently some 15 years after their split. Still, one has to wonder about the backlash associated with such a reunion and how music critics as a whole are reacting to the "new" New Kids.
But instead of addressing the issue, Wood became irrational, demanding to know why I hadn't read the Washington Post's article on their recent show at Madison Square Garden. He vehemently claimed that the band is being taken very seriously in the music arena, and was then cut off by his publicist. So much for shining a light on what it's like to grow up under a highly critical public eye. In the eyes of the New Kids, the music, the fans, and the adoration has stayed the same-and the media, for all intents and purposes, can make of it what they will.
4•1•1
The New Kids on the Block will open the Santa Barbara Bowl's 2009 concert season this Friday, April 17, at 7 p.m. with special guest Jabbawockeez. Call 962-7411 or visit sbbowl.com for details.