Food & Drink
They Got Terroir, We Got Alma
Celebrate the Spirit of Santa Barbara Wine Country at This Weekend's Vintners' Festival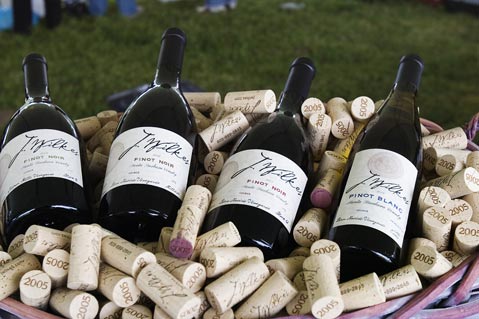 Jim Fiolek knows Santa Barbara wine country better than anyone. In 1980, along with winemaker Chris Whitcraft and Wine Cask founder Ralph Auf der Heide, Fiolek put on the first-ever Santa Barbara Wine Festival, held at the Museum of Natural History as a benefit for Montecito's Friendship Center. Three years later, he helped start the Santa Barbara County Vintners' Association and organized its first event at Mission Santa Ines. Today, more than 25 years later, Fiolek serves as the executive director of the association and remains responsible for Santa Barbara County's two biggest wine extravaganzas: the Celebration of Harvest in October and the Vintners' Festival, which goes down this Saturday, April 18, at River Park in Lompoc.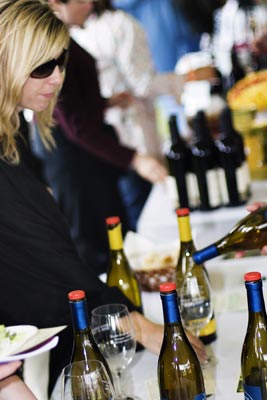 The association's events are the most important for fans of Santa Barbara wines, explained Fiolek, because the more than 100 members, who can only join if their wines include 75 percent Santa Barbara County grapes, are mandated to pour. "This is not by choice," said Fiolek, pointing out that other events feature wineries from all over. "If you're a member, you have to participate." Including 34 vintners who don't have their own tasting rooms, the day serves as a reunion of sorts, meaning that the actual winemakers show up to show off their latest. "If you have an interest at all in wine and talking to the people who made that wine in Santa Barbara," said Fiolek, "there is one event and this is it."
As could be expected for someone who's toiled in the trade for three decades, Fiolek, when prompted, waxes poetic about our region, even evoking other languages. "I think what Santa Barbara has is alma," he said. "It goes beyond terroir." Terroir is the now overused French winemaking word for "a sense of place," whereas alma is Spanish for "soul" or, as Fiolek prefers, Latin for "inciting the spirit." He explained, "There's a certain type of person who is drawn to the alma of Santa Barbara, and that type of person makes wine in a certain way. That type of person has been taught by the vineyard, not by the university. They learned in the barrel, not the book. : They are taught by the area where they make wine."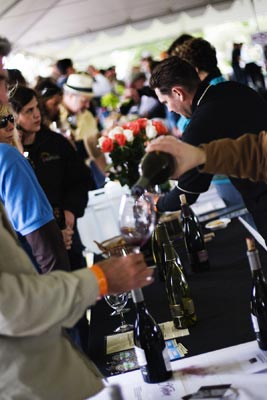 If you know anything about Santa Barbara wine country, you know what he's talking about, and you've probably already got tickets for Saturday. If you don't, the Vintners' Fest-a $75 ticket-is the best time to learn, especially since membership has more than quintupled since 1983, when 17 wineries were involved, but the attendance hasn't even tripled, remaining at 2,500. "The intimacy ratio of wineries per attendee has gone way up," said Fiolek.
Plus, wineries throughout the county-including those on Santa Barbara's urban wine trail-are holding open houses all weekend, and the $25 Vintners' Visa can get you 12 tastings for free from Friday to Sunday. With that, said Fiolek, "You're almost getting two festivals." If Saturday's transportation is an issue-there are 100-plus wineries to sample, after all-pick up a bus ticket for another $25, and hitch a ride at either the DoubleTree in Santa Barbara, the Veteran's Hall in Solvang, or the Holiday Inn in Santa Maria.
4•1•1
The Santa Barbara County Vintners' Festival is Saturday, April 18, from 1-4 p.m., at River Park in Lompoc. See sbcountywines.com or call 688-0881.
New Wine Shines
While everyone has a favorite, no one can deny trying the new kids on the block, especially in a region that grows 63 different varietals. This year's fest includes at least six members that weren't even at the harvest fest in the fall, including Tercero Wines, Alere Vineyard and Winery, and Vogelzang Vineyard, which is now making wine after years of simply growing some of the best. Here are three other newbies to discover:
Municipal Winemakers: Recently unveiled during a Funk Zone warehouse tasting party, Dave Potter's creatively named and decorated wines are full of youthful vigor and cultish buzz. Get jazzed on the Pale Pink (grenache and cinsaut) or the Dark Red (syrah from Camp Four and Tierra Alta with cabernet from Star Lane), but make sure to try the Bright White, Potter's exciting take on dry riesling. See municipalwinemakers.com.
Dragonette Cellars: Two brothers and a buddy take their families and pets to the Santa Ynez Valley intent on living their dreams as winemakers. A few years later, they're still doing all the work themselves, and producing syrah, pinot, and rose that lives up to their logo: the alchemist symbol for "drinkable gold." See dragonettecellars.com.
Saarloos & Sons: Like Vogelzang, this family's been growing great wine for years, and never intended their own homemade batches to be shared with anyone other than friends on special occasions. But now, with their own tasting room in Los Olivos, the public has the pleasure of sampling their witty wisdom and well-respected wines. Sure to be a hit on Saturday. See saarloosandsons.com.
Foodie Faves
At the Vintners' Fest, wine is only half the story. More than 30 booths serving fantastic food keep everyone's mouths nimble and stomachs full, so watch out for these folks and more:
The Cheese Impresario: Barrie Lynn, the cheese ambassador to the stars, leads a 45-minute cheese-and-wine pairing tutorial at 2 p.m. with McKeon-Phillips winemaker Ardison Phillips. She'll also be at the Santa Maria winery on Friday for a Cheese and Wine Rock Out. See thecheeseimpresario.com and mckeonphillipswinery.com.
New West Catering: Not only can you expect something like Chef Jeff Olsson's wild boar soup or grapevine-smoked guinea hen from this booth, but they also bake all of the focaccia for the afternoon. See newwestcatering.com.
Chef Rick's Ultimately Fine Foods: With a background in wine country cooking going all the way back to a decades-ago event called Cioppinot Noir, Chef Rick Manson always delivers inventively appropriate grub. See chefricks.com.